I need party favor ideas for my sister's 60th birthday party. My sister is a very low keyed person. Outside of her husband, kids and grandkids, she loves going to church, helping the elderly in the community and cooking for her family and friends.
By MVJ
July 4, 2012
0

found this helpful
For my former mother-in-laws 90th birthday her kids found small jars that looked kind of like the old time mason jars that had the wire that went over the glass lid to hold the lid on. They filled the jars with small candies and typed up labels with her name, date, and 90th birthday on it. Then around the neck of the jar they tied pastel colored ribbon about 1/4" wide. These made nice keepsakes for the people attending.
July 4, 2012
0

found this helpful
Make items that can be "consumed" instead of items that have to be displayed or stored: items such as personalized candy bars, cookie pops with your sister's initials, etc. Another idea is to clean out some medicine bottles, fill with M&M's or Skittles, then affix labels with a "prescription" on how loving God, living well, treating others with love and dignity, allowed (your sister's name) to reach 60! (An incentive!). Hope these ideas help! Blessings.
July 4, 2012
0

found this helpful
You could get small whisks, smaller the better, craft stores often carry them, filled the inside with chocolate kisses then wrap tulle around it and tie with thin ribbon at the bottom of the handle. On a small styro ball paint a face and hair.Insert snugly on the handle of each whisk. Tie a large bow with wide stiff ribbon for wings and tape or glue to tulle for a sweet, cooking angel. Add a tag with name date and birthday wishes
July 4, 2012
0

found this helpful
If your sister is low key and enjoys working with the elderly flower pots for the center pieces would be a wonderful way to spread some joy with the elderly the day after the party. She could extend her birthday by floral gifts for the clients she works with. Also why not invite all her family and friends to share some of their favorite dishes in a carry in and share the recipes in a new book for her to enjoy for years to come. Be sure to take plenty of pics to put into the book also!
The party is in Goa. I would like some ideas for games and decorations related to great party. Please include some couple games.
By Dipti from India
June 3, 2013
0

found this helpful
Hello! I am not sure how such a party would be received in your area, but here is an idea I sent in here a while back:
http://www.thriftyfun.com/tf96446509.tip.html
As it is a "60" party, you can simply leave off the zero and make it a 6th birthday party. XD
Whatever you do, I hope you all have a lot of fun!
June 4, 2013
0

found this helpful
Cut out rectangles from colored paper & draw a flower on the front or other design. Fold the rectangle in half, so that it will stand up on a table. On the cards, write a question and answer about the celebrant's life, such as "Where was ___ born?" And then write the answer. Or where they first learned to drive. Questions can be trivia or major events in their life. We did this recently at a party, with the cards displayed on a gala table. We also wrote a birthday song with the words printed out so everyone could join in the chorus. You can write words to an already-familiar tune. If you know anybody that plays a musical instrument, definitely let them give a musical tribute (short) to the celebrant. Take a group photograph and make copies later on to give one to everybody.
I'm having a party for my husband's 60th birthday. I would like to have the theme with a balance scale, but can not find a picture or any ideas. Could you please help?
By Amanda
May 28, 2011
0

found this helpful
"Zero to 60 in no time flat." My husband is a car nut, so it was a perfect theme. Cake had a race car with streaks in the back making it look like it was going fast. I really didn't do anything else, but there are many car related ideas.
May 28, 2011
0

found this helpful
Try searching for Blind Justice.
I am having a birthday party at a nice restaurant for my hubby who is turning 60. He has never had a birthday party before. I asked adults only, and for it to be an all white attire party. I need a theme and cake decorating ideas please.
By TLD
February 28, 2014
0

found this helpful
Have your guests wear one black rose (dollar store) in their lapels or their hair. Make the cake black and white with 60 tiny red roses. Then so that he is well "Red (Read), order him a fake news paper and put the stories of his life that they will print on the wall behind the cake. You might want to order two, as you can turn each page over and display that story, too. I hope that helps. You can find the companies that make them by googling fake news paper and this is a good start. https://www.google.com/search?q=fak ... 0CAcQ_AUoAQ&biw=1024&bih=653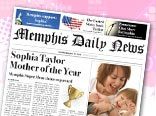 I am planning a 60th birthday party for my husband in April. We are having it in the church social hall. Any ideas are welcome to make this his special day. Many thanks.
By Gail from GA
October 16, 2010
0

found this helpful
Go to the library and print off a newspaper (at least the front page) and surprise him with the news of "his day".
October 24, 2012
0

found this helpful
Hi Gail! Did you get any other 60th birthday party ideas? I'm throwing myself a 60th birthday party next month, and I'm starting to worry that it'll be boring.
: - (