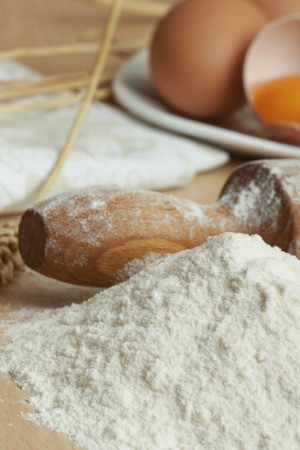 A flour that has leavening and salt already added to it. This guide is about baking with self rising flour.
Solutions
Share a solution for this guide today!
Questions
Here are questions related to Baking With Self Rising Flour.
If a recipes calls for flour, baking powder, and soda can I use self rising flour instead? If I can, how would I measure it to be the same?
By Laura
---
Best Answers

By Louise B.03/23/2009
If a recipe calls for baking soda, it usually has an acid along with it, such as buttermilk or vinegar or cream of tartar or sour cream. If you totally omit the baking soda, and have an acid, you will not get the desired result in your recipe.

I believe that self rising flour contains baking powder only. It should substitute nicely for the same volume of regular flour and baking powder.
---
Best Answers

By Joyce03/23/2009
Measure the flour the same. Just omit the baking soda and baking powder.

Can you use Presto self rising flour to cook chicken wings?
By niteagle77 from East Hampton, NY
---
Best Answers

By Rosemarie03/31/2010
It is fine to use that. The only difference in self rising flour and all purpose is that self rising flour has salt and baking power added to it. It is about 1/2 tsp each for every cup in the bag. Hope that helps.
---
Best Answers

By christi06/19/2006
Self rising already has the baking powder and salt in it, so just leave those out when using this flour.
Do you put baking soda in self rising flour?
By Rosie
---
Best Answer

By frances11/24/2011
Not unless you are using a recipe that specifically calls for self-rising flour and baking soda.
Can I use plain flour and baking powder instead of self rising flour?

Patsy from Tilsworth, United Kingdom

---
Best Answer

By SL Edens03/20/2007
Yes you can, Patsy. For every 2 cups of flour, add 1 Tablespoon of baking powder and 1 teaspoon of salt....sift it all together :)
Do you still need yeast to make bread with self rising flour?
By Jerry from Kerrville, TX
---
Most Recent Answer

By jan nash04/09/2010
Yes certainly. You also need Strong Plain Flour which is specially for breadmaking. It contains a lot more gluten.