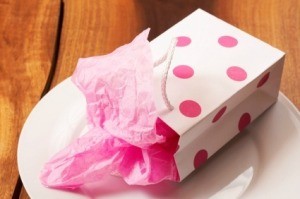 Choosing just the right gift for an upcoming bridal shower can be difficult, there are so many possibilities. This is a guide about bridal shower gift ideas.
Ad
---
Solutions: Bridal Shower Gift Ideas
Read and rate the best solutions below by giving them a "thumbs up".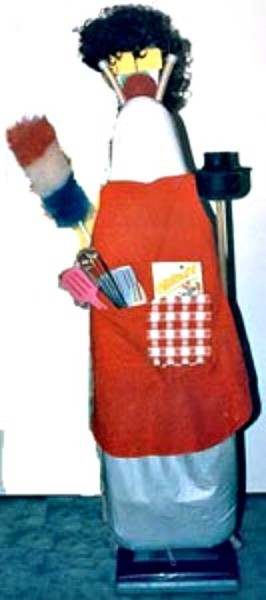 This is adorable! If the bride is a good friend, you will know what household items to use in creating your custom-made Kitchen Maid. And today, some couples have joint wedding showers, so you can also build a Kitchen Mate for the husband-to-be. Here's how:
Instructions:
Begin with an ironing board to be the body of the Maid or Mate.
Tie an apron with pockets around the middle to make a waist. Fill them with smaller kitchen items, utensils or tools.
Attach a plunger on one side of the back of the ironing board as an arm and a toilet bowl brush or feather duster as the other arm.
Add a dustpan at the wide end of the ironing board for feet or set the ironing board on top of a vacuum and bind with several elastic cords under the apron (as we did in the photo).
Secure a string mop as the head of hair to the back of the ironing board with the mop portion flopped over the top narrow end of the ironing board.
Create a face with nylon net scrubbies for the eyes, a small sponge for the nose and a nailbrush for the mouth.
Use your imagination to make this an amusing, but useful, addition to the wedding shower party. Just remember to make the Kitchen Maid or Mate with anything you think the bride or groom will need for their new life together.
By Momof1 from Wilkesboro, NC
Give a "thumbs up" to the solution that worked the best! Do you have a better solution? Click here to share it!
Questions
Here are questions related to Bridal Shower Gift Ideas.
I am looking for some unique bridesmaid's gifts. Does anyone have any ideas? The ages of everyone in the bridal party is 17-26. There are four girls. Do people normally give the maid of honor a slightly better gift? How does this work? Thanks!

Dana from Omaha, NE
Ad
---
---
Most Recent Answer

By Dana (Guest Post)10/23/2008
After looking around and reading your posts, I think I am going to give them a tote bag with their name on it and either put some spa stuff or like a bridesmaid survival kit in there or possibly both, depends on money. I also got them their jewelry for the wedding day and an interest free loan on their dresses and shoes. I couldn't afford to completely cover the cost of their dresses but could loan them the money. Thanks for all the posts. If there are any other ideas, please feel free to post. I don't need these until the beginning of next year so I might change my mind between now and then. I am trying to stay ahead of myself to keep my sanity. :)
Is it customary to buy a gift for both the Bridal Shower and the wedding? Also, if so, do I get both gifts from the Bridal registry list?

DJ4JC from Washington, IN
Ad
---
---
Most Recent Answer

By Jaime 04/28/2009
I have actually been told that it is customary for the gift to cost at least as much as the meals cost for the guests in your family. However, it is really hard for a middle class person like me to afford a gift like that if the related bride and groom are paying $125.00 a plate! But anyways, I was told that that is the general rule for wedding gifts.
I just wanted to know if you can give me some tips on what to get the bride:)

By Juliana from Seattle, WA
---
Most Recent Answer

By Joan [19]11/19/2010
Check the bridal dept. of your local department stores to see if the bride is registered there. That way you will be able to purchase something she wants and keep within your price range. Most brides today register at a local store.
Many years ago I had a craft magazine that showed how to make a mop bride. Does anyone have the instructions? I remember you use sponges in the hair for curlers and funnels for breasts. I can't remember much other, but I would love to make one of these for a dear friend getting married soon.
By Angie F.
---
Most Recent Answer

By Elaine [7]07/16/2012
Angie,
I have that craft magazine for I made that mop bride for my daughter's wedding shower back in 1992 so please if you still need those instructions, can you let me know as I have hundreds of magazine's to look through, as I will start with 1992 and work backwards. I think it was in Crafts N' Things magazine, I do have all my magazine's filed by dates so it shouldn't take to long to find but don't want to search if you have found the instructions already and can you give me a time frame as to when you need it?
Thank You,
Elaine
My best friend is getting married and I want to make her something special. I want to make something for her from a piece of my veil. It has lace and bead work on it. I have thought of a hanky, but can't figure out how to do it. Any gift suggestions or ideas on the hanky?
By Sarah C.
---
Most Recent Answer

05/18/2012
Cut material in small rectangle and fold in half. Turn fabric inside out and sew each side. Fill it with potpourri and tie with ribbon from the bridesmaids. She can put in dresser to make clothes smell good and refill scent when needed.
I am looking for the instructions and the poem for making a bridal shower mop maid. I use to have both the poem and the instructions but have lost them. I am willing to buy the poem and the instructions.
By Patricia K