Broccoli Leek Soup
Here's a hearty vegetarian soup that is perfect for fall. It is a great place to hide any vegetables or herbs you may need to use up; like basil, carrots or zucchini.
Approximate Time: 2 hours
Yield: 10 cups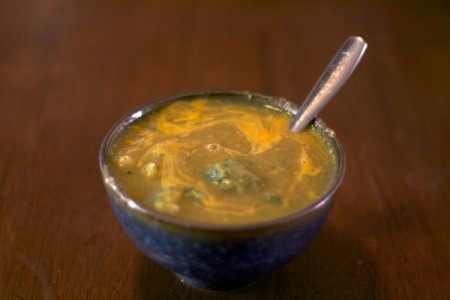 Ingredients:
2 heads broccoli
2 Tbsp garlic, minced
1 cup onion, chopped
3 leeks, chopped
1 cup celery, chopped
1 cup zucchini, chopped
2 red potatoes, chopped
1 qt vegetable broth
2 Tbsp lemon juice
salt and pepper, to taste
Steps:
Peel and chop broccoli stems. Reserve broccoli florets (about 2 cups, bite sized or smaller) to add later in the recipe. Prepare the other vegetables in advance so they are ready to go into the pot. I added a zucchini because I have a surplus right now so feel free to add in any other veggies you have on hand.
Heat heavy bottomed stock pot over medium heat. Add oil then onions. Cook onions for a couple of minutes, then add garlic. Cook for another minute then add celery and zucchini.
Being sure that the cut leeks have been well rinsed or soaked, add them to the soup pot. Add broccoli and potatoes and 1 qt. of broth or stock. I used vegetable broth because I'm making a vegetarian meal, but chicken or beef broth would be also delicious.
Bring soup to a boil and then turn to low. Add in Italian parsley, salt pepper and spices, to taste. I used Italian seasoning but any favorite herb blends would work here.
When veggies are all soft, turn heat off and use an immersion blender to the pot to make it a nice consistency. You can store it now if you are not planning on eating soon.
Before serving, bring to a simmer and add broccoli florets and additional water or some milk, if desired. Shredded cheese, a dollop of sour cream or some bacon would be a nice addition to this soup. I tried crumbled feta in one bowl and it was delicious.
By Jess
Feedback
Post Feedback
Add your voice to the conversation.
Related Guides
Related Posts