July 9, 2011
1

found this helpful
Can I fry my squash up and then can it?
By Tara P
July 11, 2011
0

found this helpful
I gave you a thumbs up because you made me smile. I asked that question once also. Live and learn. No, but you can bread your squash after slicing, layer it on a cookie sheet and freeze. Then place in a freezer bag, getting all the air out you can. You can fry these later. You can pickle and can squash. There are some great recipes with a google search or go to the Ball canning site. Good luck.
July 11, 2011
0

found this helpful
To can squash (or any non-acidic vegetable) you need a pressure canner. The canner can reach and maintain the temperature needed to prevent botulism. However, the squash will be very mushy and not very good. Freezing is the way to go.
July 22, 2011
0

found this helpful
My husband has had an overabundance of zucchini this year. Maybe this extreme heat has something to do with it? My question is, does anyone have a recipe for canning zucchini?
I have shredded quite a few to freeze for zucchini bread this winter with my Food Saver machine. I also blanched some sliced zucchini, froze it on foil over cookie sheets in the deep freezer. I later popped them off and used my Food Saver machine that removed the air from the bag.
So if anyone has a recipe for canning zucchini, I would greatly appreciate it. Thank you.
Carolyn C. from Elsberry, MO
July 26, 2011
0

found this helpful
I'm sorry I don't have a recipe for canning, but I just wanted to add that I don't even blanch the zucchini that I freeze. I shred mine for use in cakes and quick breads; just squeeze out the excess water once thawed. Makes the moistest cakes you've ever had and reduces the amount of oil that you need too.
July 26, 2011
0

found this helpful
My sister pickles her zucchini, she uses the recipe from Ball canning, at www.freshpreserving.com/ Kosher Dill Pickles - Small Batch or on back of package. She follows it using zucchini instead of the cucumbers. The only thing she does different is she removes the large seeds from the center and slices into short spears. She includes a fresh clove of garlic into each jar for some kick. They are very good and don't last long at family picnics.
I need a recipe for canning zucchini made with pineapple juice. Any one out there have one and know if it is any good? It's that time of year the zucchinis are coming in full and fast. Thanks so much to you all out there in cyber space.

Barb from Fairview, Mi
By guest (Guest Post)
August 28, 2007
0

found this helpful
Be sure to get a recipe from the County extension office or somewhere safe. I did up a huge supply a long time ago and had to throw it all away. Seems there is an old recipe that has pineapple juice but not enough acid in it. There are newer ones out now but why take a chance?
August 30, 2007
0

found this helpful
-Zucchini Jam Jelly and Preserves Recipes
Ingredients:
6 cups zucchini; peeled & grated
1/4 cup water
1 package sure-jell
5 cups sugar
13 ounces pineapple; crushed
6 ounces apricot Jello
Directions:
Boil the zucchini and water until soft. Add Sure-Jell and bring to a hard boil. Add sugar and pineapple. Boil 5 minutes. Remove form heat. Add apricot Jello. Stir well. Pack in sterilized jars and seal. I use the Sure-Jell Light and use only 3 1/2 cups sugar.
This is an orange colored jam and really tastes great, unless you don't like apricots or pineapple!
This recipe for Zucchini Jam serves/makes 6
August 30, 2007
0

found this helpful
I think this might be what you want. Enjoy. Joyce
Zucchini-pineapple
Categories: Fruits Canning Preserves
Yield: 8 Pints
4 quart Cubed or shredded zucchini
46 ounce Unsweetened pineapple juice (canned)
1 & 1/4 cup Bottled lemon juice
3 cup Sugar
1,001 - 6,000 ft: 20 min.
Above 6,000 ft: 25 min.
Yield: About 8 to 9 pints Procedure: Peel zucchini and either cut into 1/2-inch cubes or shred. Mix zucchini with other ingredients in a large saucepan and bring to a boil. Simmer 20 minutes. Fill jars with hot mixture and cooking liquid, leaving 1/2-inch headspace. Adjust lids and process. Table 1. Recommended process time for Zucchini-Pineapple in a boiling-water canner. Style of Pack: Hot. Jar Size: Half-Pints or Pints. Process Time at Altitudes of 0 - 1,000 ft: 15 min. ======================================================= ===== * USDA Agriculture Information Bulletin No. 539 (rev. 1994) *
By guest (Guest Post)
August 31, 2007
0

found this helpful
Imitation Pineapple Zucchini
46 oz. unsweetened pineapple juice
1/2 cup lemon juice
1/2 bottle of pineapple extract or oil
2 cups sugar
boil 3 minutes
put in clean canning jars
cold pack 10 minutes
August 18, 2011
0

found this helpful
I need to know how to can summer squash and zucchini. Any suggestions?
By Evelyn H
September 9, 2012
0

found this helpful
I can yellow squash & Zucchini, tomaoes, onions, green pepper and celery could be opts. add tomto juice for Liquid, you can find recipes in canning books under squash or vegy recipes in most.
I put smoked turkey sausage, when I heat it up and serve over rice or noodles.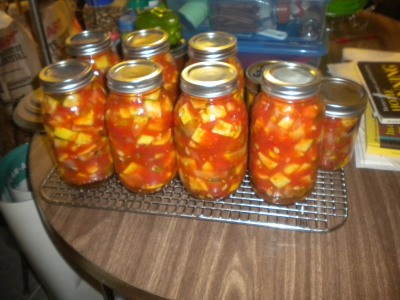 July 29, 2013
0

found this helpful
I don't have a pressure canner, can I can squash in a cold canning bath. You know cook the squash, put them in jars and seal, then put them in a large pot and cover with water and boil for 20-30 minutes.
By Tina