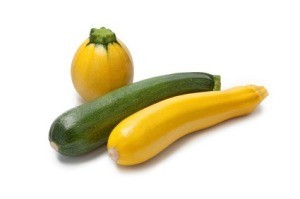 When the summer squash is ripe there is usually too much to eat it all fresh. This guide is about canning summer squash and zucchini.
Ad
---
Questions
Here are questions related to Canning Summer Squash and Zucchini.
Can I fry my squash up and then can it?
By Tara P
Ad
---
---
Most Recent Answer

By Marie [2]07/11/2011
To can squash (or any non-acidic vegetable) you need a pressure canner. The canner can reach and maintain the temperature needed to prevent botulism. However, the squash will be very mushy and not very good. Freezing is the way to go.
I need a recipe for canning zucchini made with pineapple juice. Any one out there have one and know if it is any good? It's that time of year the zucchinis are coming in full and fast. Thanks so much to you all out there in cyber space.

Barb from Fairview, Mi
Ad
---
---
Most Recent Answer

By LEANNA (Guest Post)08/31/2007
Imitation Pineapple Zucchini

46 oz. unsweetened pineapple juice
1/2 cup lemon juice
1/2 bottle of pineapple extract or oil
2 cups sugar
boil 3 minutes

put in clean canning jars
cold pack 10 minutes
My husband has had an overabundance of zucchini this year. Maybe this extreme heat has something to do with it? My question is, does anyone have a recipe for canning zucchini?
I have shredded quite a few to freeze for zucchini bread this winter with my Food Saver machine. I also blanched some sliced zucchini, froze it on foil over cookie sheets in the deep freezer. I later popped them off and used my Food Saver machine that removed the air from the bag.
So if anyone has a recipe for canning zucchini, I would greatly appreciate it. Thank you.
Carolyn C. from Elsberry, MO
---
Most Recent Answer

By Ginger Barachie-Masonheimer [1]07/26/2011
My sister pickles her zucchini, she uses the recipe from Ball canning, at www.freshpreserving.com/ Kosher Dill Pickles - Small Batch or on back of package. She follows it using zucchini instead of the cucumbers. The only thing she does different is she removes the large seeds from the center and slices into short spears. She includes a fresh clove of garlic into each jar for some kick. They are very good and don't last long at family picnics.
I need to know how to can summer squash and zucchini. Any suggestions?
By Evelyn H
---
Most Recent Answer

By djswan_5009/09/2012
I can yellow squash & Zucchini, tomaoes, onions, green pepper and celery could be opts. add tomto juice for Liquid, you can find recipes in canning books under squash or vegy recipes in most.
I put smoked turkey sausage, when I heat it up and serve over rice or noodles.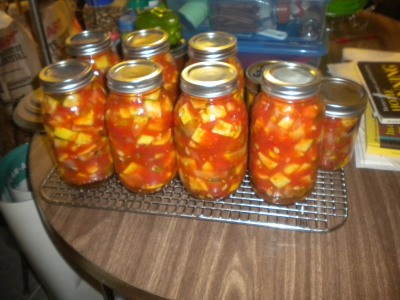 I don't have a pressure canner, can I can squash in a cold canning bath. You know cook the squash, put them in jars and seal, then put them in a large pot and cover with water and boil for 20-30 minutes.
By Tina
I am looking into possibly canning some of our crop from the garden of summer squash and zucchini. Has anyone had any luck with that?
By Sharon M.
How do you can fresh summer squash?
By Leanne W.
Solutions: Canning Summer Squash and Zucchini
Do you have knowledge about this guide topic? Feel free to share a solution!