I have an orange star plant that has quit blooming. Should I cut the long stems off? The pot it is in has no hole at the bottom. Should I re-pot it? It's a beautiful plant and I would like to keep it. I just don't know how to take care of it. Thank You. Allene
Hardiness Zone: 10a
By Allene from Phoenix, AZ
April 25, 2010
3

found this helpful
Best Answer
An orange star plant is a tropical bromeliad originating from Ecuador. These plants make excellent house plants with their numerous overlapping green leaves coming from a central trunk and then bursting with a bright orange flower. The orange star can add a tropical feel and color to any room in your home. Like any tropical plant, the orange star likes it warm and humid. This plant is easy to grow with minimal care.
Step 1
Keep your orange star plant in bright indirect light or filtered light. If you are keeping the plant on a desk or in an area that does not have indirect light, keep under fluorescent lighting and check the soil for dryness more often.
Step 2
Water to keep the soil evenly moist during the spring, summer and fall. Cut back the watering to allow the top of the soil to dry out in the winter. Leave a bottle of tap water out for 24 hours before using it to water the plant. This will allow harmful chemicals and lime to dissipate from the water.
Step 3
Mist the plant with a spray bottle once a day during the summer and fall. Another way to add humidity to the plant is to set the container on a tray covered with pebbles and water. Do not allow the plant to sit in the water but above it on the pebbles.
Step 4
Fertilize your orange star with a water-soluble fertilizer once a month from May through October. Use a balanced 20-20-20 fertilizer.
Step 5
Repot the plant every spring to encourage new growth. Give it a little extra water and hold back fertilizer until the plant has fully adjusted to the new pot and soil. You will know that it has adjusted by seeing new growth. Good luck.
April 25, 2010
0

found this helpful
All planters needs holes in them so the water can train out. I put a plastic bag over the holes to keep the soil from going out. Yes, you need to repot it. Go to - how to grow an Orange Star Plant, lot of info there, good luck.
April 24, 2012
0

found this helpful
Ornithgalum dubium
Some Orange Star are Ornithgalum dubium not?
See <http://www.gard utm_medium=2>
http://www.bill m/March_25_2006/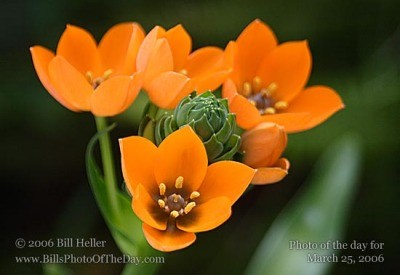 April 18, 2017
0

found this helpful
I recently got one of these plants and it seems as though there is more root than soil It needs to be repotted but how far should I cut back the root ball before putting it in the new pot
I have a sun star plant, does anyone if if I can put it outside or do I need to keep it in doors? How I do I care for this kind of plant? I saw it and thought it was pretty.
May 11, 2017
0

found this helpful
Give it full sun and moderately moist soil.
May 11, 2017
0

found this helpful
Here are Sun Star care instructions from rocketfarms.com
Water: Keep planting mix moist.
Light: Place in bright indirect sun light indoors.
Continuing Care: Remove spent flower spikes at base.
Temperature: Performs well at a cooler indoor temperature.
Fertilizer: Use liquid fertilizer at half the label rate every other month.
May 13, 2017
0

found this helpful
You ask about putting it outside or should you keep it inside.
For planting outside the guides are saying okay in zones 7 - 11 but 7 and 8 may be risky unless you dig up the bulbs. It is a beautiful plant and is available in orange, yellow and white.
Here is a link to the US hardiness map in case you are not familiar with your zone.
http://planthar sda.gov/PHZMWeb/
Here is a link with care instructions - be sure to read all the way to the bottom and also - remember that most sites say this is a toxic plant so keep away from pets.