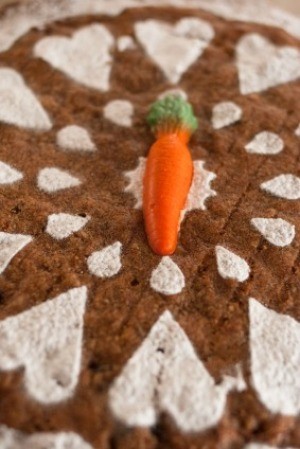 There are a variety of ways to make this moist delicious cake. This page contains carrot cake recipes.
Ad
---
Solutions: Carrot Cake Recipes
Read and rate the best solutions below by giving them a "thumbs up".
With the coming of spring brings an old, yet great, recipe for those family get-togethers that is scrump-delicious. Simple and easy to make, I'm betting it won't last long when everyone bites into your freshly homemade dessert. Go ahead and make 2 because when you freeze them, the flavor just bursts with each bite.
Ingredients:
Carrot Cake
2 cups sugar
1 cup applesauce
3 eggs
2 cups grated carrots
2 Tbsp. vanilla
1 cup chopped walnuts (or more if you desire)
2 Tbsp. cinnamon
4 cups flour
1 tsp. baking powder
1 tsp. baking soda
1 tsp. salt
Icing:
1 cup margarine or butter
1 (8 oz.) pkg. cream cheese
1 bag confectioners sugar
1 tsp. vanilla
Directions:
Mix together sugar applesauce, vanilla, cinnamon, nuts, carrots, and eggs with mixer. If it too stiff, add a little water.
In sifter, add 2 cups flour and baking soda, salt, and baking powder. Sift half of mixture into wet ingredients and add more flour to sifter until used up. Sift all into wet mixture.With mixer mix until just moist getting all the flour from the sides of the bowl.
Bake at 350 degrees F for one hour in tube pan that has been greased and floured (or use the spray).
Next make up the icing by beating margarine, cream cheese, vanilla, and gently add confectioners sugar until it is a little stiff. Refrigerate until stiff. About 1 hour.
If you add the cream cheese frosting to the cake, you must refrigerate it.
This cake will last 6 months in the freezer and about 20 minutes on the table. Make 2 and save on electricity at the same time.
Note: For the dieters, I normally leave the icing in a container and you spread your own or else I have 2 cakes - one frosted, one unfrosted.
Servings:
16
Time:
20 Minutes Preparation Time
1 hour Minutes Cooking Time
Source: My own tweaked recipe.
By Gem from VA
Had some leftover homemade cranberry sauce, prunes and a box of carrot cake mix and decided to get creative! It turned out delicious! You can also make cranberry upside down cake, or mix the cream cheese and cranberry together and put into muffins. If you use chocolate cake, skip the prunes.
Ingredients:
1 box carrot cake mix (or spice cake or any kind of cake you like)
1 cup whole berry cranberry sauce (or more)
10 prunes
1 - 2 tsp. flour
2 - 8 oz. boxes cream cheese
1/4 cup powdered sugar
1/4 cup milk (approximately)
Directions:
Preheat oven to 350 degrees F (or 325 if using dark pans). Chop prunes (or dried apricots or other fruit). Mix with a bit of flour so they don't congregate at the bottom of the cake mix. Add to cake mix. Bake the cake.
Mix cream cheese with sugar and enough milk to make it thin enough to frost the cake with.
When cake cools, cut in half. Spread cranberry sauce then top with 1/2 of the cream cheese mixture. Put the other half of the cake on top. Spread with cranberry sauce and then frost with the rest of the cream cheese mixture.
By Linda R. from Eustis, FL
Ingredients
1 1/2 cups sunflower oil
2 cups sugar
4 eggs
2 cups sifted flour
2 Tbsp. baking soda
2 Tbsp. baking powder
2 Tbsp. cinnamon
1 Tbsp. salt
3 cups grated carrots
1 cup chopped walnuts
1 cup raisins
1/2 cup crushed pineapple, drained
Directions
Blend oil and sugar, then add eggs, one at a time. Sift all other dry ingredients together in another bowl. Add dry ingredients to sugar/oil/egg mixture. Then add carrots, nuts, raisins and pineapple. Bake in greased and floured 9x13 inch pan at 300 degrees F for 50 minutes or until cooked in the middle. Any cream cheese frosting is great!
By Robin from Washington, IA
A fall favorite!
Ingredients:
2 1/2 cups flour
1 1/2 cups vegetable oil
3 tsp. cinnamon
2 tsp. baking soda
1 cup nuts
2 cups sugar
3 cups grated carrot
4 eggs
1 tsp. vanilla
Icing:
6 oz. cream cheese
1/2 cup margarine
1 lb. powdered sugar
2 tsp. vanilla
Directions:
Mix cake ingredients. Pour into oblong cake pan. Bake at 350 degrees F for 30-35 minutes. Top with icing when cool.
Cooking Time:
30-35 Minutes
By Robin from Washington, IA
A fall favorite!
Ingredients:
2 1/2 cups flour
1 1/2 cups vegetable oil
3 tsp. cinnamon
2 tsp. baking soda
1 cup nuts
2 cups sugar
4 eggs
3 cups grated carrot
1 tsp. vanilla
Icing:
6 oz. cream cheese
1/2 cup margarine
1 lb. powdered sugar
2 tsp. vanilla
Directions:
Mix cake ingredients. Pour into oblong cake pan. Bake at 350 degrees F for 30-35 minutes. Top with icing when cool.
Cooking Time:
30-35 Minutes
By Robin from Washington, IA
I love carrot cake and I have sampled it all over the world.  This recipe makes one of the moistest cakes I have ever had, but what makes it really special is the icing.  Instead of regular cream cheese icing we like to make it with a cream cheese sauce.  When serving the cake just pour or dollop on the cream cheese sauce, as little or as much as you want.
I also prepare this cake so that it is non-dairy by using margarine, soya milk and soya cream cheese substitute.  Believe me you won't be able to tell the difference, but if you're worried about it just substitute butter for margarine, real milk for soya milk and use real cream cheese.
Yum!!
Ingredients For Cake:
1 cup raisins
2 1/4 cups flour - I prefer Cake and Pastry Flour but all-purpose flour will do.
2 tsp baking soda
2 tsp cinnamon
1/2 tsp salt
3 eggs
3/4 cup melted margarine
1/2 cup soya milk
2 cups brown sugar
2 tsp vanilla extract
8 ounces crushed pineapple
4 cups grated carrots
1 cup chopped pecans or walnuts
1 cup grated coconut
Ingredients For Cream Cheese Sauce:
1/2 cup margarine
16 ounces soya cream cheese substitute
1 tsp vanilla extract
icing sugar - to taste
soya milk - for consistency
For the Cake:
Step 1: Fill kettle with fresh water and bring to a boil
Step 2: Place raisins in bowl and cover with boiling water
Step 3: Pre-heat oven to 350 degrees
Step 4: Grease a 10" bundt pan - if you don't have a bundt pan use a 9" x 13" cake pan
Step 5: In a large mixing bowl add flour, soda, cinnamon and salt and mix well
Step 6: In another mixing bowl add eggs, margarine, soya milk, sugar and vanilla extract and beat together
Step 7: Drain water from raisins using a sieve
Step 8: Add egg mixture to dry ingredients and mix well
Step 9: Stir in pineapple, grated carrots, chopped pecans or walnuts, coconuts and raisins and mix well
Step 10: Pour into pan and bake for about 1 hour or until a toothpick comes out clean
Step 11: Remove from oven, allow to cool for 20 minutes and remove from pan
For the Cream Cheese Sauce (can be made in advance)
Step 1: Beat butter and cream cheese substitute together until smooth
Step 2: Add vanilla extract and beat
Step 3: Add a ½ cup of icing sugar and beat. Taste and add ¼ cup of icing sugar at a time until the desired sweetness is reached.
Step 4: Depending on the brand of cream cheese substitute you use the mixture should now be pourable.  If it is too stiff, add milk slowly until the desired consistency is achieved. The sauce should be thick and only slowly pour out.
For serving, cut a piece of cake and pour cream cheese sauce over the top.
By the way, the cream cheese sauce also makes a really good spread on a toasted bagel.
Enjoy!
By The Maitre D
2 cups grated carrots
1 ½ cups crushed pineapple (drained to 1 cup)
1 cup chopped nuts
3 beaten eggs
Sift into a large bowl:
3 cups flour
1 ½ cups sugar
2 tsp cinnamon
½ tsp salt
3 tsp baking powder
1 tsp soda
Blend in:
Mix in carrot mixture. Pour into a large cake pan. This makes a very large cake - can be halved or cooked in 2 - 9x13 pans. Bake at 350F for 50-60 minutes.
Give a "thumbs up" to the solution that worked the best! Do you have a better solution? Click here to share it!
Questions
Here are questions related to Carrot Cake Recipes.
I'm looking for a REALLY yummy carrot cake recipe. One that is very moist. The recipe I tried was really dry and I've eaten some before that was really moist. Does anybody have a recipe like this?

Nellio
Ad
---
---
Most Recent Answer

By christi (Guest Post)12/15/2007
I have been using the same recipe since I took it over from my mom. I make a carrot cake mix according to the directions, except I use the juice from a can of pineapple instead of water. butter instead of oil, not margarine. I take a small can of carrots and smash them and add them. You can add some crushed pineapple if you want to, though dont use the whole can, maybe 1/4 to 1/2 of it. Bake at recommended temp and time. I use cream cheese frosting and add some of the crushed drained pineapple to the frosting to thin it down a little and add flavor and texture.
I am looking for a carrot cake recipe that uses canned pureed carrots. I saw one but I lost it. I want to make it for someone that doesn't like carrot shreds in the cake. Please let me know if someone has the recipe! Many thanks!

Mary from Paris, Ohio


Ad
---
---
Most Recent Answer

By maria (Guest Post)08/11/2008
Have quite a few cans of carrots and would greatly appreciate a good moist carrot cake recipe to use them up.

Bunny girl'''hehehe Maria
Help! Does anyone out there have a really great recipe for Carrot Cake? I would love to have it, if you'd be willing to share it.

Bert from Oregon
---
Most Recent Answer

By Brenda (Gu