Does anyone have a recipe for a cat gravy? I have a 19 year old and he will only lick the gravy from his food. I have worked for a veterinarian for many years, but we have yet to come up with a good recipe. Sometimes we need to "hide" liquid medication in the gravy mixture. Some medications can be compounded with a certain flavor, but some medications cannot. Thank you in advance.
By Sherri from CA
Recent Answers
Here are the recent answer to this question.

By Nancy Krasner B.08/18/2013
I am interested too - my 19 1/2 year old cat will only eat the gravy. I just tried a can of cat food, added water and ran it through the blender. She had no interest in it all.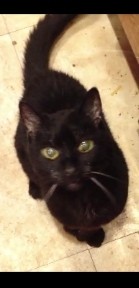 Answer This Question
Add your voice to the conversation. Click here to answer this question.