August 18, 2013
I am interested too - my 19 1/2 year old cat will only eat the gravy. I just tried a can of cat food, added water and ran it through the blender. She had no interest in it all.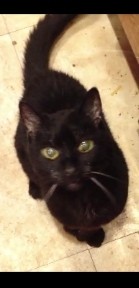 November 21, 2014
Hello - when my 18 1/2 year old cat went off all solid foods, I began feeding her 'kitten formula' - 2 cups whole milk, 1 egg yolk, 1 tsp. corn syrup (opt), pinch of sea salt. Mix everything well and store in airtight container in the fridge. Take out only what your cat will drink for one meal, warm and serve. I also offered her normal cat kibble (or kitten chow) and fresh water at all times. She did well through the winter and passed peacefully during the next summer.
It is best to make the kitten formula with raw milk (either goat or cow) because it is far easier to digest.