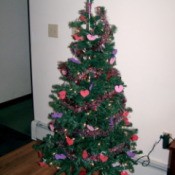 My daughters didn't want to take down the Christmas tree so we made it into "The Holiday Tree". Each month, we will use a theme for that month, this month is hearts, cupids, garland, etc. all from the dollar store.
By Mimi from West Greenwich, RI
February 9, 2012
0

found this helpful
This is a great idea love it!
January 3, 2017
0

found this helpful
Teachers could use this idea in the classroom. After Christmas, the tree could have snowflakes, snowmen and winter vocabulary words on it, Spring ornaments could include Easter bunnies, lambs, tulips, sentences on strips of paper about new beginnings, spring time. The last month of school the tree could depict summer with sunshine, summer plans of students, a count down chain Garland for the end of school. The students could make the ornaments for each tree month or bring small toys to decorate tree.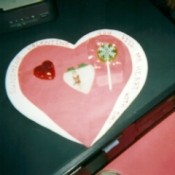 Put some candy in a balloon and put a little note in it. Then blow it up, tie a ribbon on it and attach it to your loved one's chair.
Make heart shaped pancakes for breakfast, with strawberries or chocolate chips. Make cupcakes with pink and red icing. Try pink mashed potatoes.
Hide chocolate treats around the house. Give clues as to where to find them.
Make a homemade card for each child with their picture. Add a note about things you like about them. Put a chocolate treat under their pillows.
By Coville123 from Brockville, Ontario