Chocolate Crackled Cookies
My son just made these cookies. It was his first cooking project without any help. They turned out great - although he did get to learn how important it is to set the timer on the last batch :)
Approximate Time: 2 1/2 Hours
Yield: 3 dozen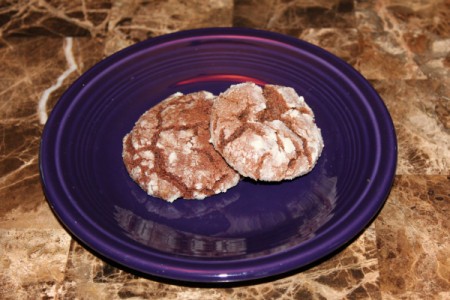 Supplies:
1 1/4 cup firmly packed light brown sugar
1 cup Crisco (or 1 Crisco baking stick)
1 tsp vanilla extract
2 Large eggs
1/4 tsp baking soda
6 Tbsp cocoa powder
1/2 tsp salt
2 cups flour
2/3 cup semi-sweet chocolate chips (mini preferred)
Glaze:
1/3 cup sugar
1/2 cup powdered sugar
Steps:
Beat brown sugar, shortening, and vanilla until well blended. Beat in eggs.
Add cocoa, salt, and baking soda. Slowly add 2 cups flour and mix until just blended. Add chocolate chips.
Cover and chill for 2 hours.
Preheat oven to 375 degrees F.
Form dough into 1 1/4 inch balls and roll first in sugar than in powdered sugar until coated completely.
Place 2 inches apart on baking sheet and bake 8-10 minutes or until cookies are set.
Remove from oven and cool 2 minutes on baking sheet. Remove cookies to wire rack to cool completely.
My son used milk chocolate chips instead of the mini-chocolate chips because that's what we had on hand. He also got to make brown sugar by adding molasses to white sugar (I showed how to look that up on the internet, which he thought was pretty neat).
By Stephanie
Feedback
Read feedback for this post below. Click here to post feedback.

By
11/03/2012
They look great, and how nice that your son likes to cook (or at least bake)! I will definitely try this recipe myself. Thanks for posting it. Maybe your son will help you bake holiday cookies now!
Post Feedback
Add your voice to the conversation.