Chocolate Meringue Pie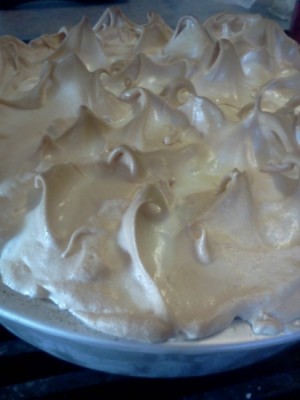 This is a wonderful chocolate pie my whole family loves.
Ingredients:
1 3/4 cups sugar, divided
1/3 cup all-purpose flour
1/4 cup cocoa
2 cups milk
4 large eggs, separated
4 Tbsp. butter
1 tsp. vanilla
1/2 tsp. cream of tartar

Pie Crust

1 package graham cracker crumbs
1 Tbsp. sugar
1 Tbsp. melted butter
Directions:
First in medium bowl add the graham cracker crumbs and sugar; mix well. Add the butter and mix again.
Add Ingredients to your pie pan and spread evenly around, set aside til needed.
Combine 1 1/4 cups sugar, flour, and cocoa in a medium bowl
Beat milk and egg yolks together in medium bowl and slowly add to bowl. Mix with a whisk and cook over medium heat, stirring constantly, until thickened and bubbly.
Remove from heat and add the butter and vanilla. Stir pudding until butter is melted. Stir once in awhile to prevent skin
Preheat oven to 325 degrees F.
Beat egg whites and cream of tartar at high speed with your mixer until foamy.
Slowly add remaining 1/2 cup sugar, 1 tablespoon at time, beating until it becomes stiff and sugar dissolves.
Pour pudding into the graham cracker crust.
With a rubber spatula carefully scoop out meringue and put it onto pudding. Carefully spread making sure to completely cover pudding and edge of crust.
Bake for about 30 minutes or until lightly golden brown.
By Teresa S. from Greensburg, KY
Feedback
Post Feedback
Add your voice to the conversation.