Yummy sweet treats are something everyone enjoys during the holidays. Whether they are just for you and your family or part of a gift to someone, these sweet treats are sure to be a hit this Christmas. This page contains Christmas candy recipes.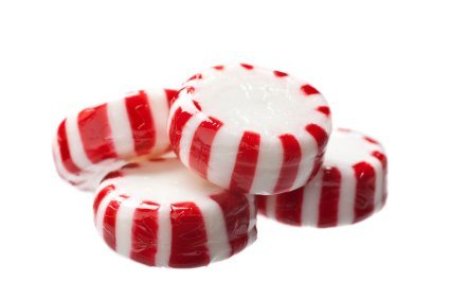 Two ingredients and super easy!
I would like to know ways to use POUNDS of white chocolate chips that melted (by mistake) and now are a solid mass. Could it be remelted and molded into ornaments or gifts of some sort?

Thank you.
Cheryl from Missouri
---
Most Recent Answer
---
By Sandi/Poor But Proud 466 2,132
Lightly grease cookie sheet, set on wire rack.
In pot, dissolve 2 cups sugar, 3/4 cup light corn syrup, and 3/4 cup butter.
WITHOUT STIRRING, boil to 300-310 degrees on your candy thermometer. Remove and wait two minutes. With WOODEN SPOON, stir in paste food coloring, using 1/2 to 1 tsp. oil flavor (and color) per batch. Pour at once into sheet, letting cool 20-30 minutes.
Lightly dust both sides with confectioner sugar and break into pieces. It's very pretty and good tasting. Excellent for holiday giving!
Source: I got this out of a Womans Day about 10 years ago. If you love saving paper like I do, you can go to their website at www.womansday.com and sign up for digital magazines now. It's half the money and they email you your magazines every month. Check it out!
By Sandra from Salem OR
Ingredients:
1/4 cup chocolate chips
2 oz. unsweetened chocolate, chopped
2 Tbsp. butter
2 Tbsp. cream
1 cup powdered sugar
30 candied cherries
3/4 cup finely shredded coconut
Directions:
Place both chocolates, the butter, and the cream in a large microwave-safe bowl. Microwave until the chocolate is melted, stirring after every 45 seconds to prevent overheating. (Alternately, you can melt the mixture on the stove top over a double boiler).
Once the chocolate is melted, stir until the mixture is smooth. Sift the powdered sugar over the bowl and stir until well-combined. Chill until the mixture is firm enough to shape, about 1 hour.
Using a teaspoon, scoop up small amounts of the candy and roll them into small balls between your palms.
Press a candied cherry into the top of each ball, inserting it enough so that it is secure but still protrudes from the top.
Place the shredded coconut in a bowl. Roll the sides of the fudge balls in the coconut, so that it sticks to the chocolate but does not cover the cherry. If the chocolate is very dry and the coconut does not stick, try dampening your hands slightly and holding the candy with one hand while pressing the coconut onto the candy with the other. The water from your hands will help the coconut stick in an even coating.
Repeat with remaining candies until all are covered with coconut. Store the candies in an airtight container in the refrigerator for up to a week, and allow to come to room temperature before serving.
Source: From: Elizabeth LaBau, About.com Guide
By Jodi from Aurora, CO
Ingredients:
1 bag chocolate candy wafers, to melt
broken bits of peppermint, candy canes, etc.
Directions:
In a double boiler, melt the chocolate (whatever amount you want to use). Add peppermint bits, stir and quickly pour onto a lightly greased cookie sheet, spread. Place sheet into freezer until hard.
Crack chocolate by banging pan on countertop a couple times or use back end of table knife on the chocolate, breaking into pieces.
Put pieces into a small or pint jar, cover with lid, decorate the jar. Add nice ribbon or bow with gift tag. Great little holiday gift to give. Great for the family too.
Darlene
By Robin 5,893 29
Ingredients
1 Hershey bar (26 oz.)
1 large package chocolate chips
1 lb. nuts
1 jar marshmallow cream (8oz.)
1 1/2 cup sugar
1 cup evaporated milk
2 tsp. vanilla
1 tsp. salt
Directions
In a bowl, chop the Hershey bar into pieces and add the chocolate chips, nuts and marshmallow cream. In a 5 qt. pan, bring the sugar, milk, vanilla and salt to a boil. Let cook for 3 minutes and no longer. Mix in the Hershey bar mixture. (You have to work fast or it will set up. And you may need someone to help pour.) Pour on cookie sheets.
By Robin from Washington, IA
By Robin 5,893 29
Ingredients
1 lb. white cocoa bark
1/2 tsp. almond flavoring
3 peppermint sticks, crushed
1/2 cup toasted almonds, sliced
Directions
Melt cocoa bark in top of double boiler or over very low heat. Add remaining ingredients. Pour into large shallow greased cookie sheet. Let stand until cold and break into pieces.
By Robin from Washington, IA
This recipe is a Christmas favorite of mine. Makes your house smell wonderful when making.

2 cups sugar
1/4c water
2/3 c white syrup
1 small bottle of cinnamon oil (purchase at most pharmacies)

Using a candy thermometer cook to 250 degrees or SOFT CRACK. Oil is added when all the other ingredients have reached the proper temperature.Add red food coloring and stir. DON'T LET THE HOT STEAM get in your face. This is really strong smelling!

Pour out on a sheet pan that has been buttered. Let cool and crack with a knife, or if you choose you can cut it WARM with kitchen shears.

Put in a plastic bag with abut half a cup of powdered sugar. Shake to coat. Sift to remove excess powdered sugar. Makes a great gift in a decorative jar.

By Sharon Shearer
Here are some adorable Christmas sweets that are sure to get gobbled up. These sweet treats are easy to make and would make fantastic gifts also.
Source: http://www.allyou.com

View This Page
This page is not on ThriftyFun, but we had to share it. Be sure to come back and rate it.
Ingredients
Glue gun and glue sticks
4 (sixteen inch) lengths 3/8 inch wide red or green ribbon
16 packages (5 pieces each) chewing gum
12 packages (1 1/2 oz each) raisins
64 round peppermint candies
4 rolls Lifesavers
4 foil wrapped chocolate kisses
Assorted foil wrapped candies
12 miniature candy canes
Directions
For cars of each train:
Glue 1 ribbon onto wide side of gum package, 1 raisin package, 2 more gum packages and 1 more raisin package, spacing cars about 1/2 inch apart.
For wheels:
Glue 4 peppermint candies onto sides of gum packages and 2 candies onto sides of raisin packages.
For engine:
Glue 1 roll Life savers onto first ribbon topped gum package. Glue 2 foil wrapped candies onto top of engine.
Glue additional candies, candy canes and raisin packages to train cars as desired.
Repeat these steps to make remaining 3 cars for your train
For a picture of this go to http://www.bettycrocker.com/recipes/recipe.aspx?recipeId=36362
by imaqt1962
Ingredients:
3 marshmallows
1 lollipop stick (8 inch)
1 peanut butter cup (these must be the small ones)
1 Chocolate Wafer
1/2 tsp. creamy peanut butter
2 pretzel sticks
1 fruit Roll-up
5 candy-coated chocolate pieces
Directions:
THREAD marshmallows on lollipop stick to resemble a snowman.
ATTACH peanut-butter cup to wafer with half of the peanut butter. Place on top of snowman for the "hat," securing with remaining peanut butter. Insert pretzel sticks into middle marshmallow for the "arms."
CUT fruit roll-up into desired length for the "scarf;" wrap around snowman. Decorate with candies as desired.
By Anna
By Robin 5,893 29
This is a great candy for Christmas!
Ingredients:
1 cup sugar
1 cup white corn syrup
1 Tbsp. vinegar
1 1/2 Tbsp. baking soda
1 pkg. semi-sweet chocolate chips (6oz.), melted
Directions:
Mix sugar, syrup, and vinegar in a 3 qt. saucepan.
Cook to the hard crack stage (300 degrees F).
Turn off flame and add the baking soda and mix quickly and vigorously.
Pour immediately into a greased 9x13 inch pan.
Cool, then invert on a tray and spread with melted chocolate.
Break into chunks.
Cooking Time:
varies - use candy thermometer and watch closely!
By Robin from Washington, IA
By Robin 5,893 29
Ingredients:
16 oz. vanilla flavored candy coating (chopped)
2 cup small pretzel twists
1/2 cup red and green candy-coated chocolate pieces (M and M's)
Directions:
Line cookie sheet with waxed paper. In medium saucepan, melt candy coating over low heat, stirring constantly. Add remaining ingredients; toss to coat. Spread mixture thinly on waxed paper-lined cookie sheet. Cool 30 minutes or until set. Break into pieces.
By Robin from Washington, IA
By Robin 5,893 29
Recipe for Christmas Gumdrops. Combine gelatin with cold water and soak for 10 minutes. Dissolve 4 cups of sugar in the boiling water and stir in the softened gelatin. Simmer SLOWLY for exactly 15 minutes and remove from heat.