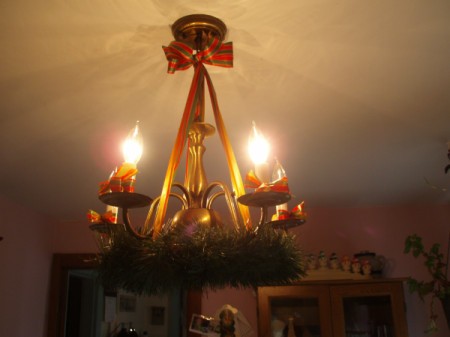 I spiced up my dining room light by adding a homemade wreath to the bottom of it. It was simple and cheap and I think it looks nice and homey!
Simply cut a ring (I traced around a saucer and dinner dish) out of cardboard. I took a 15 foot fake evergreen garland (you could use real, but mine will be up for over a month so I went with artificial) that I bought at the Dollar Store and wrapped it as shown on the cardboard picture. Then I just tied 3 long evenly spaced ribbons around the wreath and held them all together at the top. I tied them together so they hung evenly and laced them through my light chains. I added little bows to the individual lights as an afterthought.
I think it's festive over a table! What do you think?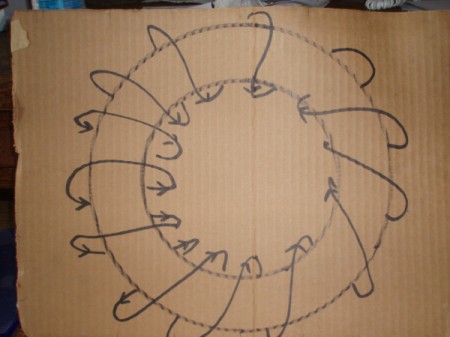 By Donna [297]
Ad
---
By Frances B. 1 12/06/20120 people found this helpful
Love it. Not expensive but beautiful.Thanks for sharing. I am going to do one myself.
By Frugal Sunnie 11 1,660 12/10/20120 people found this helpful
Very festive is what I think, very elegantly so. Beautiful-I love the ribbon colours too! Thank-you too for the picture of the direction to wind on the garland. Definite thumbs up on this.