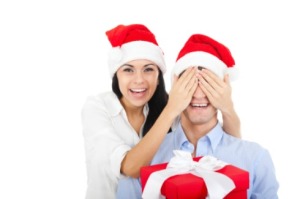 Sometimes choosing just the right gift for a boyfriend can be difficult. This is a guide about Christmas gift ideas for my boyfriend.
Questions
Here are questions related to Christmas Gift Ideas for My Boyfriend.
I'm not sure what to get my boyfriend for Christmas. By then we will have been together for just over four months. We're both 14 (although I'll be 15 by Christmas) and we've been great friends for three years. He's been asking me out since we met, but we've only been together three months.
I know he loves video games, country music (especially Joe Nichols) and movies. I'm getting him COD Advanced Warfare, and maybe a dog tag with something special engraved in it. I would love it if someone could give me some great gift ideas that would have a lot of sentimental value, but aren't too expensive. Maybe something original? Not something like cologne or a watch. Thanks in advance! :)
By Skie
---
Most Recent Answer
By Sandi/Poor But Proud [411]11/21/2014
A nice photo of you is great. You can put it in a homemade frame and wrap it nice. Or, give him one of each of you as a kid in a double frame. Ask his parents for a shot of him that is just right to match yours. You can write something on the bottom like "Friends are the best" or something cute. I hope this helps.
So I need a Christmas gift idea for my 16 year old boyfriend. He plays baseball in the spring, but doesn't play any sports the rest of the year. For his birthday I got him a gift certificate to Dicks Sporting Goods, so I can't really do that again. I want to get him something simple, but fun, and I'm not really into buying clothes or getting a picture of us and framing it. But I need help ! ;)
By Name
---
Most Recent Answer

By Louise B. [5]12/24/2013
What about some sort of board game that you could play together? Or tickets to a concert?
My boyfriend and I are 18. We are only two months into our relationship. He's away in the army and he's coming back for Christmas. He has gotten my present already (got it before he left), but now he comes back in three days and I'm stuck not knowing what to get him since it's going to be hard to bring it with him. Any ideas? It'll be hard to get any sporting/concert tickets on such short notice so that's out?
By Nohely
---
Most Recent Answer

By Jessica [7]12/20/2013
For one anniversary, I gave my husband some type of "recipe for love" jar. I bought the jar online and I could add little trinkets. But it's easy to just make your own! A mason jar cutely decorated, loving quotes or sentiments added and it's done. I found a few links online that show what it looks like and how to create:

Make:
http://www.ehow.com/how_2299522_make-i-love-you-jar.html

Buy:
http://www.etsy.com/listing/8029909 ... ve-jar-31-days-of-love-custom-quotes

Good luck!
My boyfriend and I haven't been together long, but we have been really good friends since we met. We are both 14 years young. I actually have money and I want to try to get him something for Christmas, but I have no clue what. He doesn't play video games, so that is out of the question. So I have no clue what to get him!
By Shannon B.
---
Most Recent Answer

By recyclerichardson12/16/2011
Gift card!
My boyfriend and l have been dating for 6 months now. We met in Alaska and his family recently decided to move to Texas. Since the Christmas season is right around the corner l want to find him the perfect gift. Something to remind him of me till we are together again. Any ideas?
By Danielle
---
Most Recent Answer

By Brooke12/15/2010
I'm in a long distance thing too. I'm making my boy a tie. Make him something memorable. You could make a little photo album of pic's of the two of you.
I have been dating my boyfriend for 14 months now. He gets everything he wants from his mom and will not tell me what he wants for Christmas. He is 16 and I am 15. He lives in Virginia and I live in North Carolina. So it is difficult to see each other. Please help. Thanks.
By Lindsey
---
Most Recent Answer

By Sandy Gerber [22]12/09/2010
Give him a bus ticket to come and see you.
I have known my boyfriend for 10 years. This is our first Christmas together as a couple and I have no idea what to get him. He's 31 and loves sports, but has everything he needs. I'm at a complete loss. Any suggestions?
By JerzeyGem54 from NJ
---
Most Recent Answer

By Suntydt [75]12/07/2010
Get him a "silly" sports gift. Or maybe get him a new item that would replace one he has used so much it is worn out (that would be past broke in).
My boyfriend is 22 and I'm 16. We've been together for 16 months. He has a really good job and a lot of money and he plans on spending a lot of money on me for Christmas. I don't have a job since I'm still in high school, but I wanna buy him something and I don't have a lot of money. I don't wanna be a bad girlfriend and buy him something cheap and then get really good stuff from him. What should I get him?
By s2amandas2
---
Most Recent Answer

By Louise [7]12/01/2010
Three cheers to everyone here who gave this young lady advice regarding the age difference situation!
Help please my boyfriend is 17, I'm 15. I love him so much, but I have no idea what to get him for Christmas. I could do all the cute stuff, but I don't know. He's already got a job and therefore money and he's already gotten me a Christmas prezzie. Knowing him it's pink and fluffy, but I need help. He's into rock, Iron Maiden and stuff. His ex got him an engraved pic for his guitar and a load of his fav CDs and chocolate.
By Megan
---
Most Recent Answer

By tikko marie [2]11/11/2010
Tickets to a rock concert, sometimes you can get them to say Merry Christmas____. Write to Iron Maiden and get an autograph.
I want to make my boyfriend a creative Christmas gift and I don't know what I should make. We're both 15 and he's in all sports. We're not at the jewelry giving stage yet, so. Whatever I make him can't be fragile because I have to mail it to him. Help?
By Tyler from NE
---
Most Recent Answer

By Patricia Eldridge10/24/2010
You could make him a no-sew reversible fleece blanket using his favorite team colors. Here is a link to instructions on how to make one, but there are many more instructions on the internet. http://www.instructables.com/id/No-Sew-Fleece-Blanket/
I have been out of work for 3 months now and I have no income. I would really like to give my boyfriend of 10 years something spiritually special for Christmas. Or I would like to do something very meaningful for him. Please help, he has been so good to me.
By Ann
---
Most Recent Answer

By Dena Roberts [31]12/21/2009
Do you live together? If not, you could clean his home for him...if you live together, try a really good back rub...very thoughtful, and won't cost you anything but time and love.
I am trying to find my boyfriend a funny gift for Christmas, since I already got him a cute and useful one. Any suggestions would be helpful.
By Jordyn from Torrance, CA
---
Most Recent Answer

By Carol Young [79]12/18/2009
At the Dollar Store they have a giant comb - its bright green and 2 ft long!
I have a boyfriend; he is 21. He loves to draw and would like to learn how to make tattoos. I now that Christmas is almost here and I don't know what to give him for a present. Can you help me find some ideas for what to give him?
By Addy from Dublin, CA
---
Most Recent Answer

By Mary Lou [14]12/11/2009
Kat Von Dee is an author and I hear her book has a lot of illustrations of her tats. Also any artist can always use drawing pads, sketch books, water color pencils etc. Pull it all together in a cool portfolio style (messager) bag with some paint markers so he can show his style and stuff on the bag.
Solutions: Christmas Gift Ideas for My Boyfriend
Do you have knowledge about this guide topic? Feel free to share a solution!