Decorate your holiday table with beautiful or whimsical flatware holders. This is a guide about Christmas stocking silverware holders.
These silverware stockings make great party favors. Personalize each guest's stocking with their initial.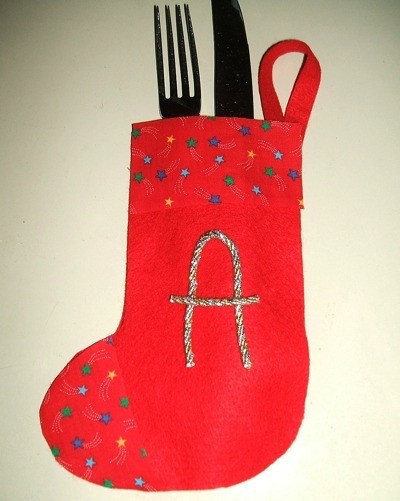 Approximate Time: About 1 hour
Supplies:
red felt
Christmas fabric
gold cording
scissors
pencil
glue
Instructions:
Cut two stocking shapes from the felt, then cut the cuff and toe shapes from the Christmas fabric.
The cuff is a long rectangle with the two long edges folded under and ironed for a clean look.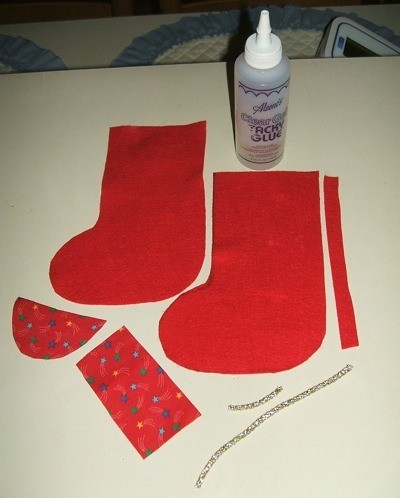 Glue the two stocking shapes together at the edges, leaving the top of the stocking open.
Fold a 1-inch by 6-inch length of felt in half and glue the ends just inside the stocking's top.
Glue the cuff and toe in place.
Use cording to form your letter. Draw your letter onto the stocking with glue, then press the cording onto it. Allow to dry completely before adding silverware.
By Rachel's Mom from Wilkesboro, NC
I had some old buffalo check curtains that I had not used for a few years, could not sell them at garage sales and could not part with them. I wanted to use them for something else, but until Christmas I did not know what. At Christmas I saw the stores selling mini stockings for silverware holders and realized I could make them for much less than purchasing them, out came my old curtains. They were faded on the window side, but that didn't matter.
At Christmas I put in some Christmas mints in the bottom, threw in a couple napkins and the silverware. You could also add hangers so everyone could take their new ornaments home for their tree. Simple and barely cost a dime; I bought the ribbon at the 1/2 price sale. You don't have to be an experienced sewer to do this. Enjoy!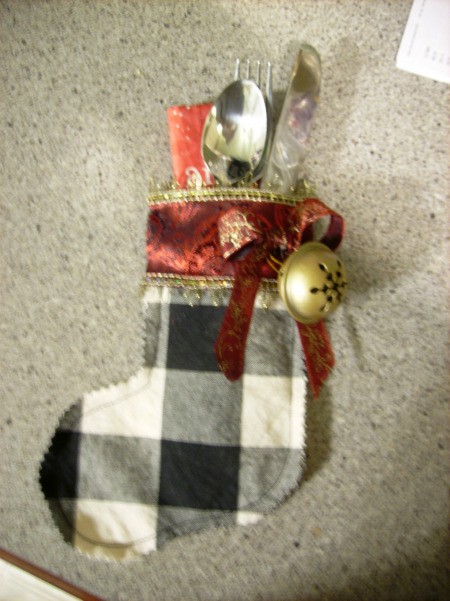 Supplies:
pinking shears
fabric
stocking pattern
2 inch wide craft ribbon
1/2 inch wide craft ribbon
hot glue gun
bell
Steps:
Use your pinking shears to cut out the stocking.
Sew seams up about 3/8 inch from the edges, back stitching the tops.
Add Christmas ribbon (2 inch wide) to the tops with a hot glue gun.
Add a Dollar Tree bell and a bow made from a similar ribbon (1/2 inch wide) gluing them at the side.
Stuff with whatever goodies, silverware, and napkins.
You could also add some greenery for more color.
Viola!