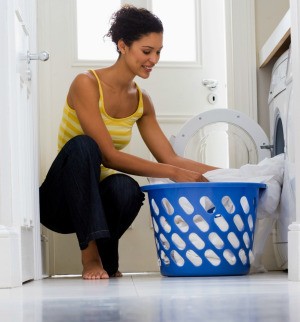 Keeping your bed sheets clean and fresh helps make sleep more relaxing. This is a guide about cleaning bed sheets.
Ad
---
Solutions: Cleaning Bed Sheets
Read and rate the best solutions below by giving them a "thumbs up".
Mend small rips and tears in pillow cases and sheets before, you throw them in the washer. This will prevent them from ripping more.

By Anne A. from Fernley, Nv.
Don't forget to clean your bed linen at least once a month. Everyone sweats, whether it's through their head which will release oils, or their feet or any where else and this will leave odors. Your body also has dead hair and skin that falls anywhere including your bed. So maybe cleaning the linen once a month might not be often enough for some, I guess it depends on how active you are.

By LRP from Lowell, MA
Tips and ideas for washing, drying and folding sheets. Post your ideas.
Give a "thumbs up" to the solution that worked the best! Do you have a better solution? Click here to share it!
Questions
Here are questions related to Cleaning Bed Sheets.
My husband leaves a yellow stain on the sheets, the full length of his body. It takes awhile to show up on new sheets but after awhile it is definitely there. It also shows up on the pillowcases and seeps into the pillow. Other women have told me they have the same problem.
It isn't an oil stain since he doesn't have oily skin. Does anyone know what it is or how to remove the stain? I have tried pure Javex and Borax, but that doesn't remove any of the stain. We would really appreciate knowing what the stains are and how to remove them. Thank you in advance.
By Emma from Moncton, NB
AnswerWas this interesting? Yes No
Ad
---
---
Most Recent Answer
By myrn 1 07/26/20130 people found this helpful
Okay, this happens to ME all the time! I'm the stain-maker! But so is my son, age 23! I'm 54, menopausal, with night sweats sometimes. I have an olive-toned complexion. My son's skin is more fair and I don't know if he sweats at night. I use washcloths when I shower, but maybe I should scrub more?! Weird. I only know that this happens with my son when he stayed at an apartment I owned in the city last year. He moved, and I took the sheets off his bed later and saw that they looked like mine!
---
How often do you change or wash your bed sheets and mattress pads?
By Maryeileen from Brooklyn, OH
AnswerWas this interesting? Yes No
Ad
---
---
Most Recent Answer
By Louise B. 6 2,541 05/24/20100 people found this helpful
I believe on Oprah the cleaning expert said that once a week for sheets and pillow cases was the norm.
---
Does anyone know how to get body oils out of sheets and towels? My husband has very oily skin and the oils seems to set in our white sheets and towels. I have tried soaking and bleach to no avail. They still have a noticeable yellow cast to them. I don't want to change sheets twice a week or buy dark towels. His latex pillow is also a nightmare! I would appreciate any help, thanks!

Nancy from Michigan
AnswerWas this interesting? Yes No
---
Most Recent Answer
By Tina (Guest Post) 07/21/20080 people found this helpful
Arm & Hammer in the yellow box. Add it to your detergent, filll the washer with warm water for a medium sized load and allow to agitate a couple minutes to mix, add the clothes and turn off washer for about an hour. After soaking set level to high and continue filling with warm water and allow it to complete the cycle.
---
I have a small closet where I keep bed linens. The closet smells okay, but the linens smell musty or moldy after just a few days, and I must wash them (again) before use.

Any ideas, please?
Linda, FL
AnswerWas this interesting? Yes No
---
Most Recent Answer
By HESTER 6 45 02/19/20110 people found this helpful
Go to Lowes and buy some odor gel. It is under $4.00 And works great in my linen closet and also in the laundry room where my kitty litter pan is. There is no overpowering aroma to this gel like sprays and it's easier to use. Just lift off the top. Keeps out the bad odors.

Works for me,
---
Any suggestions on how to get massage oil out of sheets?
By CandaceK from Scottsdale, AZ
AnswerWas this interesting? Yes No
---
Most Recent Answer
By Melody T. 5 80 05/21/20090 people found this helpful
You need something to dissolve the grease. Try spraying them down with Mean Green (it's approved as a laundry pre-treatment) and let them sit, then wash in warm water with a strong detergent.
---