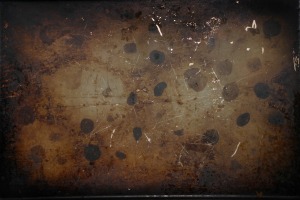 Cookie sheets can end up with burnt grease and batter stuck to the sheet after you have finished baking that batch of yummy cookies. This is a guide about cleaning burnt cookie sheets.
Ad
---
Questions
Here are questions related to Cleaning Burnt Cookie Sheets.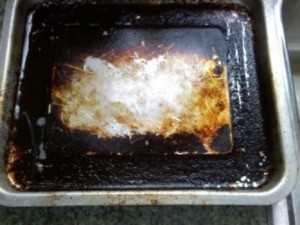 I have looked at a lot of burnt pan topics but I don't see what I need. My pan is not something I can boil in. I have a small toaster oven pan that seems to be double thick, not really thin. I have a black layer of burnt on ready to eat foods (fish sticks etc.) that I cannot get off.
I have tried vinegar with baking soda and peroxide and a few drops of soap and I have tried Dawn scrubber spray but it didn't work. There is a circle that is not burnt in the middle of the pan, and burnt black all around the edges. I have soaked it. I can't boil it because its a cookie sheet sort of pan. Any suggestions? I have tried the Magic Eraser (is that useful for anything) and the green scrubbie pads. I can't tell what it is. It's not coated for sure, but I imagine its aluminum.
By kristihilmoe from VA
Ad
---
---
Most Recent Answer

By kristi [1]09/15/2009
Well, I tried the oven cleaner over night in a bag, seems the pan was coated. Ate off a lot of the coating and left the gunk where the coating was still there. Grr. tried the sos pad on what was left, some came off. Now its a multi-surfaced coated/non coated/gunky pan!
I've read through the solutions for removing burned food from stainless cookware, but I have burned apple pie juice on an insulated cookie sheet, which cannot be soaked. Any suggestions, besides throwing it out?

Dee from St. Paul, MN
Ad
---
---
Most Recent Answer

By Misty (Guest Post)10/13/2008
This is a trick that my grandmother showed me. Anytime you have food stuck on or baked on a pot or pan, you fill the pot or pan with tap water as hot as you can get it, then place a drier sheet in the pot or pan, and let it sit overnight. The drier sheet will "magically" loosen any baked on food. I have tried it, and it works wonderfully.
Solutions: Cleaning Burnt Cookie Sheets
Do you have knowledge about this guide topic? Feel free to share a solution!