Cleaning Burnt Oil From Stainless Steel Pans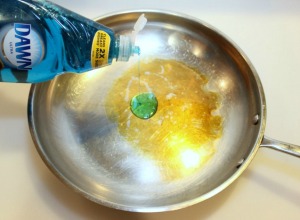 A stubborn substance that can adhere to your pan is cooking oil. This guide is about
cleaning burnt oil from stainless steel pans
.
Solutions
Share on ThriftyFunThis guide contains the following solutions. Have something to add? Please share your solution!
I forgot to remove my pan from the burner after frying taco shells, causing the oil to burn onto the pan.
Total Time: 10 minutes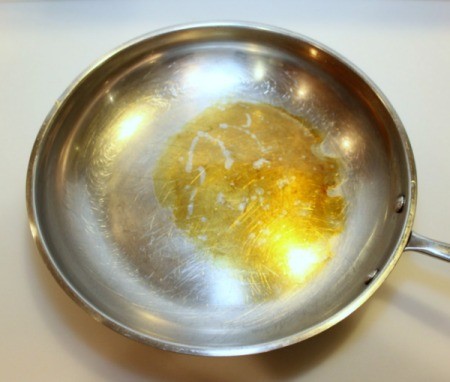 Supplies:
1 Tbsp Dawn dish soap
water
Steps:
Add Dawn dish soap to the pan. Fill the pan about halfway with water.

Put the pan on the stove and boil for about 5 minutes. Be sure to set a timer.

Using a metal spatula, carefully scrap away as much of the oil as possible. NOTE: Do not use a metal spatula on a non-stick pan.

Empty the soap water into the sink. Then scrub with a sponge to remove any remaining oil.
Videos
August 9, 2014
0

found this helpful
If you are having a hard time getting burnt oil off a frying pan, try this simple tip. This method will get your pan looking like new in no time!
Questions
Ask a QuestionHere are the questions asked by community members. Read on to see the answers provided by the ThriftyFun community or ask a new question.
June 22, 2005
0

found this helpful
I scorched a stainless steel skillet after spraying it with PAM. It looks glazed on. Baking soda did not help. Any ideas?

Thanks,
Mike S.
June 22, 2005
0

found this helpful
Try putting the baking soda in the pan with water and bring to a boil. This may help some. Also you can try putting hot water in your pan and a sheet of Bounce that you use in the dryer and let it soak over night. It will help take off the scorched part of the pan and maybe the glazed look. Hope this will help you.
Pat in GA
By guest (Guest Post)
June 23, 2005
0

found this helpful
Use a steel wool pad (like SOS). This has always cleaned my stainless steel pans after all kinds of embarrassing disasters. Let the pan soak a few minutes (or overnight) first.
How do I clean burnt oil from a stainless steel pan?
By RichardT from Sterling Heights, MI
January 7, 2011
0

found this helpful
Apply any of the following (as available) to the burnt parts, leave overnight and scrub with a stiff scouring pad next day:
- scouring powder + vinegar paste
- baking soda
- ash + lemon juice
- tamarind paste
use very little water, so it creates abrasion, and scrub away, it should come off.
All the best.
January 7, 2011
0

found this helpful
Hi Richard!
What I do is to sprinkle liberally the burned part with baking soda, and then pour just enough water over the soda to make a paste. Let the pan sit overnight, and then take a scrubby and scrub the burned part. The debris should come off very easily, along with the baking soda paste.
Easy, good for the environment, and cheap! :)
Hope this helps,
Bron from Augusta, Georgia
I burned oil in a stainless steel pan, about 10 minutes on the stove burning. The pan has a burnt oil smell I can't get out. Any suggestions?
Archives
ThriftyFun is one of the longest running frugal living communities on the Internet. These are archives of older discussions.
January 6, 2011
0

found this helpful
Someone had the heat up too high in my stainless steel frying pan and burned the olive oil right into it. No amount of scrubbing or soaking has helped, not even boiling Cascade. Any ideas?
By Mel from Frankfort, IL
Answers:
Burnt Oil on a Stainless Steel Pan
If the pan is ruined and unfit for use, try spraying it with oven cleaner (outdoors on cardboard or newspaper) with you wearing rubber gloves. (11/19/2010)

By OliveOyl
Burnt Oil on a Stainless Steel Pan
I think easy off oven cleaner will do it. (11/19/2010)

By Lilac
November 19, 2010
0

found this helpful
I had an oil fire in my stainless steel pot. I got the burned oil off the bottom of the pot, but the black marks on the side won't come off, neither will the black dots on the outside. Anyone have any suggestions?

By Judy from Cornwall, Ontario Canada
Answers:
Burnt Oil on a Stainless Steel Pan
Barkeepers Friend and elbow grease. (10/20/2010)

By Noella
October 18, 2010
0

found this helpful
I have burnt a stainless steel saucepan. I had a little oil in the bottom of it and left it on the stove, it caught alight and now is quite burnt. I have tried cleaning it in the dishwasher to no avail. Please help.

By Janet
Answers:
Burnt Oil on a Stainless Steel Pan
Wow! I posted a response to similar question back in 06. I've been here for a while!

Sorry! I found an even better idea, is Bon Ami cleanser. Get some on a scrubby and scrub it away. The dishwasher doesn't work, it just heat sets it! But if I have some oil burnt on or some pans just looking not so shiny, I use the Bon Ami and it's better. It comes in a gold can, next to the powdered cleansers in the kitchen cleaning section. Cheap and works on your stove without scratching too! (05/06/2010)
By michawnpita
Burnt Oil on a Stainless Steel Pan
Try this: fill your pot with enough water to cover the burnt oil residue (if the stain is only on the bottom, an inch of water should be enough). Add 1 teaspoon of dishwasher powder or powdered laundry detergent (a bit more if using liquid detergent). Boil hard for 5-10 minutes, after which the oil should come off easily. I've found that this works well for many burnt veggies too, but alas not as well for burnt rice which requires a lot of elbow grease too. (05/07/2010)

By anlod
Burnt Oil on a Stainless Steel Pan
If Easy Off oven cleaner won't take it off, it won't come off. Try it. (05/07/2010)

By Ann Parker
patience
I've done this with steel pans and butter and it just takes a lot of soaking, with soaking time being correlated with how much oil residue is burned onto the pan. You'll need a steel wool or tough rubber scrubber. When soaking, put fill the pan with enough water to cover the bottom of the pan and raised residue with dish soap. Let sit for a day and then scrub with water and soap still in the pan. If you get most or some, but not all off, then repeat process. Adding dish soap is important as oil and water don't mix, you'll need the detergent affects to dislodge the hydrophobic oils. No worries, your pan is not lost, that is the wonder of stainless steel pans! (05/07/2010)

By wishsparkle
Burnt Oil on a Stainless Steel Pan
I use anlod's method only with dish soap or vinegar, and it works like a charm :-)

Please do not use oven cleaner on anything you're going to be cooking or storing food on/in! The materials are porous and the oven cleaner chemicals build up in those porous pockets. (05/07/2010)

By Deeli
Burnt Oil on a Stainless Steel Pan
Try a paste of salt, baking soda, and dish soap (Dawn)
and elbow grease : ) (05/12/2010)

By Carly34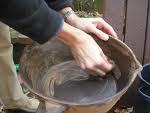 Burnt Oil on a Stainless Steel Pan
My husband sold stainless steel pots and pans of high quality for years. He said the way to clean them is to use Comet or Ajax with a brown paper bag. The bag is strong enough to cut whatever in on the pan.
I have kept my clean for over 40 years using this method. (07/13/2010)

May 6, 2010
0

found this helpful
After leaving a small amount of oil to heat up in my Cuisinart frying pan a little bit too long, it left a large black and also brown oil stain. I tried everything suggested on how to remove the oil stain on my stainless steel fry pan and nothing worked. So I decided to try a razor blade scraper.

First I heated the pan slightly; I then applied a small amount of now abrasive powder. Using a gentle pressure I used the scraper and presto the oil stain was removed. It left small fine scratch marks, but it did not alter the cooking or cleanup. And the scratches became almost invisible after a few more usages. Thank goodness the black and brown oil stain was gone.

By Juneyb1 from Mt Dora, FL

Answers:
Burnt Oil on a Stainless Steel Pan
You can remove burnt oil marks from a stainless steel or aluminum pan much more safely by using a baking soda paste. Mix baking soda and water (just enough to form a paste) in a bowl. Then use either a wash cloth or a scrub brush to apply it to the pan. Scrub and allow the paste to sit. It may take several applications, but eventually it will come off scratch free. (09/24/2009)

By linex_4
December 19, 2009
0

found this helpful
I have a question about cleaning a stainless steel pan: I was heating a thin layer of olive oil in my big frying pan when I got distracted.
Read More...
September 23, 2009
0

found this helpful
I have a burnt on food stain on my stainless steel pan from oil. I have tried baking soda, vinegar, simmering water with baking soda and vinegar and soapy water.
Read More...
August 12, 2009
0

found this helpful
How do you clean burnt oil from a stainless steel pan?
Read More...
Related Content