Cleaning Grout
Dirty grout can make tiled surfaces look unsightly. Regular cleaning can remove stains, mold, and mildew. This is a guide about cleaning grout.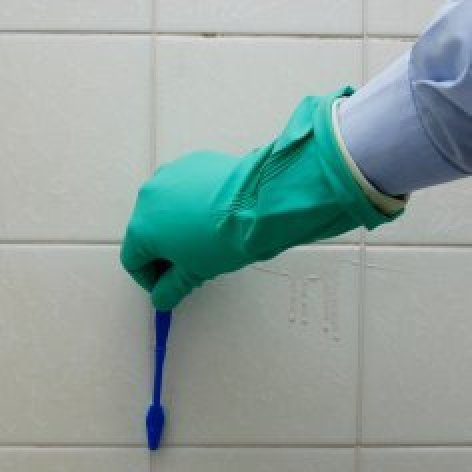 Filter

: All Articles
Sort

: Relevance
What can I use to clean white bathroom tile? I have 3 bathrooms with white tile and it is very tiresome trying to keep the white caulk between each square tile clean. I have been using a toothbrush to scrub it, but I thought you had a better idea. Please help.
By Onesummer
November 13, 2010
0

found this helpful
Best Answer
Don't clean it. Paint it. Go to the hardware store in the tub and tile section. They have paint in a bottle that has a roller on it. I think it worked great. And it stayed on a long time.
June 2, 2016
0

found this helpful
Did this it works!!! I did my whole kitchen with a toothe brush. Its amazing!!
I can't believe how well this worked; you all know about those Magic Erasers that you can pick up really cheap at the Dollar Store; they work super-duper on black marks on the wall.
If you carry a small container of warm water with you and use those Magic Erasers on ceramic tile, and especially to clean grout between your tiles, without much elbow work at all, the grout comes clean. It is like magic.
One eraser cleaner lasted long enough, after dipping it in water to clean it out, to clean about 15-20 ceramic tiles and the grout in between. I picked up three Magic Erasers in a bundle for less than $2.00. This is a hands-and-knees job, but I have not been able to find anything that cleans grout as easily as this.
By kghornsten from Davis, CA
Any ideas on cleaning shower grout without chemicals? I've thought about using a steam cleaner, but I don't know if they really work. What is the best type?
By Carol from NH
December 8, 2010
0

found this helpful
Best Answer
I've heard that Home Depot, and probably regular hardware stores like ACE, sell a non-toxic citrus grout cleaner.
December 11, 2010
0

found this helpful
Check the Awsome brand grout cleaner at the Dollar store. Not sure whats in it,but am sure it works.I used it on my kitchen floor white grout, and couldn't believe how white it is again. Went back and got four more bottles for future use.
My bathroom grout in my ceramic tile is filthy. How do I get it clean without replacing it?
By Karen from Whitelaw, WI
March 4, 2011
0

found this helpful
Best Answer
Ammonia. Dilute it and spray it on. Let it sit for a half hour or so then scrub with a brush. You can even use Windex. This will work better than bleach or anything else I've tried, with much less scrubbing. The ammonia lifts the oils from the grout.
August 13, 2010
0

found this helpful
Comet cleanser, a tough brislte "denture brush, and a whole lot of elbow grease! Adding a descalent such as clr or like helps, but you cannot get around the elbow grease.
Does anyone know a secret on how to clean tile grout on the bathroom floor? I have tried everything I could think of including some horrible smelling chemical I got at Lowe's. Thanks for any and all ideas.
By Gail
May 11, 2011
0

found this helpful
Best Answer
Allow vinegar to soak on the tile grout by placing paper towels on the grout soaked with it. Take care to try not to leave it on the stainless steel or aluminum type drain that's in the shower, as too much exposure could pit it. It won't hurt the grout at all. After it has soaked a while, take a scrub brush or toothbrush to it. It should clean it up really well.
May 19, 2011
0

found this helpful
Ammonia.
It works great to dissolve the grease and hairspray. Dilute it, spray it on, let stand for 10-30 minutes, and just wipe off the grime.
Windex also works in a pinch.
How can I clean filthy grout on tile floors without getting on my hands and knees? I live in an old rental house that has filthy floors. I have arthritis in both knees and can't afford to hire someone to clean the floors.
By lasamons
December 31, 2012
0

found this helpful
No need to get down on your knees. Use something like Simple Green, or like mentioned before for carpet odors salt and lemon juice in a spray bottle - anyway spray on floor. Use a broom to scrub your floor! Then mop up residue. Hope this helps!
My entire shower is tiled, ceiling and all. There is a residue, hard water stains (?) that turns pinkish and responds to over the counter and home-made cleaners. However, the ceiling tile grout turns dark gray and nothing I've tried gets it clean.
I've already tried baking soda, Borax, Scrubbing Bubbles, Comet, BonAmi, Melaluca stuff, Brillo, and Magic Erasers. Aside from straight bleach, what else should I try? I usually look like someone from HazMat when cleaning the ceiling. I would prefer something not harmful to children and pets.
By HamptonHeron from Hampton Rds., VA
October 24, 2009
0

found this helpful
Have you tried toilet bowl cleaner? I have used it on dark floor grout and it usually ends up at the original color. It probably has some clorine in it so be careful with eyes, especially on the ceiling.
October 24, 2009
0

found this helpful
Hi I clean my bathroom tile grout with toothpaste spread on to an old toothbrush if you have a large area to cover then spread toothpaste onto a soft bristle scrubbing brush. Let me know what worked the best. Good luck, Helen
The grouting in my bathroom is discoloured, only a year old. The tiles are white, the grouting was white and now looks yellowish. It is not a result of soap scum, etc. The grouting manufacturer says it is atmospheric conditions. Any help would be appreciated.
By Tizzyfluff from Scotland
March 20, 2010
0

found this helpful
I have used Clorox wipes or even baby wipes to clean the grout. It is time consuming and hard work as you have to rub the grout possibly with the help of an old toothbrush but it works.
June 5, 2010
0

found this helpful
Our Dollar Store in America makes a cleaning product called Tuff Stuff. Its in the automotive section. If you have a dollar store in your area, run, dont walk and grab yourself a couple of cans of it. You will be glad you did. Spray it on, wait 5 minutes and wipe it off. It will clean the grout and the tile. If the stains are stubborn, use an old toothbrush. I'm telling you, it works. Does great on carpets too.
I made the mistake of choosing a light colored grout for my ceramic floors and now they look gross and dingy. How do I restore the color to the grout and keep it from looking so dirty?
Read More...
Related
© 1997-2016 by Cumuli, Inc. All Rights Reserved. Published by
ThriftyFun
.
Page
generated on September 22, 2016 at 10:31:09 PM on 10.0.0.48 in 4 seconds. Use of this web site constitutes acceptance of ThriftyFun's
Disclaimer
and
Privacy Policy
. If you have any problems or suggestions feel free to
Contact Us
.