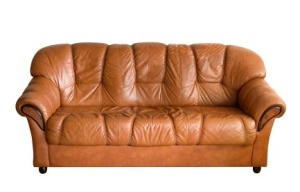 Leather furniture is an expensive investment. Using the wrong cleaning methods can shorten its life span. This guide is about cleaning leather furniture.
Ad
---
Solutions: Cleaning Leather Furniture
Read and rate the best solutions below by giving them a "thumbs up".
To buff the leather seats of dining room chairs. After cleaning the leather with saddle soap I use a hand mixer to buff them. I wrap a soft cloth around one of the beaters. Low speed. The leather looks great.

By Alexis
Give a "thumbs up" to the solution that worked the best! Do you have a better solution? Click here to share it!
Questions
Here are questions related to Cleaning Leather Furniture.
How is the best way to clean a leather recliner chair? The chair is beige in colour and looks very grubby.
By Carolyn from Sydney, NSW
AnswerWas this interesting? Yes No
Ad
---
---
Best Answers
By Patricia Nicholas 13 74 03/22/20110 people found this helpful
I use Castile soap to clean the leather, it is very mild and doesn't dry it out or have any silicone or waxes to damage it. Don't use saddle soap unless your furniture is as tough as a saddle, this will only damage fine leather. There are also very few leathers that need to be "conditioned" just cleaned regularly.
---
By ROZJUNE 5 9 02/03/20120 people found this helpful
I am on my second Leather 3 piece suite because after cleaning my old chesterfield suite for 15 years, 1 decided that it was time for a change for a new one, That was 3 years ago, I gave it to a friend who was well pleased with it. Because it still looked brand new, and through the years all I used to clean was a spot of washing up liquid in warm water. Put cloth in and wring out and just use damp. Then let dry and use either a good leather cleaner or leather wipes. Micro cloths are very good to get grease, etc. off just use it damp. This is tried and tested.
---
I desperately need help trying to get my furniture cleaned. I have Italian Leather which is similar to suede and I have spoken with several cleaning companies and no one is sure how to clean it and the company ELRAN states for me to contact a professional. Is there anyone out there that can give a clue on what to do or who to contact to clean my furniture?
AnswerWas this interesting? Yes No
Ad
---
---
Best Answer
By Leather (Guest Post) 04/27/20060 people found this helpful
You must have an unfinished or nubuck leather. If you have a build up of oil and soil. A cleaning even from someone that knows what they are doing will not be able to fully restore your piece. They can however; clean it as well as possible and re-protect the leather to slow the aging and soil build up. You need a pro leather repair and restoration company. You can also check out some of the ads on this sight. But be careful what you attempt to clean this leather with.
---
My distressed leather couch and love seat look very dry. I have used several brands of leather conditioner, but no help. I just want that supple look back in it. Any ideas of conditioners?
By BM from OK
AnswerWas this interesting? Yes No
---
Most Recent Answer
By angelacawein 4 5 12/09/20130 people found this helpful
Have you tried Armor All original protectant, I used this on my leather couch and it looked great.
My leather furniture has a lot of tiny scrapes and looks dingy. What do I use to bring it back to life again?
By Joe
AnswerWas this interesting? Yes No
---
Most Recent Answer
By pam munro 523 790 09/07/20110 people found this helpful
I would fill in the scrapes with same color shoe polish & wax. Then perhaps the whole thing needs some leather balm.
Is saddle soap good for furniture?
By Victoria
How do I remove body oil stains from leather?
By Donnad
What is the best cleaning solution for leather furniture?
By Irene1225 from NC
Archives
Thrifty Fun has been around so long that many of our pages have been reset several times. Archives are older versions of the page and the comments that were provided then.
Any suggestions on cleaning leather sofas? Heleen from Palm Bay, FL
Mild Baby Wipes
I use baby wipes with no alcohol on my leather furniture and it works quite well.
By Jane
Check Your Leather Type
Before you do anything check to see what kind of cleaning code it has. I have a "NAKED" leather set. It is like the leather of a bomber jacket. It has only been dyed but has no sheen or chemical shine to it. These CAN NOT be cleaned with any cleaner. They are supposed to develop a Patina look. If your couch has a shine to it you are probably safe but you should still find out what type of leather it is and what it's cleaning code is. All leathers have cleaning codes.
By Andjerm