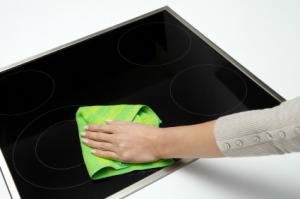 Accidents happen and sometimes plastic containers or packaging are placed on hot smooth top ranges. This is a guide about cleaning melted plastic from a smooth cooktop range.
Ad
---
Solutions: Cleaning Melted Plastic From a Smooth Cooktop Range
Read and rate the best solutions below by giving them a "thumbs up".
When left with just the residue of plastic on the cooktop: turn burner to maximum for 10 minutes (exhaust on for fumes), until residue turns from black to charcoal grey. After cooktop cools, wipe with a dry cloth. The residue will be nothing, but ash.
Source: Tried this after melting a plastic bag on the cooktop. Easiest cleaning ever.
By Trish M. [1]
A plastic bag was melted onto my glass stove top. I had been told to scrape it off with a razor, heat it back up, and even to try ice. I remembered that I had bought a bottle of Goo Gone, so I tried this let it sit on the plastic for about 10 to 15 minutes. Then I used my scraper (just a plastic one for Pampered Chef) to scrape off the plastic. It worked like a charm. I then cleaned the whole stove top with Soft Ccrub and a sponge, finished off with some glass cleaner and it look as good as new.
By shaynelinda from Pensacola, FL
Give a "thumbs up" to the solution that worked the best! Do you have a better solution? Click here to share it!
Questions
Here are questions related to Cleaning Melted Plastic From a Smooth Cooktop Range.
My daughter dropped a plastic hot dog bag on my smooth top stove. I have tried the Cerama Bryte, scraping with my fingernail and nail polish remover but it did not remove it. Any suggestions on how to clean the burnt plastic from my smooth top stove?

Barbara from Cookeville, TN
AnswerWas this interesting? Yes No
Ad
---
---
Most Recent Answer
By john 1 11/29/20090 people found this helpful
Use WD-40 and a razor. An entire base of a kettle melted on to the ceramic stove top, and got it off in minutes. Works like a charm.
---
So my daughter tried to clean off drippings from a hot burner with a scrubbie sponge and the sponge melted right onto the burner. Will any of the solutions offered here be best to try?
By Ingrid C.
AnswerWas this interesting? Yes No
Ad
---
---
Most Recent Answer
By Abigail A. 13 920 12/21/20140 people found this helpful
But don't let your daughter do it! LOL
---
When a pot overbooked on my electric smooth top stove, I wiped it quickly with what I thought was a cotton dishcloth. It had some polyester in it, which I did not realize until it melted as I swiped. Now I can not get it off. I tried commercial products made for stovetop as well as baking soda, and also Barkeeper's cleanser. Any ideas?
By Eve G.
AnswerWas this interesting? Yes No
---
Most Recent Answer
By weinerdog41 34 189 04/29/20130 people found this helpful
Try a straight edge razor blade. Be gentle.
A spatula melted on my smooth top range. How do I get the melted plastic off?
By PW
AnswerWas this interesting? Yes No
---
Most Recent Answer
By HAPPYINHARNED 14 193 07/14/20110 people found this helpful
I would try the razor blade window scraper.It should work.
Archives
Thrifty Fun has been around so long that many of our pages have been reset several times. Archives are older versions of the page and the comments that were provided then.
Some plastic wrap touched a hot burner on my smooth cooktop/stovetop. It burned and made an awful, stinky mess. What can I do?

Keruin from Washington DC

Answers:
RE: Plastic Wrap Melted on a Smooth Cooktop Range
12/17/2005
Here is another guess that might really surprize you, and I think it will work. I sound like a living advertisement but the quick erase sponges, two brands Mr. Clean and Scotchbrite, they also have a brand by Mr. Clean that is safe for car cleaning and you know how much people can baby there cars? Hope it helps.
By Kersti
RE: Plastic Wrap Melted on a Smooth Cooktop Range
12/17/2005
Maybe this would work: freeze it with an ice cube to make it brittle and use a single-edged razor blade (window scraper) to scrape it off. I melted a little plastic on my stove last week and after it cooled, it popped right off. Good luck.
By Cadensnana (Guest Post)
RE: Plastic Wrap Melted on a Smooth Cooktop Range
12/20/2005
You are supposed to be able to use a razor blade (not at an angle) but flat to the surface to scrape these type of things off. But you should probably call Sears or Home Depot first and ask them in appliances first.
By Diane in Tampa (Guest Post)
RE: Plastic Wrap Melted on a Smooth Cooktop Range
12/29/2005
Thanks to all who offered ideas - I tried petroleum jelly, no go. Then I tried freezing, but it didn't come off with a plastic spatula. I was afraid to use a razor but had a very flexible putty knife. The plastic was probably still at least partially frozen. It didn't come off easily, but neither did I scratch the cooktop, and eventually got it all off.

Thanks again!

By keruin (Guest Post)
The plastic lid from a candle that I keep next to my stove was set on a hot flat top burner on my stove. I have gotten most of it off but still have a film of plastic and I am wondering how to get the rest off.
Sherry Rohmann from WI
Answers:
RE: Plastic Melted on a Smooth Cooktop Range
We just did this last night (melted a plastic hot dog bun bag on our flat-top ceramic stove-top). I waited until the stove cooled then with my fingers peeled the heavy layers off the stove (I was surprised at first that I was able to do this). Then I used a WD40 like lubricant & applied it to the stove-top, then with the papertowel I cleaned the area with a circular motion. It took a few minutes but I was amazed at how well it came clean. Good luck! (10/22/2006)

By Sheltons in Springboro
I was cooking and a bag of cheese fell on to my stove-top. Now I have a lovely, rather large, spot of melted plastic on the flat top. What can I do to get it off?
I melted a plastic container on my daughter's glass cook top. How do I safely remove what is left?
By Crazy Grandma from OH
Feedback:
RE: Plastic Melted on a Smooth Cooktop Range
Turn oven on so the top gets warm, not hot. You can also use a hair dryer to help with the heating. Use a plastic plate scraper to help gently remove it.
(09/17/2010)