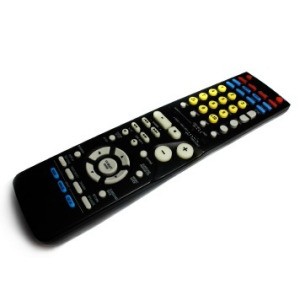 Remote controls take a lot of abuse from sticky fingers and other contaminates; cleaning and keeping them clean can improve their operation. This is a guide about cleaning a remote control.
Ad
---
Solutions: Cleaning a Remote Control
Read and rate the best solutions below by giving them a "thumbs up".
I've always used alcohol and Q-tips to clean the remote. It's worked for me.
By Kathie622 from Nanticoke, PA
If you have kids, you can prevent gooey and dirty hands from gumming up your remote control by placing it in a ziplock bag. They can still see the controls but can't gum up the buttons.
I've noticed people mentioning grease from hands entering their remote control. No cleaning of remote controls, if you wrap remote in Saran Wrap. The wrapped remote works perfectly well. Replace the wrap when changing batteries.

By George from Portarlington, Victoria, Australia
Give a "thumbs up" to the solution that worked the best! Do you have a better solution? Click here to share it!
Questions
Here are questions related to Cleaning a Remote Control.
I have an old remote that is made of a rubber type material. It is sticky. Tried using rubbing alcohol on it, but not any better. Any suggestions?
By Robert S.
AnswerWas this interesting? Yes No
Ad
---
---
Best Answer
By Jess 90 39 01/08/20150 people found this helpful
Alcohol is a great cleaner for sticky things like this. I have used it to clean remotes in the past. If you are using rubbing alcohol, it is most likely 70% alcohol. Get the 91% isopropyl alcohol and try that.

I have found in my area that the supermarkets no longer carry it, they only have rubbing alcohol. So I have to go to a pharmacy store to buy the isopropyl alcohol.

Having a lower alcohol content is also means having less water in the solution. This makes isopropyl alcohol much safer to use on electronic devices such as TV remotes.
How do I fix my TV remote? Some buttons work and some don't. Are there contacts in it that can be cleaned?
By Gene from IN
AnswerWas this interesting? Yes No
Ad
---
---
Most Recent Answer
By Louise B. 6 2,532 03/01/20110 people found this helpful
I have seen a friend clean my remote, with just water. He opened it up, rinsed it out, dried it off, then had to dry it three time, and then it worked like a charm. And has done so for 3 years now. However, I don't know if I would try it myself. I suppose you have nothing to lose.
---
Archives
Thrifty Fun has been around so long that many of our pages have been reset several times. Archives are older versions of the page and the comments that were provided then.
My TV Remote has some buttons that don't work anymore. I took it apart and cleaned the contacts, but certain buttons barely work, the ones used most often.
Does anyone know how to get those button contacts, on the underside, to make good contact again with the PC board inside the remote?
DoctorBill from Spokane, WA
---
RE: Fixing Unresponsive TV Remote Buttons
Why bother fixing it? You can buy a new universal remote for $10. (09/20/2007)
By me
RE: Fixing Unresponsive TV Remote Buttons
When my TV remote had the non-functioning buttons, I found a "free" one through an electronic retail store. Watch the Sunday circular ads, many times one of the stores will have a multi-function remote that is free after rebates (yes, you pay sales tax and sometimes a stamp for the rebate offer). BTW great job fixing the one you have. I am not sure if you tried a pencil eraser, but they tend to be the best way to clean contacts. (09/20/2007)
By Remote Control
RE: Fixing Unresponsive TV Remote Buttons
We bought a new universal remote at Big Lots for $6.00. (09/21/2007)
By Carol in PA
RE: Fixing Unresponsive TV Remote Buttons
There are repair kits available for your problem. Please follow link: http://www.remotecontrolsinc.com/keypad_repair_kit.aspx (12/18/2007)
By Ben
RE: Fixing Unresponsive TV Remote Buttons
I had my remote apart and discovered the greasy substance doctorbill mentioned. My repair guy told me that grease comes from our hands. It goes through the rubber buttons by osmosis. That's why you notice it mostly under the buttons you use the most. The remote I took apart is one we've used for years. You can clean it, if you're careful, with an ammonia/detergent solution (mild). What I don't know yet is whether I should treat the cleaned surface with anything. (12/24/2007)
By Harold
RE: Fixing Unresponsive TV Remote Buttons
My new digital TV quit working after 8 mos. and I was devastated. One of my friends told me to clean around every button on my remote because sometimes if something is there, it can cause these newer TV's not to work. I thought they were crazy. But I took a toothpick and went around every button very carefully and found some sticky substance under one of the buttons. I cleaned them all and tried it, and guess what? Yep, my TV came on and hasn't given me any more trouble at all. Try this first because it's cheaper than the repair shop! (01/12/2009)
By Cynthia M.
RE: Fixing Unresponsive TV Remote Buttons
By me (Guest Post) "Why bother fixing it? You can buy a new universal remote for 10." Because universal remotes often leave out key features unless programmed from the dedicated remote. I have this pain of a problem with my DVDR where to get the skip chapter function or toggling among 480p, 720p, 1080i are absent without programming a key directly. I use a universal remote for TV, DVDR, and stereo system but miss those nice features. (12/09/2010)