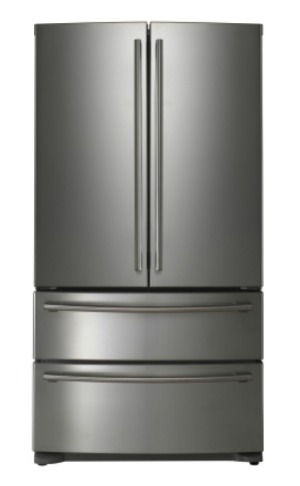 Removing all the prints, streaks and film that collect on your refrigerator can be challenging. This guide is about cleaning a stainless steel refrigerator.
Ad
---
Questions
Here are questions related to Cleaning a Stainless Steel Refrigerator.
How do you clean a stainless refrigerator?

Myra from Winter Park, FL


Ad
---
---
Most Recent Answer

By Cindy03/11/2009
Thanks to the person who recommended vinegar!! It really worked great followed by a little pledge or oil to bring back the "brushed" look of my stainless.
Help! I had marks on my stainless steel refrigerator that would not come off using any type of cleaner! I used a metal polish (the kind that looks like cotton saturated in wax) and now have marks that look black in different light. How can I get these marks off?
By Brenda
Ad
---
---
Most Recent Answer

By Patsy [5]04/22/2012
To several of those that have many stainless appliances, WD-40 is the most wonderful cleaner & polisher. I use it on our stainless steel water fountain after I use vinegar to remove the lime build-up, it polishes & removes any smudges and helps to repel future marks & easier to clean the next time. WD-40 has many uses & this is only one of them. It does not remove any of the stainless steel.
Solutions: Cleaning a Stainless Steel Refrigerator
Do you have knowledge about this guide topic? Feel free to share a solution!
Archives
Thrifty Fun has been around so long that many of our pages have been reset several times. Archives are older versions of the page and the feedback that was provided then.
Does anyone know how to remove hard water stains on a brushed stainless steel refrigerator?
Diana from Willow Creek, CA
---
RE: Cleaning a Brushed Stainless Steel Refrigerator
Diana,
I used to work in a restaurant that had a brushed stainless steel refrigerator. One of my jobs was to clean it every day. The boss had me pour pure mineral oil(this is very thick and has no fragrance) onto a soft cloth(we used bird'seye baby diapers) and wipe it down every night. The boss said mineral oil "feeds" stainless steel. I never knew what that meant but that fridge did look gorgeous! They used to sell pure mineral oil in drug stores, it was on the laxative shelf. (05/24/2007)
By perfumed fan
RE: Cleaning a Brushed Stainless Steel Refrigerator
I would suggest wiping the spots with vinegar. There is also a great stainless steel cleaner called Cameo that I use on my sinks -- that would probably work also. It's a powder and comes in a 'can' similar to Comet -- but it doesn't have bleach and is just for stainless steel. I found it in The Great Indoors store. (05/28/2007)
By
RE: Cleaning a Brushed Stainless Steel Refrigerator
easy
1 pint warm water; add table spoon vinegar and soft soap and clean allsorts! Put in sink and add some bicarb and clean up the sink too. (05/29/2007)
By Uncle Tom's
RE: Cleaning a Brushed Stainless Steel Refrigerator
My mom always rubbed our stainless steel oven with baby oil, so I guess after you clean it with vinegar, you may want to shine it with oil. (05/29/2007)
By Kathy
RE: Cleaning a Brushed Stainless Steel Refrigerator
Home Depot and other big box stores as well as hardware stores sell stainless steel cleaners in an aerosol can that will clean your frig very well.Do not use powders as they act as an abrasive and will scratch the stainless steel surface. (05/29/2007)
By foxrun41
Stainless steel extractor hood and hob
Why have I got rust specks all over my stainless steel? (09/06/2007)
By Kerry