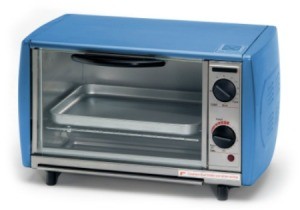 If your toaster oven gets lots of use then you probably have to clean it regularly. This a guide about cleaning a toaster oven.
Solutions
Share a solution for this guide today!
Questions
Here are questions related to Cleaning a Toaster Oven.
How do I clean the inside of a toaster oven window? Is there a home remedy? I can't take the man-made chemicals. Does anyone know of any tried and true stuff that works? Thank you so much.
By Pamela from Sun Lakes (Chandler), AZ
---
Most Recent Answer

By JFlowers10/13/2009
I have used CLR it works great! Just attach a sprayer to the bottle and give it a quick squirt. Let it sit for 5 minutes, then wipe off.
My toaster oven always has crumbs in the bottom of it and crumbs also get in the bottom of the glass door. Not to mention that the glass door always looks stained by brown marks. I put foil on my grill pan, but not on the racks themselves. Please help me keep the racks, bottom, and glass cleaner longer. Thanks.
By Shirley aka Red from Livonia, MI
---
Most Recent Answer

By Ethel Gerberick11/07/2011
Use a magic eraser to clean the glass on your toaster oven. It does a fabulous job of taking all the brown stains off.
Archives
Thrifty Fun has been around so long that many of our pages have been reset several times. Archives are older versions of the page and the feedback that was provided then.
What is the best way to clean inside the bottom of a toaster oven? All that dried on gunk. Help.
Patty
---
RE: Cleaning A Toaster Oven
I put a cup of ammonia in my big oven for 24 hours and the next day it has softened up enough to get the spills and grease off without too much trouble. You put the cup of ammonia in a cold oven and remove it before cleaning, pouring it back into your bottle of ammonia. Older spills take another application or two. You could also do this method in your toaster oven and I would think that the gunk would scrap off easily. This way you are not spraying any liquids on. I hope you are able to get it clean without too much work. (02/13/2005)
By Anonymous
RE: Cleaning A Toaster Oven
There is usually a "door" on the bottom of the toaster oven. If you open it you can brush the crumbs off. If messy spills are there you could soak the area with a wet sponge until the stuff is softened then wipe it clean. (02/14/2005)
By Babs