College Graduation Gift Ideas
Solutions
Share on ThriftyFunThis guide contains the following solutions. Have something to add? Please share your solution!
March 17, 2013
0

found this helpful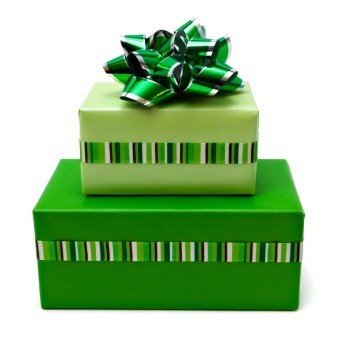 This guide contains frugal graduation gift ideas. An inexpensive present can be both useful and meaningful.
Read More...
Questions
Ask a QuestionHere are the questions asked by community members. Read on to see the answers provided by the ThriftyFun community or ask a new question.
What are some gift ideas to make a basket for a college grad?
May 13, 2017
0

found this helpful
New job basket (wishing them luck on a job search)
Depending on what they graduated maybe their name engraved with their graduation (ending like BS, RN, etc) on something meaningful or sentimental)
A nice wine and gift card to celebrate!
May 14, 2017
0

found this helpful
Some things that will get them ready for adult/work life. If it's a male, some ties, books, tools, gift card for diploma framing, wine. If it's a female, kitchen utensils, books, travel bag, plants.
May 14, 2017
0

found this helpful
I love the pizza box money gift. Many examples on Pinterest.
May 22, 2017
0

found this helpful
It seems that lots of graduates get a lot of useless things on graduation. I'd suggest something that helps them get started in the work world or to help set up a more permanent residence than they have had up to now. Gift cards, a cookbook & kitchen supplies, household supplies, or even a basic tool kit is more than a lot of graduates have.
Read More Answers
My niece will be graduating from college in a few weeks. What could I give her for a present? Over the years I have given her many picture frames, keepsake boxes, photo albums, journals, and address books. I don't think she wants any more of those. She has all the luggage and cosmetics cases she'll ever need. She uses her cell phone for a travel clock. Would a crucifix be appropriate? She wears one all the time. She also likes to travel(in the US). Is there something I could get her for that? I don't travel, I don't know what travelers use. Thanks for any suggestions.
Peanut from Virginia
By guest (Guest Post)
April 26, 2008
0

found this helpful
I would say a gift card or money because they are useful, but if you want to give her something tangible or more personal maybe:
-something related to the career she will be starting
-a subscription to a magazine she likes
-a charm for a charm bracelet
-a cookbook or cookware if she will be moving out on her own
-a nice Bible or devotion book if she is religious
-tickets to something she enjoys
-if she is planning a trip somewhere then get a gift specific to the trip or a gift card to a restaurant or place specific to her trip
-if you live close then maybe an offer of night out to celebrate her accomplishments
Good luck selecting a gift!
April 27, 2008
0

found this helpful
I would buy her something she can use in her new career. Gary Dominicus
By guest (Guest Post)
April 28, 2008
0

found this helpful
My daughter is also graduating from college. Her degree is a business degree and I too struggled on what to get for her. Finally I came up with the idea of getting her a crystal name plate, business card holder, and a cute little paper weight. It is shaped like a round diamond out of a diamond ring and I had her name put on the card holder and the paper weight. I decided on this because she will be able to take it with her if she changes careers and always have a keep sake from her parents with her at work as a reminder of how proud we are of her for her accomplishments. The web site I used to order from was www.wealthwood.com. Good luck
By guest (Guest Post)
May 5, 2008
0

found this helpful
I think your idea of a crucifix (or any other kind of jewelry) is a great one. When I graduated, I received too many 'business' related gifts. However, my aunts and grandma gave me jewelry, which I treasured and still do.
Read More Answers
A close friend of mine is graduating from IT college. But, he's been living on his own for several years so he doesn't need any household items. He is moving a month after his graduation, so I don't want to clutter him with more stuff to move! Any ideas on gifts I can give him that won't take up space in his moving van but will be useful or appreciated? Thanks!
By Freya1970 from Halifax, NS
May 7, 2009
0

found this helpful
How about a pre-paid credit card with a note congratulating him and saying that when he settles after he moves he may find something he'd like to buy that would remind him of you.
May 7, 2009
0

found this helpful
Restaurant gift cards in the town he's moving to so he doesn't have to cook while he's unpacking.
May 8, 2009
0

found this helpful
You could give a post card good for a batch of homemade goodies.
Get (or make your own) blank post card(s). On one side, you can draw a picture of cookies and include information that the post card is good for a batch of their favorite homemade cookies/brownies to be sent to him/her. Also include a line for the recipient to include his/hers favorite kind of homemade cookie. On the reverse side of the post card, in the "To" field, write your name and address, and place the correct amount of postage on it. Then the recipient fills out the post card and puts it in the mailbox. The rest is up to you!
I use this gift often for those hard to buy for friends. I generally will give 3 post cards as the gift.
Be aware that postage rates go up next week.
Also, if you are sending baked goods in the mail, make sure to send them out asap after making them, and send them Priority Mail to get there fast to arrive fresh. Pack them with care, with adequate cushion and so they can't move around.
Everyone loves a batch of their favorite homemade cookies!
June 19, 2009
0

found this helpful
Everybody has great ideas!
My recommendation as a recent college grad (at the age of 27), money is nice (no matter if it's $10 or more). Most likely the graduate has not had many vacations while in school, especially their last year.
I've put all my monetary gifts towards a long weekend vacation at a spa 3 hours from home. After starting a new job and finishing finals, I'm counting down the days until I can hop in my car and take off without worrying about assignments due, etc.
Read More Answers
I would like help with gift ideas for a female graduate from university with a commerce degree.
By Sally from Saskatoon, Canada
February 13, 2011
0

found this helpful
Here is a graduation package:
Give her a savings bond, a Walmart gift card and a letter of reference (personal reference for perspective jobs).
Archives
ThriftyFun is one of the longest running frugal living communities on the Internet. These are archives of older discussions.
February 13, 2011
0

found this helpful
My brother-in-law's girlfriend is graduating from university and I need to get her a gift. However, she will be going straight to graduate school so a business type gift does not seem quite appropriate. Help! Thanks.

Jacqui
Answers:
College Graduation Gift Idea
How about a nice looking watch, a datebook, or music. When all else fails, a gift certificate. A wallet that is very business-like might be nice, too. Just follow her interests. (08/12/2004)

By Linda
College Graduation Gift Idea
Besides the ones mentioned; how about some sort of book, on the subject of her interests, or just good fiction that you'd think she'd like.
Or, you could go with a gift certificate to the local coffee shoppe, and/or with a mug. (08/15/2004)

By keyshawn
May 1, 2009
0

found this helpful
My son and daughter-in-law will both be graduating from college in April (she'll start grad school next fall). I'm looking for some graduation gift ideas. I've asked them for some suggestions but they've given none.
I also need some gift ideas for my son who graduates from high school in June and daughter a few years from now. What's the going monetary value for graduation gifts to your own children if you're frugal but don't want to appear too cheap?

Kerry from Sandy, UT
Answers:
Graduation Gift Ideas
When I graduated from college 4 years ago I didn't really expect graduation gifts. Gifts seemed like a bigger deal when I graduated from high school. Monetary gifts helped me buy stuff for my dorm room and books for college, but when I graduated college I had been married for 2 years. My husband had been out of college and working full time the whole time we were married so I didn't really need a financial jump start anyway.
Maybe it isn't a big deal to the college grads. Maybe a book about how to handle money would be good, "The Automatic Millionaire" is a good one, since often graduating from college leads to a better job and more income than before. That was my situation anyway. (03/26/2008)

By Allison
Graduation Gift Ideas
For your son and daughter-in-law, maybe a gift certificate for a local dinner out or a stay at a local hotel. They probably haven't had much fun time in a couple of years of schooling. Linda (03/26/2008)

By Lady1969
Graduation Gift Ideas
My sister gave my daughter a laundry basket filled with basics like laundry detergent, fabric softer, soap, towels, etc. It was great and very useful for college and she loved it! (03/26/2008)

By jdsjkk
Graduation Gift Ideas
Here's what I think, gift cards are always a good idea, because they can get what they need or they can splurge, guilt-free. Any amount you can afford is appropriate, and if they are grateful children, it will be enough! (03/26/2008)

By Marie
Graduation Gift Ideas- Frames
My Dad paid for my degrees and Graduation photo to be framed. This was fairly expensive on the day, but it was great having them protected and ready to hang. You would save a lot of money if you purchased the frames before hand- you could even personalize them by writing a note that they can keep with the degree. A gift and acknowledgment that you are proud of them.

I don't think there is a price tag. It is more important to celebrate with them and make them know how proud you are and that it is an important and well earned achievement. Paying for a nice lunch is enough really. Enjoy the graduation. (03/27/2008)

By moncarroll
Graduation Gift Ideas
One year I gave everyone a bible with their name on the front. You can get them for less than $10 at christianbook.com (03/27/2008)

By Tricia
Graduation Gift Ideas
A monogrammed personalized gift is always nice, especially for females. A high school graduate who is going to partake in a Senior Trip might enjoy a monogrammed beach towel. Another great idea would be to fill a beach bag with a towel, sunglasses, disposable camera, and tanning lotion. Another monogrammable gift would be a personalized backpack for books or purse. (05/06/2008)

By Kara
Graduation Gift Ideas
It depends a lot on the situation. My daughter is graduating from college this year and moving to New York. The apartment she's renting is tiny (of course!) but also not in the greatest neighborhood. She's worried about safety and, needless to say, so am I, so I'm getting her a security system for her apartment (http://simplisafe.com). My son, on the other hand, stayed close to home after he graduated, so he got a watch. (03/27/2009)

By jaltrmom
March 26, 2008
0

found this helpful
I have about 10 graduates this year. From granddaughter to church teens to college grads! Help, I am looking at about $300.00 in gifts. And I can't do it! What can I give to not look like a cheap Aunt?
Answers:
Need Graduation Gift Ideas
Many people are not expecting gifts, and some don't even want them.
When I graduated high school, I sent out many graduation announcements because I wanted people to know about the occasion, not because I wanted gifts. To my surprise I got a whole lot from people I didn't know very well, and didn't know me very well.
Just give gifts to those that would actually want to get a gift from (i)you(/i), not just because they want gifts. (05/14/2004)

By June
Need Graduation Gift Ideas
You shouldn't feel obligated to do everyone, but there are plenty of inexpensive gift ideas out there. The people closest to you, like your granddaughter, you may find something more special for their graduation like a desk set, or a gift certificate, or a nice pen with their name on it. Your church teens you could probably get by with just a card or a small gift.
You could even write up your story of going through school and graduating and get copies of your graduation or high school photo and include those with a card.
Wal-mart has quite a few (matching) nice stationery, journal, desk calendars, etc. for less than $7.00 each. They also have graduation picture frames and the sort for around the same price.
One of the best gifts I received at graduation was a holiday/event book that had a pocket for each month and you could write on the front of each pocket holidays or events like peoples anniversaries or birthdays, etc. and you could buy greeting cards ahead of time and place in the folder. Some of them are labeled by event. One pocket for Thank You cards, one for birthdays, etc. You could make your own inexpensively and decorat the cover of a notebook to personalize it for each person. That may mean more to them than something store-bought. There are also larger recipe type boxes that serve the same purpose. Walmart has carried both of these seasonally, but they are simple to create yourself.
I just bought one of the pocket folder sets for a friends daughter for her graduation and bought a few dollars worth of those 2/1.00 greeting cards that Walmart now has.
I also saw a crochet pattern recently for making a doily-like graduation cap and tassle that could hang on their car mirror. It was VERY CUTE! If you crochet, something like that with a card would be special.
There are also a few books out that are perfect for someone that is just graduating and possibly moving on to college or moving out on their own or just plain "adult knowledge". But books tend to get spendy if you are having to buy for ten or so.
(05/14/2004)

Need Graduation Gift Ideas
I also had 7 graduating this year and am on a tight budget. My family gave each $10 and feel that it is the thought that counts not how much was given. The people you are giving the gift to hopefully are mature enough to understand that any gift would be better than nothing. I have recieved some thank you's, but gave to them to be a blessing. Hope this helps. (05/16/2004)

By Mrs.Armfield
Need Graduation Gift Ideas
When I went to college, my good friend gave me a cute pair of flip flops from WalMart. Those are less than 5 dollars and you can give them as "shower shoes."
If you want to spend a bit more, you can give them a cute towel or shampoo and conditioner or something like that. The toiletries are always appreciated because they are necessities and it will save the graduate from having to buy them themselves! (04/18/2005)

By Joy
Need Graduation Gift Ideas
When my neice was graduating from college I wanted to get her something noone else would think of, but it would also be needed.
I filled up a cute clothes hamper with detergent and a few towels, clothes hangers, other little thing, and some rolled up quarters for the machine. (04/30/2005)

By Amber
Need Graduation Gift Ideas
A nice, cheap gift idea for students going far from home is to buy a set of cards (pack of ten at target or a similar store), and fill out the envelopes with the home address of the graduate, their return address at school, and a stamp. This way, they have a way to send letters home without taking time out of their schedule to hunt around campus for stamps. (06/09/2006)

By Ani
Need Graduation Gift Ideas
I have given a Boo Boo Tackle Box to a couple of my nephews for their graduations gifts. I purchased a tackle box and filled it with Tylenol, band-aid, antibiotic lotion, cough syrup, Tums, cold and hot packs, etc. Everything that their Mom's medicine cabinet might contain.
For a couple other nephews, I purchased several gift certificates from pizza restaurants from the town they were going to attend college. (04/05/2007)

By Rosemary
March 26, 2008
0

found this helpful
My nieces are both "graduating" this June--one from 5th grade (from elementary to middle school) and the other from 8th grade (from middle school to high school).
Read More...
Related Content