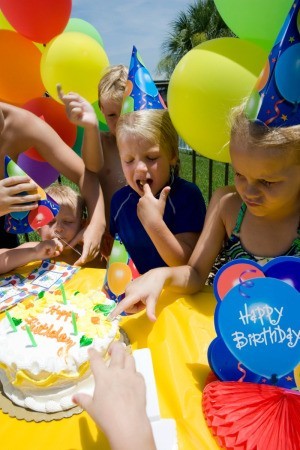 Many family members and friends have birthdays close to, or even share the same dates. This guide contains combined birthday party ideas.
Ad
---
Questions
Here are questions related to Combined Birthday Party Ideas.
My husband will be turning 35 June 9, our son will be turning 1 June 9, and our daughter will be turning 7 June 16. Because their birthdays are so close together my husband and I want to have a combined birthday. Our issue is we have no idea of a venue, or ideas of fun activities. Also, it's so hard to plan when we don't want to break the bank.
By Heather
AnswerWas this interesting? Yes No
Ad
---
---
Best Answer
By Sandi/Poor But Proud 458 2,117 02/15/2014 Flag
June is a lovely time for a big park picnic. Sack races, egg spoon races, and the like. Bring "BYOS" or Build your own sandwiches, chips, soda and ask everyone to bring a salad. Make cupcakes so the transport is easier (you can get cupcake containers with lids at the dollar tree now) and have someone volunteer to make home made ice cream. Take lots of photo and your memories will last a life time. I hope this helps.
I am planning a combined birthday party for my son and daughter who are turning 7 and 4, respectively. I am thinking about Spongebob, any inexpensive ideas?
By Erica
AnswerWas this interesting? Yes No
Ad
---
---
Most Recent Answer
Thank you for your advice. I was thinking of incorporating the little mermaid as my daughter is obsessed with it, and since their both underwater theme works great. I've tried making cake pops but it doesnt work for me, not sure what im doing wrong. And I agree with giving out goodybags that have useful things in it and not too much junk.
---
My husband of twenty-five years will be turning the big 50 on Aug 30th of this year. Our daughter is turning 21 on Sep 1st. I'd like to have a party for both of them on the same day. Any ideas as how I can combine the two? Please help!

Dollyddg from West Lynn, MA
AnswerWas this interesting? Yes No
---
Most Recent Answer
By dollyddg (Guest Post) 02/26/2008 Flag
Thank you for your ideas...This party may be fun, even for me. lol
---
My aunt and I decided to have our 45th and 25th birthday parties together, but we can't decide on a theme that would be just right for the both of us. Any ideas?
By Tekeyia
AnswerWas this interesting? Yes No
---
Most Recent Answer
By Karen H. 10 140 08/18/2011 Flag
What are the 2 of you each interested in? Gardening, Crafts, Collecting Angels? Find a common interest-or 2 & go with that. A few Streamers & Balloons never hurt either (Garden Tea Party/Angel craft or other Party)-get it? Have fun & good Luck! : )
---
My son is turning 4 on Nov. 29th and my daughter is turning 1 on Dec. 3rd.. I need to have a double birthday party but I have no idea how to do this or with what characters. How do I word the invitation? I know 1st parties are special. My son's was and I want to do the same for her but I have to have it together, they are only days apart. Please help me.
By madison2 from New Bedford
AnswerWas this interesting? Yes No
---
Most Recent Answer
By Teresa Tart 1 345 09/11/2009 Flag
I don't mean to sound mean but if possible give them at different times if not days. He is going to be 4 and that is special as it is and he can do more than the other child. You don't want him to start thinking he can't have anything because of her. You can make his bigger and early in the day and then later have a small party for the sister. I just don't think birthdays should be shared unless they are twins because it is their day!
---
I need ideas for combining a party for my husband who will be turning 40 and his father who will be turning 60, two weeks apart July/August.
By HD
AnswerWas this interesting? Yes No
---
Most Recent Answer
By dorothy wedenoja 170 111 06/26/2012 Flag
We have a large family and we all live about one or two hours away from each other. This is what we do: We celebrate 3 months ( Jan, Feb, March) etc on a day everyone can attend and we all bring a covered dish. Presents from the ones that have the funds, but never let not having the money for presents keep you from attending.

Since we have people of all ages celebrating, we usually do what time of year it may be. We are going to July, August and Sept in a few weeks, so it will be the 4th of July decor. We have about 20 or more attending. Also, celebrate with a personal party for your children at their real birthday time. We also alternate at whose house the party will be. This keeps us in touch with nieces, uncles, sisters, etc at least 4 times a year. These big family parties are always so much fun!
My name is Jullie; I will be turning 17 on April 8 of 2014. I want to combine my birthday with my friend who's turning 17 too, on April 7, and my other friend who is turning 16 on April 19. We were planning on having a really big party here in Lowell in like a week after the 19th so I need some ideas to make this party a party to remember.
By Jullie A.
Solutions: Combined Birthday Party Ideas
Do you have knowledge about this guide topic? Feel free to share a solution!