We've been building a cabin in WV and I'm planning on going out in July to start painting the inside.

What I'm concerned about are snakes, Copperheads to be exact. We were out to the cabin a few weeks ago to do some work and my Hubby was weed whacking. When he got up near the road he smelled cucumbers. They tell us that's what you smell when there's one around. He didn't stay there long.
I"m a little afraid, because when I go in July I'm going by myself and planning on staying 3 months.
Does anyone have any kind of advice about what you do when you see a snake and is there anything that you can do to make em leave.
Pam
By guest (Guest Post)
July 25, 2005
0

found this helpful
Correction to the post on what to do if bitten, DO NOT PLACE THE BITTEN LIMB ABOVE THE HEART! That only makes the posion spread faster. Place the limb below the heart to slow the blood flow from that limb.
By guest (Guest Post)
January 19, 2006
0

found this helpful
I haven't even read anything yet. What is this about""
By guest (Guest Post)
July 4, 2007
0

found this helpful
Copperheads don't smell like cucumbers.. It's a myth. I just read it here http://www.fish a.us/copprhe.htm a few minutes ago. Scroll down to the myths section. This also gives good information on Copperheads and how to distinguish it from non-poisonous snakes that look similar to it. Hope this helps!
By guest (Guest Post)
July 9, 2007
0

found this helpful
Copperheads and cottonmouths do smell. I grew up in Texas around a lot of snakes and could always smell the snakes before I saw them. This is a skill that also came in handy when traveling in Costa Rica and Thailand. They do smell musky. Cotton mouths sometimes tend to smell like a sick dog to me. It is a sweet, putrid, musky odor.
By guest (Guest Post)
October 5, 2007
0

found this helpful
Is it true that moth balls will really keep copperheads away, or is this a myth?
By guest (Guest Post)
June 9, 2008
0

found this helpful
Copperheads do smell like cucumbers. I live West Virginia. I've had to handle them before. :(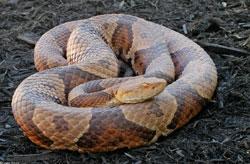 By guest (Guest Post)
August 1, 2008
0

found this helpful
I had a copperhead problem for years in my backyard until someone told me about sprinkling sulphur around the fence line. If a snake tries to cross it, it burns up their belly. I tried it and it worked- no snakes for an entire spring/summer. I was concerned about what sulphur would do to my kids playing in the yard, so I tried another recomendation-crushed moth balls. So far no snakes. I've heard that Tide POWDERED detergent also works because of some ingredient found only in Tide. I haven't tried that since the moth balls are working.
By guest (Guest Post)
August 30, 2008
0

found this helpful
These snakes are usually secluded and don't like to come into contact with humans. You should be fine because when you are walking in the woods, where there are copper heads you come within striking range of about 5 copperheads and never know. They freeze when they sense danger and are not aggressive unless they they are stepped on or handled.
June 15, 2013
0

found this helpful
I live in Texas and I do agree that some of the remedies that were mentioned do work... but poisonous snakes are not shy (like copperheads, cottonmouths, and rattlesnakes). They will not run away. I have personally been chased by copperheads and cottonmouths they do not care about you they want to defend themselves, if you are in their territory they are most happiest when they bite you, because they know that they possibly have just killed you.
Rattlesnakes have a longer degree of striking distance (ex. Their striking distance is equal to their length) In conclusion they beat way to keep snakes away is buying or already owning a .22 or a shotgun... you're welcome!
April 21, 2017
0

found this helpful
This is not a myth. It is a rank odor and I guess rotten cucumber is the closest thing I can think of. Copperheads will bite you just for walking by.
Read More Answers
Does a Copperhead snake put off an odor that smells like cucumber?
By pastorjohn from Pomeroy, OH
September 18, 2009
0

found this helpful
Yes, I just read about this yesterday, didn't save the site though, sorry
September 20, 2009
0

found this helpful
However they do excrete a smell when about to bite or really agitated. So I guess the answer to this is yes, if they are ready to attack and mad, and no, they do not smell like this otherwise. Robyn
September 25, 2009
0

found this helpful
I remember living on a farm in So.Illinois and my mom would go to the garden to weed and saying she smelled a coperhead snake and it smelled to her like cucumbers and sure enough she would see one and she was a good shot with a hoe and killed it. I don't know how she got by with it all those years and didn't get bit. She was a very daring woman in my book. Lots of times a King snake would swallow the poison snakes. Mom never killed the King snakes. She did know her snakes and I guess in her way was cautious but I hated the sight of them and ran to the house. I still hate the snakes and when they are on TV I go to another channel and won't look at them. HAHA I live in Tennessee on the outskirts of Chattanooga and have not seen one since the 5 years we have been here but do know they are slithering around just waiting for me some day.
September 26, 2009
0

found this helpful
Never got close enough to one to smell it...lol
September 29, 2009
0

found this helpful
My husband Al and I grew up in a small town in Kentucky. When we were dating in 1987 we went for a walk past his parents place and sat on a rock. After sitting there for about 10 minutes we smelled rotten cucumbers and we ran. My now husband took a log and flipped over the rock and there was a whole nest of copperheads. So my advice to the pastor is if you smell that smell get out of Dodge. The old people have this advice for a reason. If you think it's a myth, well test it and let the rest of us know. LOL!
October 20, 2009
0

found this helpful
I am with Triple Deb, I too would never wanna know!
July 2, 2015
0

found this helpful
When copperheads become excited or stressed they exude a musk which does, indeed, smell like cucumbers. Also, their feces looks like yellow cornmeal.