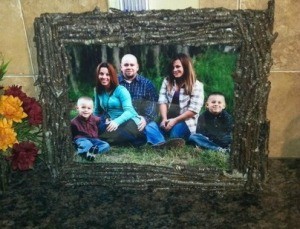 Recycled or inexpensive picture frames can be decorated and used to create fun new decor for your home. This is a guide about crafts using picture frames.
Ad
---
Solutions: Crafts Using Picture Frames
Read and rate the best solutions below by giving them a "thumbs up".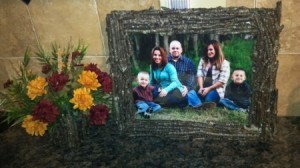 I used small twigs from my yard and using a hot glue gun, I added them a layer at a time until the entire frame was covered. Then I covered with a light coat of Mod Podge to seal it. Also, look at the little flower pot done to match. This was a small tin can covered in twigs.
Approximate Time: 2 Hours
Supplies:
hot glue
old picture frame
twigs and sticks from the yard
Mod Podge
Instructions:
I used small twigs from my yard and using a hot glue gun, I added them a layer at a time until the entire frame was covered. Then I covered with a light coat of Mod Podge to seal it. Also look at the little flower pot done to match. This was a small tin can covered in twigs.
By Sharon from Lakeland, FL
Renew and refurbish old picture frames, even rusty metal ones, with acrylic paint. Try mixing silver paint with different colors for unique results. For wooden frames, use Gesso to glue lace or lacy seam binding around the edges for a carved look before painting.
Use one color and let it dry, and then top with another color, wiping off most of it for an antique look. You can even paint old mat board with acrylic paint.
Steps:
Experiment with different colors that work well with your picture/photo.
You can spray with clear acrylic to give further protection, and add a shiny look.
By J-Kat [7]
I went to Michael's Craft store and bought those plain wood frames for $1 that you can paint, I also bought some cute kid decals for decorating them. It was simple, just painted bright fun colors on each side with acrylic paint and a sponge brush. Then I used lettering decals to put their name. I did one of each of my grandsons, and have a grand daughter arriving in 2 weeks, one more to make!
By Linda from Bellevue, N.E
To make a quirky picture frame try varnishing favourite sweets, jelly babies or licorice, all sorts look quite colourful, then glue them to a cheap picture frame. I suppose you could do the same by varnishing cookies, but make sure who-ever you're giving it to knows it's not really edible!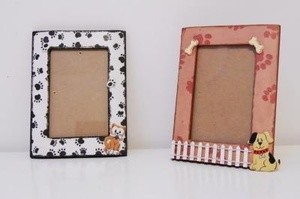 This is a simple cute picture frame that can be used to decorate your home or to be given as a gift. I made a few for my house and gave one as a gift.
Approximate Time: 1 hour
Supplies:
scrap paper
glue
modge podge
paintbrush
paint
craft knife
wooden picture frame
embellishments
sponge (or just use your paint brush)
wax paper (opt.)w
popsicle stick (opt.)
glue
Instructions:
First thing you are going to need is a wooden picture frame, either one laying around the house or one from your local craft store.
Take your scrap paper and place your picture frame on top and trace all around the frame and the inside of the frame onto the paper.
Then once you have completely traced the outside and inside of your frame, take a craft knife and carefully cut along the lines you've done. When you're all done, the paper should be the same shape as your picture frame.
Next you're going to need to chose a color paint that'll match or go good with the scrap paper. When you've found a good color paint, paint your picture frame. Remember to take the glass out and to paint the back. Let the paint completely dry.
Once your paint is dry, take the piece of paper you cut out earlier and use some white glue to lightly cover the back of the paper. Then match the corners and stick the paper on your frame. Once your paper is on the frame you can put wax paper over your frame and use a Popsicle stick to smooth out any bubbles in the paper.
Once you are done smoothing out the paper on top of the frame and it's dry, you can go on to paint the edges of your frame. I used a little piece of sponge and dipped it into some paint (the same color paint that was used earlier) and just gently ran it all around the outside edges. I did this to kinda hide the paper edges and to make everything kinda blend well together.
Once the paint around your edges has dried, take some modge podge (or watered down glue), and go over your frame to seal and protect the paper. You might want to do a few coats depending on the paper you use. For mine, only one coat was needed. If you use watered down glue, I suggest around 3-4 coats.
After the protective coat is on and dried, you can use some little embellishments to add to your picture frame. I found some little wooden cats and dogs to glue onto mine at Michaels for 4/$1.
I hope you enjoy this craft project!
By Jennie from Las Vegas, NV
This old picture frame was going to be trash until I thought of painting it and adding some extra "Happy New Years" confetti to it. I slapped on some glossy varnish and now it looks fantastic.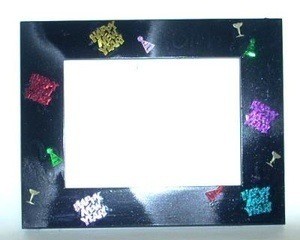 Approximate Time: 10 minutes without drying time
Supplies:
old picture frame
black craft spray paint
handful of metallic confetti
white glue
clear, glossy craft varnish
paintbrush
tweezers
Instructions:
Start by cleaning and lightly sanding the frame if it's wood or metal. Plastic should just be cleaned. I used an old "I Love Mommy" frame that looks pretty, but was scratched and discolored, as shown here."
Make sure the picture frame is dry. Spray an even coat of black paint on the frame and let dry. Repeat if needed.
Find any kind of stiff, plastic confetti. I used "Happy New Year" metallic confetti. Brush a tiny bit of glue to the back of the confetti and use a pair of tweezers to help place it on the frame.
Push the confetti flat and let dry. Repeat process for each piece of confetti you want to use. This will make the confetti stick, but it won't stay there long. That's why the next step is varnish.
Apply a light, even layer of clear varnish over the frame. Pay close attention to the confetti and make sure to get on, around and in the nooks of each piece. Let the varnish dry.
Add second coat and let dry. This glues the confetti on from the top as well as the bottom. Now it'll stay put.
Put a picture in your new frame and enjoy!
By Aysha from Boise, ID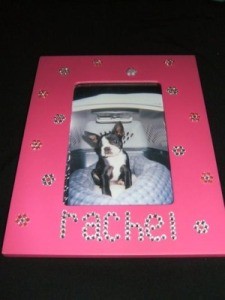 This craft project would make a great, inexpensive gift for family members and friends. My daughter made this personalized one in about an hour.
Approximate Time: Under 1 hour
Supplies:
inexpensive photo frame
self-stick rhinestones
photo of your choice
Instructions:
Lay the picture frame flat. Decide on the type of design you wish to use. You could use a pencil to draw the outline of the design first, if desired. Position the self-sticking rhinestones on the frame. Insert your favorite photo and you're done!
By Mom of 1 from Wilkesboro, NC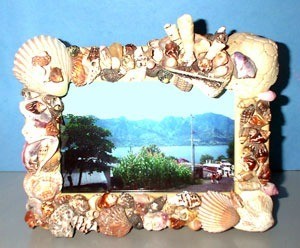 Ever collected shells at the beach or just admired their natural beauty? Frames decorated in shells are always distinct (no two shells are the same), stimulate personal or collective creativity, and evoke a peaceful and harmonious atmosphere for years to come.
Materials:
shells: enough to cover entire frame from personal collection OR purchase assortment from local craft store (i.e. Michaels) or online
frame: any wooden frame (4 x 6 inches is sufficient) NOT distressed or old
You can find wood frames priced under $4 available at local Walgreens
glue: white or all-purpose
damp cloth/towel: clean and large enough to wipe frame, glue spills, and/or hands
Instructions:
Determine whether finished frame will stand or be wall-mounted so shell design isn't upside down. Make sure frame is clean. If necessary, use a damp cloth or towel to remove dust or other particles. Place frame on its back (photo side up) throughout entire project.
Start the design process by outlining the frame with various shells. DO NOT use glue at this time.
Tip: Use the larger shells first as a foundation from which you can add layers and patterns with smaller shells, as well as fill in gaps.
When the outlined layer of shells is placed on the frame, pick up one shell at a time to glue. Hold the shell upside down while squeezing the bottle of glue. Make sure the shell is completely coated as it is pressed onto the frame.
White and all-purpose glue will dry clear as long as you don't use dirty items (i.e. cloth, fabric, hands) to wipe up excess splurges.
When all of the shells are glued on the frame, allow for sufficient dry time to begin gluing further layers.
Dry Tip: Lightly wiggle a couple of shells approximately an hour later. If any shells shift (remember, just a gentle touch), wait at least another hour and test again. Note: Using excess glue will take shells longer to dry.
Once the last shell has been glued, give your frame ample time to dry. Dry time will vary based on the number of layers, amount of glue used, and other factors. Use the Dry Tip (above) or for a more secure bet, wait at least 6 hours (or overnight).
Finally, your frame is dry! Carefully turn it over and remove the backing and sample photo. Clean the inside of the glass, if necessary. Place an image that best signifies the meaning of your new frame. Your image doesn't have to be limited to a photo; it can be anything from a drawing, postcard, magazine cutout, etc.
Carefully put your frame back together and place it in a location that you can admire it from.
By Nancy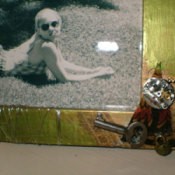 Turning boring picture frames into works of art doesn't take much more than some paint, glue, a junk drawer full of odds and ends, and an imagination! Revamping a picture frame is an easy project that you can complete in an afternoon (drying time included).
What you'll need:
A store bought picture frame of any size, or a picture frame that you're bored of and want to jazz up
Craft glue
Acrylic paint or nail polish
Mod Podge/Acrylic Medium
Miscellaneous junk drawer/craft items, including: buttons, beads, wire, newspaper, old watches, old keys, shells, beach glass, old earrings, photos, stamps, negatives -- the list is endless.
Look at your boring, plain picture frame as a blank canvas, with limitless possibilities.
It's wise to plan out what kind of theme you'd like your frame to have before you start the project. What do the odds and ends in your junk drawer spell out? Rustic country style? Gothic? Outdoors-themed? Loud and colorful, or subdued?
First, think about what kind of base you'd like. It could be as simple as a couple of coats of acrylic paint. Alternately, if you have some old newspaper, rice paper or magazines you'd like to get rid of, you can create a decoupage paper base using acrylic medium. To do this, make a stockpile of paper cuttings. Paint a small area of your frame with acrylic medium, and place a cutting on the area you've painted. Paint some medium over the paper, and begin to smooth it down with your finger, removing all air bubbles that may have formed. With your finger, 'wrap' the edges of the paper around the inner and outer edge of the frame. Continue in this manner, covering the frame with paper, and give the entire thing a coat of medium when you're done.
Remember that before you add any sort of base or embellishment to your frame, you should remove the backing and glass first!
To give your frame an antique metallic finish, combine about 1/2 or 1/4 teaspoon of gold or bronze acrylic paint with 1 tablespoon of acrylic medium, and paint 1-2 layers of the mixture over a decoupaged or light-colored frame.
Once your base is dry, you can begin to add embellishments. This is the perfect opportunity to use up those keys whose locks are long forgotten, or that jar of single buttons.. A neat use for an old watch is to gut it with a small screwdriver and pliers, and glue its inner clockwork to your frame. Or -- string some beads onto some craft wire, and wrap the wire around the edges of the frame.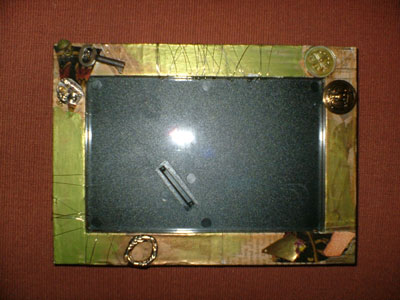 Simple tacky craft glue is ideal for a job like this one, because it's flexible but very sturdy and dries completely clear.
Once your embellishments have been added, you can decide whether you'd like to go over the entire frame with a coat or two of acrylic medium, to protect your creation.. This isn't always necessary, but if you've glued small beads or photos to the frame, the medium will help keep them stuck on.
Lastly -- it's important to put a special photo in your frame, and display it in a prominent place! You've created a work of art, and it will definitely draw compliments from houseguests.
© 2005 - ThriftyFun
By Jess Hampton
I've bought picture frames (with wide borders) from the Goodwill or other thrift stores. I use craft paint (any color) to paint them and then a satin varnish. Then I hot glue a variety of shells to the frame. I use shells I pick up at my beach and the frames cost only a couple dollars. Sometimes I insert a meaningful beach picture or I will leave it empty for the receiver to fill.

You can also bleach (dilute with water) the shells to make them look more weathered. Paint the frame with a true white paint. Then do a second coat of off-white or cream. When both coats are fully dry, lightly sand the top coat so that the white and even wood-grains show below. Hot glue the bleached shells on the worn frame for a fully weathered look.

By Hache
Give a "thumbs up" to the solution that worked the best! Do you have a better solution? Click here to share it!
Questions
Here are questions related to Crafts Using Picture Frames.
I am trying to decorate a plain wooden photo frame with sand and shells collected from a special holiday. I intend on covering the plain wood with sand and then placing the shells on top of the sand. Has anyone got any ideas how this might best be done?

Deb from Cleveland, TN
AnswerWas this interesting? Yes No
Ad
---
---
Most Recent Answer
By NeeNoon 1 12 11/17/2007 Flag
To avoid dust, I saw a product in the craft store that can cover basically anything. It looks like it's a plastic coating. It's not thrifty but it would solve the dust problem.
---
Decorate a Picture Frame
Uses for old wooden frames that are missing glass. These tips are from the ThriftyFun community. Post your own ideas here.
Decorate a Picture Frame
Decorate a picture frame using paint and found objects. You can decorate a frame with a nautical theme by painting a lighthouse and birds on it. Then hot glue on some found objects like seashells to complete the project.
Make A Table Tray Or Collage
You can put a thin piece of wood in where the glass goes, paint the whole thing and make a tray. Small frames make nice trays for your dresser or the bathroom, and large frames make nice serving trays. If the frame is really thick and strong, you can add handles from the hardware store to hang on to.
If the frames are nice, it also looks neat to do a collage of empty frames on a wall - different shapes and sizes. The woodwork of the frame becomes your "art".
Blackboard
You could paint some plywood with black board paint, attach the frame and then hang it near the pantry as a notice/shopping list board.
By Wolnut
Use For Children's Artwork
When my kids were little, I use to take the old frames and frame their artwork and put them by the pictures on the same wall and as they got older I would put their best papers from school in the frames to show off. They were also able to take the frames and decorate them to become "different frames" on our walls.
By Ginny
Earring Holder
If you staple window screening to the back of the frame, they make a great holder for earrings. Simply hang on the wall and organize!
By Kathy
Get Glass To Use As Frame
An Arts and Crafts store like Hobby Lobby sells glass made for photo frames. If you know the measurements for the frames, you can buy new glass pieces for them.
By Renee
Make A Papermaking Screen
Try a search on making paper. I have never done it but one easy method that I have heard of is to blend scrap paper with a little water to a fine pulp and then using a screen (a.k.a. one made out of an old picture frame) lay the mush out, squeeze it thin and let it dry.
By Kwaurio
Yard Art
A lady in our local garden club used an old barnboard picture frame in her landscaping. She set it up on a stand and planted an assortment of annuals and perennials behind the stand. This "picture" was the talk of the club when we toured the yard and looked great.
AnswerWas this interesting? Yes No
Ad
---
---
Most Recent Answer
By Lisa Austin 21 89 07/19/2007 Flag
I have glued smaller frames onto larger ones and then painted or stained them. This technique makes for an interesting frame!
---