Creating a Dish Garden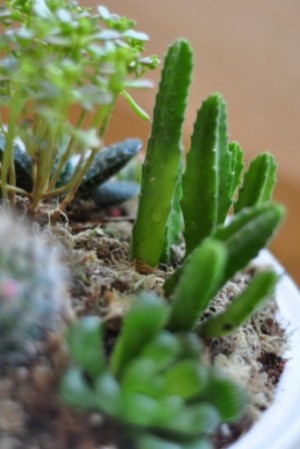 Succulent plant and low water plants can make an attractive indoor planter for those in cooler climates. This guide is about
creating a dish garden
.
I make and sell dish gardens. The first picture is an old pressed, clear glass bird cage feeder. In it I put little hens and chicks and and English daisy.
The second picture was made from a vintage Fire King cup and saucer. Hens and chicks, sedum/groundcover which will get yellow and red flowers have been planted.
I have lots more ideas, today I plan to make butter dish gardens from some old Pyrex butter dishes I have!
By April
August 23, 2005
0

found this helpful
I know plants grow, would you ever need to transplant a plant when it gets too big for the cup & saucer? How would you transplant it into a bigger dish without ruining the plant?... I would like to do this... very good idea.
By guest (Guest Post)
Flag
August 23, 2005
0

found this helpful
You can keep a plant in the same size pot if you repot it when it seems to need it. Take the root ball out of the pot (or cup, in this case), shake off the old potting soil, and cut off the bottom third of the roots. Then repot it with fresh soil.
Only do this with plants you know are hardy. The hen and chicks will definitely take this level of "abuse" of its roots and thrive.
August 23, 2005
0

found this helpful
Actually I was thinking about trying to sell the cup and saucer dish gardens on ebay. I know I could pack and ship it with no problems. I would have to separate the saucer from the cup so they would not bang together. I could sell the cup and saucer (with plants) to you for 14.00 if you like Duane. That would include shipping and handling. If your interested you can email me at aprilbapst @ aol.com (remove spaces) As far as transplanting, when the dish gets to full, all you have to do is take out some of the plants. You can pick up all the plants that usually have the dirt on the roots and just put fresh new soil under.
September 18, 2005
0

found this helpful
Replanting hens and chicks are so easy. All you have to do is pick the hen or chick up and put it in a new place. I know that even a leaf will grow into a hen or chick. They are so versitile. They grow pretty well in the summer, and are pretty prolific. You can just pick up a chick and repot it, and it will become a hen also.
January 5, 2006
0

found this helpful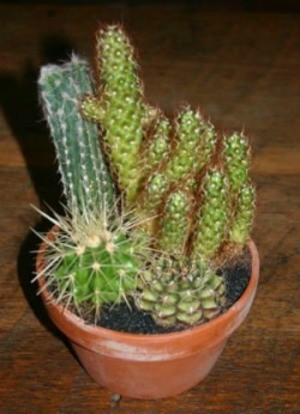 Those of us who garden in the cooler zones are denied the rewards and challenges of landscaping with desert succulents (at least most of the year). Fortunately, we can bring a mini version of those interesting desert plants indoors by creating a cactus dish garden. Cactus dish gardens are easy to care for and maintain, and they make inexpensive long-lasting gifts for office co-workers, neighbors or fellow plant enthusiasts. Since cacti appreciate dry winter air, now is a great time to introduce them into your indoor landscape.
Materials You'll Need
Planting Tools: You'll need tools for picking up and handling the prickly cactus. Use heavy gloves, kitchen tongs, or strips of newspaper wrapped around the cactus base to protect your hands from sharp spikes.
Shallow Bowl-Shaped Dish or Planter: You can use any pot or planter for your cactus garden, but a shallow dish tends to showcase the cactus and succulents the best. Natural colors will provide a neutral backdrop to help your cacti really stand out.
Cactus Mix: Cacti (and other succulents) require a well-drained growing medium to avoid problems with root rot. Use a commercially made potting mix designed specifically for succulents, or create your own by mixing equal parts potting soil and builders sand.
Assorted Cactus and Succulents: These are readily available in all sizes and varieties at most home stores and garden centers. Plant odd numbers of cacti with different sizes, shapes, and textures to create the most interest.
Planting Instructions
Place wire mesh or a piece of broken pottery over the drainage hole and fill the dish with potting soil. Leave a little room at the top of the dish so you can dress the garden with a top layer of pebbles or sand. Pre-arrange your design before inserting plants, keeping taller plants in back and trailing plants along the perimeter. These gardens are designed to be enjoyed from close-up, so examine your design from all angles.
For each cactus, hollow out a depression in the soil large enough to cover the root ball. Insert plants (use a tool!) and lightly tamp down the soil around the roots. Tap the dish lightly on a hard surface to help the soil settle and get rid of air pockets.
After planting the cactus, cover the surface soil with a thin layer of pebbles, colored sand or aquarium rocks to give it a finished look. Now you can get creative and add small shells, marbles, or figures (Santa Claus) to make a theme of your choosing. Wait a week before watering to give the roots a chance to adjust.
Caring for Dish Gardens
Many cacti will bloom indoors while they are young (3-4 years old), while others are more difficult to coax into flowering. Cacti usually bloom in the spring on new growth. The secret to getting them to flower lies in proper summer care and some calculated winter neglect.
Temperature: From spring to fall cacti need average warmth. Keep them cool in the winter (50º-55ºF), but keep them away from window sills at night when temperatures get very cold. Hairy Cacti need a minimum of 60ºF in winter.
Light: Choose the sunniest spot you can find, especially in winter. A cactus bending toward a light source is a signal it's not getting enough light.
Water: Nothing will kill your dish garden faster than over-watering. During spring through late summer, water your cactus garden like normal houseplants by watering thoroughly with tepid water when the soil begins to dry out. Back off on watering during the late summer, and after mid autumn keep you garden almost dry-watering only enough to prevent cacti from shriveling.
Humidity: With the exception of the Silver Torch cactus (Cleistocactus straussii), do not mist your garden in the summer. Instead, set them near an open window on hot summer days to give them fresh air.
Repotting: Eventually your garden may outgrow its dish and need to be transplanted to something larger. Transplanting should be done in the spring using only a slightly larger dish than the cacti are currently in. Flowering is actually stimulated when cacti are slightly pot-bound so transplant only when necessary.
Related
You are viewing the desktop version of this page:
View Mobile Site
© 1997-2016 by Cumuli, Inc. All Rights Reserved. Published by
ThriftyFun
.
Page
generated on November 22, 2016 at 5:18:01 AM on 10.0.2.31 in 5 seconds. Use of this web site constitutes acceptance of ThriftyFun's
Disclaimer
and
Privacy Policy
. If you have any problems or suggestions feel free to
Contact Us
.