I've tried to make fake bacon out of so many products and eggplant seems to mimic the texture of bacon the best. Here is how to make your own eggplant "bacon" at home!
Prep Time: 10 minutes
Cook Time: 30 minutes
Total Time: 40 minutes
Yield: 12 slices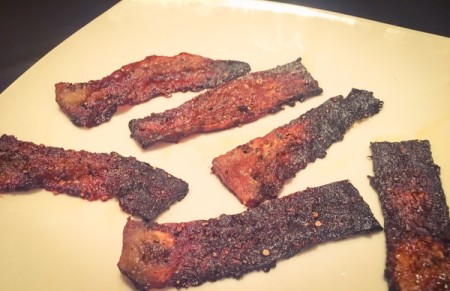 Ingredients:
1/2 medium eggplant
2 Tbsp cooking oil
2 Tbsp soy sauce
1 Tbsp Worcestershire sauce
1 Tbsp maple syrup
1 tsp liquid smoke
1 tsp paprika
1 tsp garlic powder
1 tsp black pepper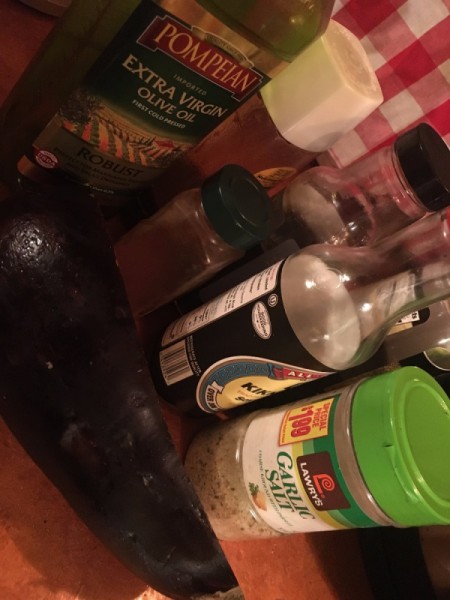 Steps:
Preheat oven to 225 degrees. Line a baking sheet with parchment paper or foil. Peel eggplant.

Using a knife or mandolin, slice eggplant into thin strips that resemble the size of bacon.

In a bowl, mix together all remaining ingredients.

Use a spoon to saturate both sides of the eggplant slices with your sauce, or drop in the bowl like I did here.

Place in a single layer on the baking sheet. Sprinkle with more black pepper.

Bake for 20 to 30 minutes until eggplant is a deep red color and is a bit crispy. These are so delicious in sandwiches! Enjoy!
March 19, 2017
0

found this helpful
I am in the UK and have never heard of "liquid smoke" (and I presume eggplants are what we call aubergines). We do however have smoked paprika which smells like bacon so I will give this a go
March 20, 2017
0

found this helpful
Liquid smoke is a traditional American product. It is a liquid available in most grocery stores state-side. It is used to approximate the smoke flavoring of an outdoor grill. The most common brand is Wrights, which is available through Amazon in 3.5 oz (@103 ml), and comes in a variety of "wood" smoke flavorings (e.g., apple, hickory).
March 20, 2017
0

found this helpful
Paprika is a suitable alternative or you can use Lapsang Souchong or Russian Caravan black tea. Just steep the leaves in boiling water for five to seven minutes and use.
March 21, 2017
0

found this helpful
I love eggplant! This seems like a fun way to change the flavor and I can hardly wait to try it.
Thanks for posting and your instructions (like Judy's) are always very good.
Betty
March 21, 2017
0

found this helpful
Mmmmm...sounds good! I too try to replicate bacon. I wonder if zucchini would also work since it's texture is similar to eggplant? Ever try it?
I have not tried it but I will try it for you the next time I go shopping and let you know!!!
Aww thank you, Betty! Appreciate it! Enjoy the "bacon"!! :)
May 24, 2017
0

found this helpful
Will be making this! It is making me so hungry and I don't have a big appetite! Thank you!
May 27, 2017
0

found this helpful
This sounds good; however, if you are vegetarian (like I am) or vegan, omit the Worcestershire sauce as it has anchovies in it.
Read More Comments