Crockpot Baked Potato Soup
This baked potato soup is fantastic and easy to make in your crockpot!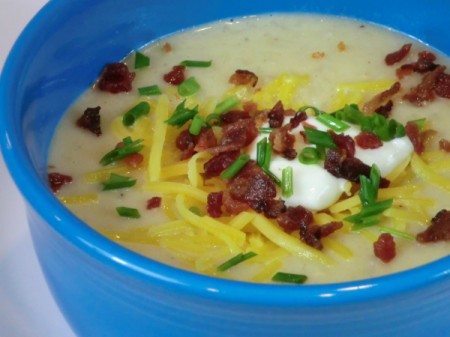 Ingredients:
5-6 large potatoes, peeled and chopped
3 (15 oz.) cans chicken broth
1 large onion, diced
3 tsp garlic powder
1/4 cup butter (or 1/2 stick)
2 tsp salt
1 1/2 tsp pepper
1 cup whipping cream
1 cup cheddar cheese, shredded
3 Tbsp chives, chopped
Topping
1 cup sour cream, optional
1 cup crumbled bacon, optional
1 cup cheddar cheese, optional
1/4 cup chived, chopped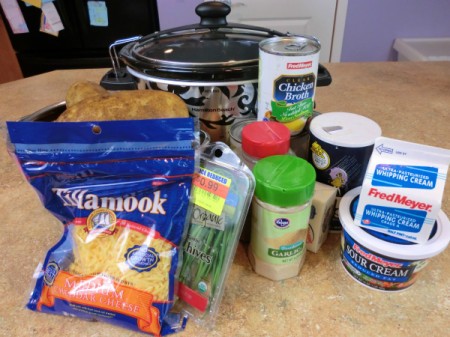 Steps:
Wash, peel, and rinse potatoes. Cut them into 1/2 cubes and put them into the crockpot.
Add chicken stock and butter to the crockpot. Dice onion and add to the crockpot.
Add salt, pepper, and garlic powder. Place the lid on and turn the crockpot to HIGH. Cook on HIGH for 5-6 hours, or until the potatoes are soft. (If you want to use the LOW setting, cook for 8-9 hours.)
Once potatoes are soft, use a potato masher to smash the potatoes. Smash them until you have a slightly chunky texture.
Pour in the whipping cream, stirring well.
Add grated cheese and chives. Stir to combine.
Serve hot, topped with a dollop of sour cream, bacon crumbles, and chives.
By lalala...
Feedback
Read feedback for this post below. Click here to post feedback.

By
09/29/2012
I have everything in the crockpot ready to go. However, when do I add the 1/2 stick of butter? I don't see it anywhere in the recipe.

By
09/25/2012
Sounds great to an Irish girl like me who loves spuds! Going to make it tomorrow, thanks. Wow great photos, too.
By
09/24/2012
That looks absolutely amazing! And you did the photos so well, too. Thanks for sharing.
Post Feedback
Add your voice to the conversation.
Related Guides
Related Posts