Some neighborhoods have many stray cats wreaking minor havoc in trash, gardens, etc. There are ways to resolve this issue and perhaps help the cats as well. This is a guide about dealing with stray cats.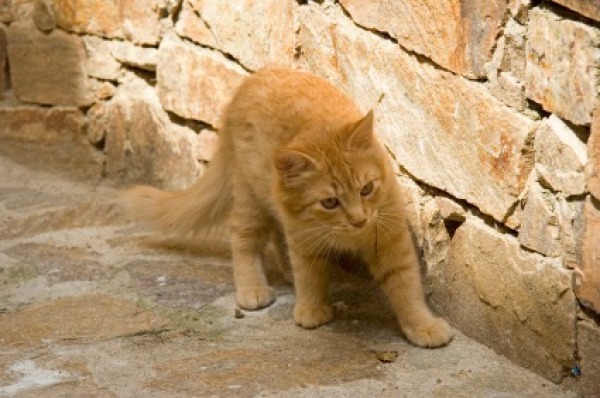 Filter

: All Articles
Sort

: Relevance
A female mother cat has just delivered 3 baby kittens and the mother cat is keeping the kittens in the store room of my house! I dare not touch the kittens; am afraid the mother will attack me. Please help!
April 22, 2016
0

found this helpful
You didn't say where you live. There might be a feral cat rescue agency in your area. I would start there first. Good luck.
April 23, 2016
0

found this helpful
Are you afraid the mother will attack you because it has shown aggression, or just because it is not your cat. If she has chosen to have her kittens so close to humans, my best guess is that she is not wild. You have options. You could call a rescue to come and get her. If you call the pound, she and the kittens will likely be euthanized. (I wouldn't pick that option, but I am a cat lover.) You could try to tame her by putting food and water out for her. If she is tame enough to eat when you are sitting quietly nearby, she may let eventually come to you and let you pet her, and then you can tame the kittens as well. If you have no experience with cats at all, surely you have a friend who does, and who can come over and see if the cat is friendly or not. You can also take a photo of her and post on lost & found pets or on bulletin boards. This might be someone's cat, as mother cats often have strange ideas about where to have their kittens.
I have been feeding a cat, that was wandering the neighborhood, for about five months. At first it was very skittish and wouldn't get near me. About three months ago he became injured in a fight. He had a bite mark on his neck and a torn ear. He became very friendly and started letting me pet him. He was doing fine, but about a week ago, I noticed his voice was getting weaker until he couldn't be vocal.
Yesterday I noticed he wouldn't sleep inside the shelter I made him even in 30 degree weather. This morning I put some food out and noticed he didn't eat it. He just wants to sleep. I don't have money to trap him and take him to a vet, would anyone have suggestions as to how I can help him? I'd hate to call animal control, but think it's my only option. Please offer suggestions.

December 21, 2015
0

found this helpful
Your furry friend definitely has a problem and it is clear that he is not improving. You have two choices, immediately take him to a vet for a diagnosis and, hopefully, improvement, or animal control. Letting him continue to suffer is unkind and animal control most probably means death, so please try to find a way to help him now.
December 22, 2015
0

found this helpful
It sounds like your friend has reached the end. It is unfortunate that this happens quickly to strays.
You may be able to wait until he is too cold and tired to fight you any more and wrap him in a towel or blanket. Bring him indoors to have a warm place for his last day or two.
Assuming he actually revives, you will have to find a way to get him veterinary care then. However, this is unlikely.
I am trying to help some stray kittens. One has pus in its eyes, runny eyes. One is blind. They are wild kittens. I have tried a lot of different medications. Is there something I can make at home to use? Meds are very costly when wild cats just keep coming.
We do not have a no kill shelter in Fontana or one that will take them. I am caring for 50+ cats, none of whom are house cats. The cost for food has wiped me out. If anyone knows of someone to help with food it would be of great help. Thank you for your help.
By Double D
August 27, 2009
0

found this helpful
About the kitten with pus in the eyes. This is a little time consuming because you have to do it three or four times a day, but I've "cured" many many kitty eyes in my day with this:
pour boiling water into a cup that has in it a Chamomile teabag in it. (just plain chamomile!)
Let it cool to just warm and use a soft cloth dipped into the tea to wash the kitten's eyes.
I would try to find a good home for the blind one. As for feeding the cats, while table scraps are the best, it'll help...
I also agree with asking for cat foods on Freecycle.org.
Also, please, please, please take what Rchinaberr has to say to heart. May you be blessed for your kindnesses!
August 28, 2009
0

found this helpful
I am right there with you. I had about maybe 25 at one time. I learned of TNR < Trap Nurture and release > It does work. After the males were fixed, which I only paid 40.00 total to have about 10 males fixed, I found 99 % of them homes. People want cats that are all ready fixed or kittens. I have 3 outside left to find homes for.. Hang in there , it does work out, please contact your local SPCA and ask about TNR. They worked out a deal with me for 40.00 for 10 it is usually about 30.00 per male cat. Aas far as food Freecycle.org is an awesome place to start people are kind on there and will help. Good luck and keep us posted.
Michelle in PA
Read More Answers...
Help! These stray cats are peeing at my front door, patio, and lawn. How can I get them to stop and go away? The neighbor across street feeds them and they seem to come on my side of street and do there business and lay on patio and steps. I have allergies. What can I do to get them to stop?
By Anne
March 15, 2014
0

found this helpful
The cayenne pepper is very cruel to the cats. There are various cat repellants for sale, but I would certainly try the citrus (orange or lemon, either is supposed to work) first. When I had stray cats spraying the front of my house in the winter when it was too cold (-30 C) to go out and wash off the scent, I splashed the spots full strength with lemon scented Mr. Clean, and that seemed to discourage them. You might try that on the house and fence and see if it will work for you. Please do not use things that will harm the cats, especially since your neighbour is so kind to them. I think the placing of unlit citronella tealights around is certainly worth a try as well.
March 15, 2014
0

found this helpful
Ask the animal shelter in your area for traps. Lure the cats in with cat food and then take them to the shelter. Stray animals spread disease. Your neighbor is aggravating the problem by feeding them. Feeding is easy. Is she willing to adopt them and take them to a vet for the necessary inoculations and care? Is she willing to buy litter boxes and keep the cats in her home? Probably not. Perhaps, you could try telling her about your allergy. If she really is kind maybe she will put the humans in the neighborhood first and stop luring cats to your property.
Read More Answers...
Mom has an indoor/outdoor cat. Recently a hungry stray has been hanging around and we have left food out for him. Now, he comes by all the time and that would be OK, but he started to attack mom's cat when she's outside. She won't go out when she sees that he is out there. Should I stop feeding him so he goes back across the street where I think he came from?
He is huge and eats twice as much as mom's cat! We were not prepared for this stray taking over our lives and bullying our own cat, that can't go on. Any ideas?
By Terry O.
December 8, 2014
0

found this helpful
First of all, don't feed strays. Everybody thinks you should because you're cruel if you don't. But as you can see he is big, so plenty of other people are feeding him. You should not feed cats unless you intend them hanging around all the time. You already have a female so it wasn't a good idea.
But now you know better. Unfortunately, just not feeding him anymore will not solve the problem. He now considers your house and yard part of his territory, and will come around to scent mark it and look for other animals such as the female.
He's not being a jerk, it's just animal psychology that you didn't understand when you started to feed him. But he owns the place now and the female is on "his" property. You will have to chase him away every time you see him from now on. It may seem mean, but you started it.
In the future, defend your female cat and her property. After all, you wouldn't like it if your mom invited a stranger over with a promise of a meal and a date with her daughter! Don't feel surprised that the girl cat is feeling totally creeped out.
December 8, 2014
0

found this helpful
Great advice from Abigail. She is spot on. One thing you can try to make the intruder feel less comfortable is to use a squirt gun or a squirt bottle with a strong stream. It won't hurt the cat but they do hate being squirted. He will quickly feel less welcome on your property. If the cat is truly a stray and really needs feeding you can get a local cat rescue group to trap him and find him a home. Good luck.
Thank you for any response first of all. I live in a condo. A stray cat has found her way here. I am highly allergic and so therefore have never been able to appreciate cats. But this little one is so sweet. She really likes me. All the cat people that have come say they want her until she meets them and she GROWLS. Her back goes up and she is not happy. Then she wraps herself around my legs. I have contacted all the shelters in my area and everyone is full. The SPCA is pretty far for me to go after work, I may not even make it there. Any suggestions would be appreciated. I have listed her in the local newspapers and on craigslist and nothing.

Sandy from Baltimore, MD
By guest (Guest Post)
Flag
April 28, 2006
0

found this helpful
Please let us know when you have found a home for her/him?!
By guest (Guest Post)
Flag
December 6, 2008
0

found this helpful
No answer for you. I have 12 strays that I can't fine a home for them. Don't know what to do.
Read More Answers...
I have too many cats and don't know what to do. I have one inside female kitten who's been spayed, she's no problem. I have two female and one male indoor/outdoor cats who have also been neutered, they're no problem (although one doesn't get along with the others).

However, There are two outside male strays, presumably unneutered, although one has a flea collar on so someone owns him and may have had him neutered; two female strays unspayed, one with 2 kittens (male and female) unneutered. The outdoor females and kittens are not friendly enough to get near, they run whenever we go outside, but will eat food we put out for them.

My question is, if I can't get near them how do I get them neutered? If I don't get it done, we'll be absolutely overrun with cats and I know it has to stop before that happens. What do I do? Can someone please help?

Bonnie from Tuckerton, NJ,
August 1, 2008
0

found this helpful
Some of your local veterinarians might also have programs to trap, neuter, and release feral cats. They do in my area and I am sure we are not unique!
May 14, 2015
0

found this helpful
I had the same problem and was able to solve it and get it under control, although I never thought I would. Cats would multiply in my neighbor's shed. The kittens are endearing and we fell in love with 2 & adopted them. Two turned into 9 adopted for indoors all spayed & neutered but I decided enough, and I contacted someone who told me to trap & neuter the remaining outdoor ones.
Trapping with the specific cage didn't work for me so I used my own cat carrier. I waited till one was good n hungry, soon as they poked the head in, I gave them a little shove in & closed the cage door. I tried to be careful that the others wouldn't notice or it might be harder to trap them. I had appointments with my local low-cost spay/neuter clinic & took 2 at a time in separate carriers every 2 weeks. I cared for them the required 2 weeks for recovery and back out they went.
I did 12 cats like that. I feed them and care for them. I went online to learn how to make individual shelters for each cat, made of storage totes, reflective insulation & straw to keep them warm & dry in our cold NJ Winters. I lined my whole back porch with the 7 shelters. You can do it. It takes effort but its very rewarding. All the best to you.
Read More Answers...
I let my cat out for her daily wander, but she keeps getting bullied by other cats. They are coming almost to our door. She is desexed. What can I do?
By Sharon V.
November 9, 2013
0

found this helpful
She needs a cat run to keep her from getting hurt.
I have a bad cat problem in the town I live in and just discovered there are some living under my trailer. They are peeing, pooping, and spraying under there. I would block it off, but I have like 5 feet of snow and ice all around my trailer. They are also spraying my back door and all of these smells are starting to come in. Any ideas on how to stop it all would be so nice. Thank you in advance.
By Kala S.
November 26, 2013
0

found this helpful
If you own a female cat who lives in your trailer, get her spayed. Male cats can smell the fermones she gives off, even if she never goes outside. Clear out the space under your trailer and give it a good cleaning. Spray everything down with an enzymatic cleaner to get rid of the smell or the cats will come back. Moth Balls under the trailer might help discourage them from coming back.
November 26, 2013
0

found this helpful
Since it is winter, you can't do a cleaning out from under your home. If your trailer is skirted, (which I assume it is, otherwise how do you keep your plumbing from freezing), you should be able to figure out how the cats are getting in, and pile up snow and ice in those spaces, blocking off the way the cats get in. They are using the space as a litter box because they have good digging under there.
Do make sure that there are not cats under the trailer when you block off the entrances, easier said than done, as I once had to do this, and we trapped a cat under there, who was hurt. He was a walking skeleton when we discovered him, and we had to have him put to sleep. Anyway, that should keep the cats out in the winter, if they can't get in.
I found that splashing a very generous amount of lemon scented Mr. Clean over the spots where tom cats were spraying covered up the smell (which you can't wash off very well when it is -40F), and discouraged them from spraying there. They do not seem to like the lemon smell, and it is not an unpleasant smell for people. Absolutely do not toss a bunch of moth balls around. That smell is as bad, if not worse, than the cat pee smell, and besides that is poisonous to everyone, you and the cats. I've tried it, and it is totally disgusting, and I don't think it works anyway.
I have found that a cat repellent that I purchased at a hardware or garden supply store worked quite well to keep cats off of sections of the lawn, but it has to be replaced every time it rained. It might work okay under a trailer. However, you also have to be careful about the smell of such things, as sometimes it is just as bad as the cat smell!
We have a year old spayed cat. She is an indoor cat at night. We've been finding lately that when we air our house out, we've got stray ginger cats coming in. They are spraying through our house, eating our cat's food. They're also fighting with our neighbor's cat, and we've all had enough.
By Sue H.
November 3, 2014
0

found this helpful
Can you put screens on your windows. I did when a few bats flew into my bedroom one night to say hi.
The stray cat that I have been feeding gave birth to a liter of five kittens two weeks ago. The box that they were living in was too small and smelled awful so my neighbor and I decided to transfer the kittens into a bigger box.
How can I keep stray cats out of my garden?