Next to the ceremony itself, the wedding reception is the next most important event of the day. Decorating the space used for this post-ceremony celebration is an important part of the planning process. This is a guide about decorating a wedding reception.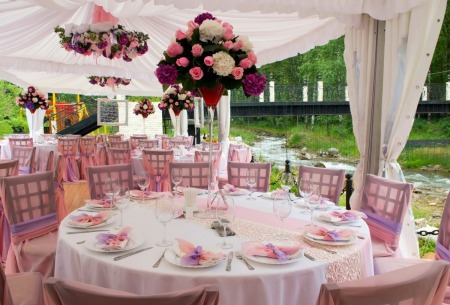 By Amy Allen 5 3
My daughter is getting married in June 2005. We are having a simple reception (cake, punch, fruit/veggie trays, finger foods). We will be having the wedding/reception outdoors around noon (the time hasn't been set in stone as of this writing). The wedding will take place in a beautiful field.

My problem is I need suggestions on how to decorate the pavillions where the reception wil be held. I have suggested using tulle and fabric in her wedding colors (yellow/white) to drape the beams, even an ivy/flower combo. She is not very impressed with either idea. She has specific ideas about every aspect of this day except for the pavillion decor (She does, however know that she wants the tables to be dressed in white linen with a yellow/white gingham runner. She will also be setting the tables with simple daisy centerpieces)

I am running out of ideas and time. June will be here before I know it. I am open to and will appreciate any and all suggestions.

Amy
---
Most Recent Answer
By guest (Guest Post) Flag
February 19, 2009
I am doing a wedding on a golf course, the ninth tee to be exact i need some ideas of how to make this gorgeous can anyone help me if so please contact me at Elizzy_Sis AT yahoo.com or 870-944-0281 I need help please I only have a short amount of time to do this. Any help would be appreciated!
---
I have another wedding question. Any ideas for outdoor wedding decorations, tablecloths and centerpieces? White and pink are the colors and I don't want them to blow away.

Thanks!

Hope
---
Most Recent Answer
By guest (Guest Post) Flag
January 31, 2008
I am getting married on July 4, 2008. I am soo excited and nervous. Any suggestions on center pieces? I need some ideas.. Please offer suggestions.
---
I'm looking for a cheap way to decorate my hall and tables. Does anyone have any ideas for decorations and a center peice to go on the middle of the tables?

Stacey From Staines Middlesex
---
Most Recent Answer
By guest (Guest Post) Flag
October 15, 2008
Stacey, we saved money at my daughter's wedding by using the favors as the table centers as well. Just use a footed cake plate or two (I would use two if setting 8'tables) place your favors on the cake plate and scatter rose petals around and on the cake plate. You can add candles if you like. We got our favor packaging at ribbonsandfavors.com and were really pleased with the boxes and put our own edibles inside we actually had a hard time choosing because they had such a nice selection.
It turned out really nice, and none of our footed cake plates matched, as we begged, borrowed and purchased. It looked even better for it as the favor boxes tied it all together. We also set a little note at each place to let our guests know that it was okay to take apart the table centers. You could also have your MC announce that as well - bonus - less to clean up.
---
I'm getting married in 8 weeks and my reception is at the VFW. That's all I can afford. I have 3 kids, plus my sisters 3 kids, plus another teenager so we're poor! lol I need something way inexpensive to cover the wall with the flags on them. Someone please help. I checked out all of the web sites and everything is way too expensive. Any ideas anyone? Please and thank you.
By Jennifer
---
Best Answer
By Paulette Gulakowski 7 177 Flag
August 9, 2012
You could try crepe paper streamers taped to the ceiling, twisted and taped to the floor - like we used to do for high school proms. Tape the streamers abutting each other so it looks like a solid wall of vertical twists in your wedding colors.
---
By Danielle 1
I'm using a fire hall for my wedding reception. I'm having trouble trying to find an inexpensive way to cover 2 11 foot X 50 foot walls. I was thinking to use "S" hooks on the drop ceiling and attaching PVC piping to have it suspended and attaching tulle. I wanted to know how much tulle I would need to conceal the lockers and trophies since tulle is so sheer. Does anyone have any other suggestions on an inexpensive fabric or another inexpensive way to cover the walls?
By Danielle from Baltimore, MD
---
Most Recent Answer
By Lanni Brisson 9 Flag
January 23, 2011
We used rolls of plastic tablecloth from a Party City store. It comes in a variey of colors in 40 in. by 100 ft. lengths. If you have any hooks near the ceiling you can stretch thin rope across the ceiling through the hooks and then put the rolled out tablecloth from the floor, up the wall and over the rope to the other side, and then back down the wall. You can make sure it stays in place on the ceiling by using small silver binder clips that you can get at Staples. We had the reception in a large gym.
Our guests who had not been ther before couldn't tell it was a gym. Tulle is more expensive than the tablecloth and more difficult to work with. I would use it to accent where you wanted to. Congratulations to both of you.
---
I am stuck on decorating my garage for a wedding ceremony and reception, since it is suppose to rain and outside is out of question. How do I decorate an empty garage for a wedding ceremony and reception for 20 people? My theme colour is all blue colours.
By Patricia D.
---
Most Recent Answer
August 10, 2011
Is there any possibility of having the wedding and reception inside the house? You could clear the living room of any excess furniture and leave just a couch or two for elderly relatives to sit on, then everyone else can stand. If you need to block out some part of the house that isn't so pretty, you could buy some tri-fold screens that let you put your own fabric on them. That way you could get your blue in there. Or you could have a screen or two behind the minister as kind of a back drop.
I've had a wedding in my home and other than giving it a good cleaning, it wasn't very hard. In addition we had the kitchen right there for the reception and didn't have to transport food.
---
My wedding theme is the perfect pair "pear" wedding. I am trying to get cheap ideas for wedding decoration for the tables and the hall all together. Does anybody have any decorating ideas?
By Camilee
---
Most Recent Answer
---
I am having a wedding reception at our home in July. We have a pool and a large yard off to the side and will rent a tent, etc. I would like some ideas of decorating the tent and around the pool area, maybe something for in the pool to float. No color has been selected yet, but I can go anyway with that.
By Mary Lou from Harrisburg, PA
---
Most Recent Answer
By Judy = Oklahoma 60 750 Flag
January 21, 2011
Just don't put balloons in the pool. We did that when my mom & step-dad got married & all through the ceremony we could hear balloons popping, it was very distracting and funny, although my mom didn't agree with me!
---
My wedding colors are yellow and pink and the walls of the venue are blue and white. How can I cover that on a tight budget? Help!
By Erika
---
Most Recent Answer
February 10, 2013
You cannot cover up the blue walls on a tight budget. Consider changing your color scheme for the wedding, or run the risk of a pink, blue and yellow color scheme that can ruin the look and come off like the Easter bunny came to the reception.
Who is responsible for decorating the reception area? If it's me, how do I do it?
My daughter is getting married 450 miles away from home.
By Kathy
I'm planning the decorating of a large metal barn for a May wedding for my granddaughter. (We live in OK). I want to use cheesecloth to drape off a 20'x40' section for the reception for eating and dancing for approx 60 guests. I have handy man who can do the hanging. I need thrifty solution! Can I use the grade 10 cheesecloth? I can order it online by the bolt from fabric store.com
Sharon