Easiest Cheese Sauce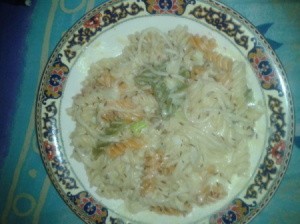 This is a store-cupboard favourite.
Ingredients:
milk
grated cheese
flour (approx. 1 tsp.)
1 tsp. mustard (optional)
Directions:
Gently heat some milk and then add some grated cheese, a little at a time. Do not let it boil, just simmer.
If it's not thick enough add a teaspoon of flour mixed with a little water to the sauce and this will thicken it.

A little bit of English or French mustard really brings out the flavour of the cheese too.
Add bacon, prawns, spring onions, peppers, chicken, ham, courgettes, or tomatoes. Anything you have handy.
By Monique from Somerset, UK., Weston-super-Mare
Feedback
Post Feedback
Add your voice to the conversation.