March 21, 2008
6

found this helpful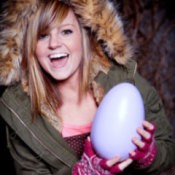 When Easter comes around, everyone gets excited about Easter baskets. At about 12, most kids decide that they are too old for Easter Baskets, but as parents we still want to celebrate this tradition of spring. Here is a list of some alternatives for Easter Baskets for those hard-to-please teenagers.
Backpack: Fill with eggs and maybe a T shirt and some books.
Nice Purse or Pocketbook: Fill with eggs and makeup or nice accessories like scarf and hat
Trapper keeper: Fill with candy and art supplies

Tin: Fill with candy and a puzzle
Square Wicker Basket: Fill with candy and games can be used on a desk after Easter.
Plastic Shoe Box: Fill with Easter grass and nail polish and supplies for doing nails and toe nails.

Tool Box: Fill with candy and some basic tools
Tackle Box: Fill with candy and Easter grass and fishing supplies
Plastic Box: Fill with the materials to make a kite and a book about kite making or directions from the internet.

Old Lunch Box: Filled with candy, Easter grass and origami papers, and a book about origami or directions from the internet. There are lots of origami sites on the internet with directions that could be printed off and put into an old notebook to fit in the lunch box.
Decorated Cigar Box: Fill with Easter grass, some candy some trading cards

Decorated Carboard Box: Fill with Easter grass and a chocolate bunny and a cookbook.
Hope this gives you some great ideas for your teenagers. This does not have to be expensive, look around your house and the things you were going to sell at your next yard sale; you will be able to come up with a lot of great ideas. One last suggestion for that kid that has just discovered coffee, an old basket with a coffee mug and a bag of gourmet coffee.
Happy Easter!
March 1, 2012
1

found this helpful
When I was younger (back in the 60's) my parent's gave us baskets for the front of our bikes (that we got for Christmas) as our Easter baskets, another year they made lunchbox purses (remember those?) and used them for baskets, and another year they signed us up to play softball and the new gloves were our baskets - I grew up with this idea instead of the "drugstore basket" and still love it today! The toolbox idea is awesome! Thanx
Read More Comments
Our kids were too old for baskets and egg hunts. However, we went to doing a basket per person. I thought it might be fun for the adults that were in their 80s, 70s, on down to get an Easter basket too. What we do is, you come with one and leave with one. We also do the Chinese exchange and the 3rd time it is dead. That keeps it lively.
Then we do an egg hunt for everyone, even the seniors. You hunt for just your own egg. If you find someone else's you ignore it and go on looking for yours. These two things have really become a tradition. We have been doing the baskets for 8 years, and the egg hunt the since 2009. Teenagers can still get baskets and they still can hunt for their egg. The baskets have no set price, or items, you just bring one you leave with one. We love it.
By Diane L. from Great Falls, MT
January 29, 2013
0

found this helpful
What a great idea! Thanks for sharing!
I have two teenage girls and not sure what to do for easter. They are not real big into candy. Any ideas would be wounderful. Thanks.

Twila
By guest (Guest Post)
February 20, 2006
0

found this helpful
how about gift certificates to wendy's,mcdonald,burger king, etc...or a certificate for a movie rental or to a special sote they like to shop at or you could do a certificate to several places and put the certificates inside easter eggs
March 1, 2006
0

found this helpful
Walmart Gift cards are the best! Our Walmart allows you to use them at their gas station and get 2 to 3 cents off the regular gas price. What driving teen wouldn't appreciate gas money that goes farther!
By guest (Guest Post)
April 7, 2006
1

found this helpful
I took a cardboard six pack of soda bottles, take out three bottles and fill the empty slots with easter grass, put magazines, lipgloss, candy, earrings, gift cards etc and tied a big bow on it
By guest (Guest Post)
April 15, 2006
1

found this helpful
Hi! I think there has been an oversight here. How about a nice crucifix necklace and or earring set. I still have the
cross necklace I received when I was 16. That was over 25 years ago. I cherish it dearly.
By guest (Guest Post)
March 30, 2007
0

found this helpful
A new bathing suit and beachtowel has become a traditon in our house. The kids love it.
By guest (Guest Post)
April 6, 2007
0

found this helpful
I'm leading a youth group of pre-teens/ teens..any ideas for activites that can help teach the meaning of easter? thanks a bunch! (:
By guest (Guest Post)
March 7, 2008
0

found this helpful
For the last few years I have made slips of paper with items the girls can 'redeem' thru the year. Some examples are pedicure and manicure, movies, bead store to make bracelets, pottery place to paint pottery, miniature golf, shopping spree (I think last one was $25 each). These are put into plastic eggs and hidden for them to find. What is nice is that they make notes back to me with things like 'let mom sleep in' or 'no fighting for one day'. LOVE that one and other ones about helping with chores and so on. I also like to make a spring basket with flower seeds, bubbles, jump ropes ect. and really try to get away from the candy. Another big benefit is that I have the opportunity to do these things with my daughters and they are getting a special treat.
By guest (Guest Post)
March 14, 2008
0

found this helpful
I also have teens. 1 boy, 1 girl and although they are getting to the older side of the teens I still like to keep tradition. We have always colored the eggs the nite before, and as they got older they still love it. I now make deviled eggs from the colored ones and hide plastic ones with $ amounts in them. I get silver dollars from the bank and put one in about 5 silver eggs. Then I have 2 golden eggs that a $5 goes in.
Their baskets have evolved as they have gotten older. Sadly I'm a very practical person. In the last several years I've been using bins that they can use for storage in their rooms. I HATE the easter grass so I either put a T-shirt or pom-poms or something else that is soft at the bottom. Then, I put 1 item that has to do with Spring. Frisbees, Kites, water toys; something that will get them moving (all from the $1 store).
I put 1 item that has to do with family. In the past it's been photo albums or pic frames but this year they will get a flash drive that has digital pics of them with family moments already on it (any of these ideas can be found under $10). Then I also include the most important to me, the reminder of what Easter is about. Christ. At 13 they each received a new Bible with their names on it. I've also put devotionals, journals (with my notes to them as the first entry), coins with Psalms, key chains (my daughter likes Angels), Christian CD's, and other items along the way.
Bless you all -
March 14, 2008
0

found this helpful
They don't need presents for every holiday. Have a nice meal and a bible reading and the pleasure of the family's presence. Kids get treats and toys for everything. After so many years they tend to expect it, yet it isn't appreciated. I have 6 boys and 22 years of STUFF in the house and almost none of it means anything to them ( except new video games.)I do clean out the junk periodically, just can't keep up.
April 18, 2011
0

found this helpful
My daughter is 13 and not big into candy either so we bought tickets to the skillet, toby mac and more concert at worlds of fun this summer (christian rock bands that she likes). there will be some "fun" stuff to go with it - new sunglasses, a journal, etc... but the biggie is the concert. It is a double bonus because we are thrilled that she likes christian rock PLUS it means a day of riding rides and hanging out with her parents at the amusement park. "memory in a basket"
something else that is fun is making your own candy. One year I bought the candy disks and some molds from hobby lobby (wal mart has a few too) and put those in an easter basket. We spent a whole day making chocolate suckers and candies that she was able to give to her friends.
Read More Answers