My son is getting married next year. Both the bride and groom are firefighters and we are having a firefighter wedding. I am looking for firefighter charms to add to the wedding favors with ribbon. I have looked on the internet and I keep getting the expensive charms. I want something I can purchase in bulk because there is approximately 200 people invited to the wedding.

Denise from Middletown, PA
March 28, 2008
0

found this helpful
Best Answer
Look among scrapbooking suppliers. I also just looked on Ebay, and they have some if you put "firefighter charms" in the search box. Often you can contact sellers and find out if they offer bulk pricing.
Also, if you Google "brass charms" you will get more of the suppiers of the kind of charm I think you are looking for. (Assuming you are not looking for sterling...)
Here is just one of many: http://www.acharmingplace.com/store/home.php?cat=279
March 31, 2008
0

found this helpful
Best Answer
Oriental Trading Company sells by bulk. We have gotten stuff for sunday school there. Try it.
April 1, 2008
0

found this helpful
Best Answer
Have you considered contacting the fire hall or halls where they work? Perhaps they have a catalogue where such things could be ordered or have some ideas for you.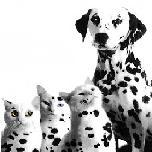 November 10, 2008
0

found this helpful
I am interested in a website to purchase bulk firefighting charms for my daughters wedding. The only thing I am finding are the real ones. I need them for adding to knife, book, ets. Thanks
December 29, 2008
0

found this helpful
Please be sure to visit our website for your Firefighter wedding needs. We offer charms, personalized ribbons (with the fire fighter symbol or fire truck emblems), invitations, rsvp cards, thank you cards, guest books, pen sets, cake serving sets, guest card box, and much more:
www.fairytaleweddingstore.com
We are planning our wedding on February 20, 2007 at the fire hall. We are looking to do a fire theme based wedding and are trying to find things to do with the fire department for the wedding. If you could help us and give us some ideas that would be appreciated!

Sabrina from Westville, NS
July 14, 2006
0

found this helpful
Best Answer
Hi There and congratulation's on your up-coming Wedding! I have designed two Fire Fighter themed weddings, the one just recently was in the colors of Black, Red and White, it had a very clean and classic look, but any color will work. I used white table clothes as the base color for the tables then I added black runners going down the middle of each set of tables followed by Red Rose petals and votive candles, then for the centerpieces I placed a Toy Fire Truck or Stuffed Dalmatian Dog with Roses and Rose petals tucked under and around them and then added more candles. THIS WAS SUCH A HIT! and everyone LOVE IT! the best part about using the toys is that the couple donated them to the Fire Department! So this Christmas they have given a gift of love to many children.
Wishing you a Wonderful Wedding Day and a Lifetime of Love...
Sharon Rose
August 16, 2006
0

found this helpful
Best Answer
I am having a fall/fire themed wedding next month. We found these roses that are yellow with red tips look like flames that we are putting on our cake. Cut the cake using a axe instead of knife. Also, for the dollar dance, use a fire boot for the money. These are just a couple of ideas. Have a great wedding.
September 27, 2006
0

found this helpful
Hey my name is Sharon and me and my fiance are getting married at the fire department on June 2007, we both met each other there and are both on the fire dept. u have really good ideas if u have any more please post them.
thank u!
January 17, 2008
0

found this helpful
Hey I am also having a fire dept. wedding in April of 08' and I could also use some help of where to find things because I have less than 4 months and all we have is the station of course and his dress blues. Also my dress. Please help. You can send me e-mail idea's at christiansmom_02 AT hotmail.com with topic as wedding.
January 23, 2009
0

found this helpful
Look at eHow.com under firefighter wedding got some great ideas.
My fiance' and I are going to TRY to get married next year after fire season is over. Anybody married to a fire fighter knows what Im talking about! We are eloping but would like to have a fun firefighter themed reception. Does anyone know where to get little fireman hats to use as wedding favors that we could fill with candy or almonds- Thanks!
- Melissa and Malcolm
June 17, 2005
0

found this helpful
Best Answer
Jennifer:
I Hope I can still help!
I purchase most of the things I need for ANY EVENT from the Oriental Trading Company. You can order by credit card on the phone. Customer Service is Excellent.
Go to:www.orientaltrading.com to view on-line catalog.
Call 1-800-228-2269 to place your order and get hard copy order books
March 20, 2007
0

found this helpful
I'm also getting married to a fireman and I'm getting a lot of my stuff of of eBay Type in fire then click worldwide the go back up to the top put the cursor next to fire and click enter again you can then type in fire wedding firefighter wedding and so on.
There are things like fire truck soaps, invitations, ring pillows and my favorite wedding cake toppers. There is also a website for these www.jwcaketops.com
and the list goes on
We also have a pull along fire truck for the ring bearer to bring down the aisle good luck
June 2, 2007
0

found this helpful
you guys gave me great ideas for our reception, my father and my fiancee as well as half the wedding party and guests are in or retired from the fire service..we will be placing an item from each of their careers on the grooms cake table, which will appropriately be shaped and decorated as a fire truck! you guys are awesome, thank you!
August 21, 2007
0

found this helpful
Anyone getting married in NC? Look me up for a real fire truck for your wedding. www.2-the-rescue.com
I need some help, I'm trying to plan my wedding, we are going with the firefighter theme. I am having problems with my invitations. I want to do my own, and I can't find a site to help me with this or anything that has to deal with firefighters. If anyone can help, please let me know. Thank you,

Tina
March 12, 2005
0

found this helpful
Best Answer
Try looking at American-Firefighter.com for pics to use on your invitations. Also, go to Dogpile.com and put in Firefighter Weddings. There will be tons of stuff on that!!
September 15, 2006
0

found this helpful
I am trying to find a website that will let me design my invitations myself but I haven't been able to find one and our wedding is next year and I want to get the invitations ready before hand. We haven't picked out a theme yet so I want to design my own without spending money so we can save our money.
February 15, 2008
0

found this helpful
I am looking to find a firefighter wedding invitations with nick and tawonna on them could you help me please? Thanks
April 21, 2008
0

found this helpful
Im looking for wedding invations that are Fire fighter ones..
July 13, 2008
0

found this helpful
I found some really cute Fire Fighter themed invitations and items at www.fairytaleweddingstore.com