December 21, 2009
5

found this helpful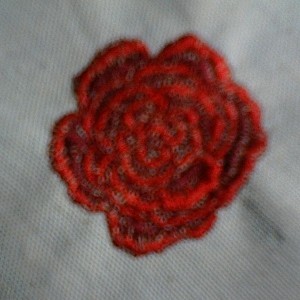 Here is a rose I embroidered on a bag I'm making for a friend. I'm learning to embroider by hand-cranking my simple sewing machine, using the free-motion foot. I do not like the computerized method, and am enjoying the creativity allowed as I create my design from a simple line drawing. I hope you like how it turned out, I do!
Source: My husband drew the outline, I drew with the thread
By Bonnie from Spokane, WA
December 22, 2009
0

found this helpful
Very nice. Thanks for sharing!
January 2, 2010
0

found this helpful
I would love to know how to embroider this rose. Do you have any instructions?
January 20, 2010
0

found this helpful
Loret asked for more websites. Google "free machine embroidery" (FME) and you will find lots of hits with designs, tips etc. You can narrow the search by adding what you most need to the initial search "FME designs", "FME patterns", projects, tips, etc. Happy hunting leads to happy stitching! Have fun.
February 13, 2011
0

found this helpful
Thanks all and melodybh for the links. Sorry for the looong delay loret77. I used a free-motion foot attachment to my sewing machine. It has a little spring, that contacts the fabric when the needle is hooking a stitch from the bobbin, but then releases on each turn, so that you are free to move the foot around. It takes some work to figure out tension and how to move. Make sure that you always have the fabric (in an embroidery hoop) facing you the same way (so the left bottom corner is always the left bottom corner) and move the work around in an axis motion (x and y axis), never turning or twisting the work. My husband drew a line drawing, which I traced out on thin tracing paper. I then stitched directly over that paper. I hope that helps.