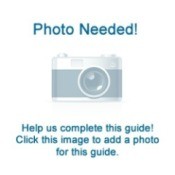 Making and freezing casseroles ahead of time can help make meals easier and faster on days when your schedule is overly busy. This is a guide about freezing casseroles.
Ad
---
Solutions: Freezing Casseroles
Read and rate the best solutions below by giving them a "thumbs up".
I came along this wonderful tip as I was looking up ideas for freezing pasta dishes for make ahead type meals. Very clever! If you don't want to tie up your baking pans in the freezer, line them with plastic wrap before filling. Once the food/casserole has frozen, lift out, remove plastic wrap, and transfer to resealable freezer bags (take plastic wrap off). Label and date and place in freezer. When ready to bake, remove from plastic bag and place in pan to reheat.
Source: marthastewart.com
By wife2jfbuilder from Minneapolis, MN
Give a "thumbs up" to the solution that worked the best! Do you have a better solution? Click here to share it!
Questions
Here are questions related to Freezing Casseroles.
I have a target goal of trying to spend no more than 300 dollars a month for groceries for me and my fiance. My spending for food usually is not very frugal. I have this impulsive urge to buy take out when I don't want to cook. I forget to pack lunches and snacks with me when I go out and end up buying take out.
Cooking meals like casseroles and soups is something I would like to do more. I just don't know where to really start. Any sites that suggest how to make easy simple soups and casseroles, that can be frozen? Or does someone want to share any ideas of your own?
By ChildGoddess from Kenora, Ontario
Ad
---
---
Most Recent Answer

By Carly St.Clair [7]03/19/2010
Learn to make a white sauce from scratch -- google it
You can vary the white sauce to become a homemade version of cream of chicken, mushroom, celery, cheddar etc.
Suggestions:
Mac & cheese casserole with ham and spinach or broccoli pieces in it.
Lasagna can be made with cottage cheese cheaper and frozen too.
Casserole assembly:
Meat
starch such as rice, noodles, potatoes
veggie such as peas, carrots, corn, greens, etc
sauce/gravy
topping such as cheese, seasoned bread or cracker crumbs, crushed potato or tortilla chips, etc.
Line your casserole with foil enough to wrap over the casserole while freezing. When frozen you can take the foil wrapped casserole out of the dish and replace in freezer and your dish is free again.

I am trying to get a definitive answer regarding freezing breakfast egg casseroles. Does one bake them and then freeze? Or freeze them unbaked?
If baked and frozen, what about defrosting first or does one bake them frozen and for how long if they have been previously frozen? If unbaked and frozen, please, the defrosting and baking details.
I need this info asap, please. Does one cover the previously baked and frozen casserole when reheating? Does one decrease the liquid amounts in a previously baked and frozen egg casserole? Your assistance is needed.
Thelma
Ad
---
---
Most Recent Answer

By Kenomom08/18/2010
I recently started making breakfast casseroles in mini loaf pans to help with a quick breakfast in the mornings. I make the entire recipe (including cook time) and then cover each with a little wax paper on top of the mixture, and then aluminum foil. Take it out of the freezer the night before and then slide the casserole out of the loaf pan in the morning and pop into the microwave for about 1 minute. It's been one month now and the casseroles are still great from freezer to table. A little milk might help if you like it to be moist though.
I'm making stuffed zucchini, and want to freeze them. Do I stuff them first and cook them or just stuff, cool, wrap well, and freeze. Then when I want to serve, unthaw completely and then cook. I am also trying to make a yellow squash casserole and am wondering do I do the same with it, put all together and then wrap and cook after completely unthawing. Thank you.
By Rosanna from Dallas, TX
---
Most Recent Answer

By Bluey [3]08/27/2010
I have made and frozen stuffed zucch's for years. I always stuff and cook as if to eat, then cook, cut up into portions, wrap tightly, and then freeze. I will save crumb or parmesan topping for when I re-heat it to give a fresh look (it microwaves great). Sad to say, it IS zucchini, and a lot of liquid "leaves" after thawing. However, it is so delicious that we drain it off and chow down! Even when my picky daughter was tiny, she would always eat it. So, since my zucchini didn't produce this year, who wants to give me some big ones for stuffing? Just kidding.
I am looking for recipes for casseroles to freeze.
By R.Rumsby from Cornwall
Archives
Thrifty Fun has been around so long that many of our pages have been reset several times. Archives are older versions of the page and the feedback that was provided then.

By Ellen Brown ***
*** Preparing for Freezing: Select recipes that can be prepared in advance. When preparing meals, plan for extra servings that can be packaged and frozen as individual meals.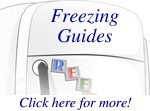 Best Freezing Method (s): Cooked casseroles can be stored in the refrigerator until cool and then transferred directly into the freezer.
Suitable Packaging: Casseroles should be frozen in moisture and vapor resistant containers that are not be prone to cracking or breaking at low temperatures. Containers should provide protection against absorbing flavors or odors and should be easy to label. Suitable packaging for freezing casserole will depend on the method of reheating: oven-ready dishes with an airtight cover, freezer-grade plastic bags, rigid plastic containers or glass containers or heavy-duty aluminum foil. Microwave casseroles should be frozen in ceramic, glass or microwave-safe plastic container. To keep food fresh to the longest time, it's important to match the size of your casserole to the dish, allowing for 1/2 inch of headspace.
Maximum Storage Time: from 3 to 4 months at 0ºF.
Thawing: Casseroles should be thawed in the refrigerator, or in a microwave oven on a defrost setting.
Tips & Shortcuts: Line a baking dish with heavy-duty aluminum foil, fill with food and freeze it until firm. Remove the foil package, now in the shape of your baking dish, to free up your dish for other purposes until you're ready to reheat your casserole. Reheating will be faster if you freeze individual portions. Foods that are fried or have a crisp outer coating may need to be reheated for 2 to 3 minutes in a hot oven to retain crispness.
Refrigerating Casseroles: Store meat based casseroles in airtight containers for 3 to 4 days.