Galvanized Pail Flower Gardens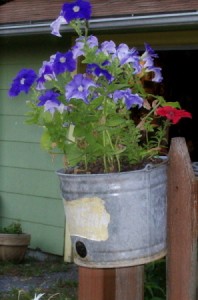 I keep my eyes open for any old galvanized buckets, tubs, and pails that I can use in my garden. This one was once a "calf-a-teria" complete with rubber udder where the hole is at the bottom. It now hangs on my garden fence with the bracket once used for hanging on the calf pens.
By ~gloria from upstate NY
Feedback
Post Feedback
Add your voice to the conversation.