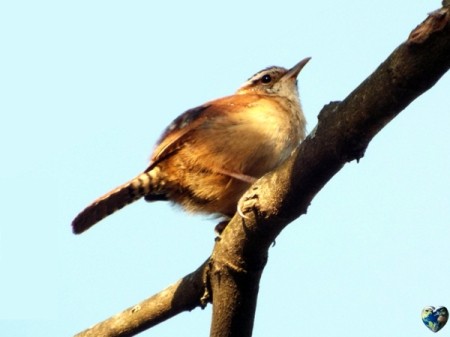 Photo Description
I'll have to step back into the last century to get a quip that will adequately describe this little fella. I'm sure most of you have never heard it, maybe Litter Gitter and cybergrannie. As Little Jimmy Dickens said thousands of times, 'I'm little, but I'm loud'.
This loudmouth is in my back yard all spring, summer, and fall, every year. He sings the same few notes, very loudly, hundreds of times a day, every day from sun up til sun down. I hear another wren returning each and every call. (Well, that's what I use to think till I found out there is actually only one House Wren. Somehow, it's all done with mirrors).
His wardrobe is a bit drab; but here, as he caught the beginning rays of dusk, the acute angle set his feathers ablaze. I believe the proper name for this color combination is 'Bittersweet'
And so is my side of our relationship. He is an adorable creature, for sure. And he is very sweet, but such a loudmouth. We all know somebody just like that, don't we? It's OK. I'll take the bitter with the sweet.