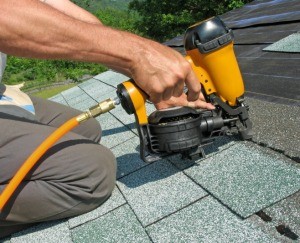 When your roof is starting to fail it is important to get it fixed as soon as possible. This guide is about getting financial assistance for roof repairs.
Solutions
Share a solution for this guide today!
Questions
Here are questions related to Getting Financial Assistance for Roof Repairs.
My mother needs her roof repaired, and has no money to fix it. Can someone help with this for free? She is 86 years old and lives on a fixed income. I live in California and can't help her. She is strong and will need to stay in her home for some years.
By Lydia
---
Most Recent Answer

By meoowmom09/25/2011
If your family has a service member or had one that has since passed. You may try to contact your local Veterans of Foreign Wars. They may able to help or have someone there who can do it at a low cost. I know one church here in Missouri helped with one for a senior.
Good luck.
My husband and I are 63 and 64, retired, and getting SS. We own a mobile home. We are in desperate need of a new roof which is leaking in at least 4 areas of the house and has mold growing. We can't afford a new roof and we are not current on our property taxes. We have tried to repair it ourselves, but nothing has worked. Does anyone know what we can do to get help?
By Rachel L. from Palatka, FL
---
Most Recent Answer

By susanne.barton07/27/2013
Lots of places need part timers. These days retirement is upper 60s and we are delaying SS until 66. Trying to work until 70 to make ends meet.
How do I get free roof repairs? I am going to lose my home without help. I have black mold and my dining room ceiling is falling in.
By Cheryl from Brooksville, FL
---
Most Recent Answer

By pbburgess11/05/2013
Hi, my names is Pam I've been looking for help for my roof it's about 12 years old. My shingles or curling up and blowing off. I just recently had a kidney transplant and we don't have the extra money for are roof. Thank you for any help.
My mom lives in Chicago, Illinois. Her roof is leaking and needs to be fixed. She is 86 and wants to stay in her home. She has insurance, but we can't come up with the 1000.00 deductible. We contacted the Department of Aging and she was put on an emergency list "last" December and rain is now destroying her back bedroom. With winter coming her heating bill will be high if the roof does not collapse in the mean time. Any suggestions where to go for help?
By Pat L from Chicago, IL
---
Most Recent Answer
By Poor But Proud09/25/2013
See if you have an energy assistance agency in your area. It is usually through community assistance and can be found through them. She should qualify for help.

If she is a church attendant you may want to put the word out she needs the money or the repairs. I hope those help.
I am a senior citizen and need "help" with my leaking roof and foundation problems. I am also under educated and I don't know where to turn. I have tried in the past other places that offer help, but they did not help me and said I didn't qualify! God bless you.
By Renard from Dallas, TX
---
Most Recent Answer

By redhatterb10/30/2013
When you were told you didn't qualify, they probably meant that you were over income. If your home is completely paid for, there is some kind of mortgage for Senior Citizens where you get monthly payments from a mortgage company, the drawback to that is when you die the home belongs to the mortgage company.

Also all states have some organization that provides help to seniors and disabled people. Some towns call it Opportunities for Independent Living and other towns have other names for it. Where I live it is called Independent Living Center. Your Department of Social Services should be able to help you with that.

There are different organizations that provide different types of help, but usually a person has to meet age, disability, or income guidelines. I don't know what you mean when you say you are under educated, even if you only have an 8th grade education you should be able to go about hunting for help. If you are a church member talk to your pastor, he might be able to help you, if nothing else give you some leads to check out for help.
I live in Jax Florida. My sister is a disabled senior who just started getting Social Security. We have tried all the local and state agencies. She needs her roof replaced. Even the rafters are bad! Nobody seems to be able to help.
Can anyone help us?
By deana0123 from Jax, FL
---
Most Recent Answer

By Thenicholas305/22/2013
Check with your local Habitat for Humanity, they don't just build new homes they often rehab homes. Here is the Jacksonville, FL website: http://habijax.org/