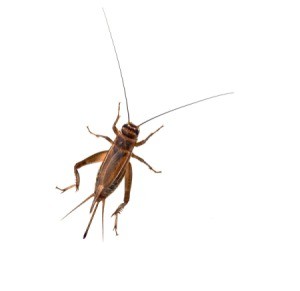 In some cultures a cricket in the house is considered good luck, but this is not true for all of us. This is a guide about getting rid of crickets in the house.
Ad
---
Solutions: Getting Rid of Crickets in the House
Read and rate the best solutions below by giving them a "thumbs up".
They love to hop in when you open your door! Buy the sticky mouse strips and place near doors exiting your home. When full toss in the trash. By Syd
Give a "thumbs up" to the solution that worked the best! Do you have a better solution? Click here to share it!
Questions
Here are questions related to Getting Rid of Crickets in the House.
Does anyone know how to get rid of camel crickets (also known as cave crickets)? They are driving me crazy coming into my home. I've done my best to seal openings where they may be coming in, but they still manage. Thanks and God bless.
By Joan from Lewes, DE
AnswerWas this interesting? Yes No
Ad
---
---
Most Recent Answer
By Karen Redlin 2 28 11/10/20090 people found this helpful
I purchased a gallon of 9 month insect repellent spray from the hardware store and sprayed my foundation and all around the basement windows with this stuff. No more spiders or crickets except for the occasional one here & there. I live in a fairly dry climate so spraying twice a year is good for me but give it a try. For the crickets already in your house, there is a granular bait you can use for them to feed on to kill them.
Are there any cheap ways to get rid of cave crickets? I get them in my garage which is below my house. I know they aren't dangerous, but they are pretty hideous to look at and if you kill one another one will come along and eat it. That's gross. I hear they will continue to multiply and infest if not taken care of.
By Delores L. from Dayton, KY
Archives
Thrifty Fun has been around so long that many of our pages have been reset several times. Archives are older versions of the page and the comments that were provided then.

How do I keep crickets from coming inside my home?

Debbie
Answers:
RE: Looking for a Cricket Solution
I have had some success using what I call hedge apples or hedge balls. They grow on hedge trees and look like very large green apples, but are textured and have a real bumpy outside. Bring several of them inside and cut them open with a sharp knife. Then put the pieces wherever you have been finding crickets or in your basement. I don't know if the crickets find the smell repulsive or if they drink the sap that comes out of them, but I noticed using this method seemed to cut down on the number I had in the house.
Be careful though as the sap inside of these hedge balls could stain if it gets on the carpet. Good luck. (09/23/2004)

By Donna in Kansas
RE: Looking for a Cricket Solution
Debbie, debbie,
Why do you want to remove a cricket from your home. Crickets do not bite and bring good fortune to
your home! The people of the far east ecven make little houses for them and feed them. If he sings
your house is twice blessed. (09/23/2004)

By alobarbear.
How do you get rid of crickets? I live in an older house. Crickets keep getting inside and they keep me awake at night. It's driving me crazy right now. I try to catch him, but he just gets quiet and hops away only to start up later. I'm going nuts, please help.

bailegirl from Reidsville, NC
Feedback:
RE: Crickets Inside House
What my husband and I do in this case is triangulate the sound in the room to locate the cricket. Then we get the vacuum and start sucking all in that general area. We usually get him on the first try. They can be very loud and annoying in the house, can't they? One thing is that you have to be very quiet and still while trying to locate them because they hush up if you're moving around. Hope that helps. (10/13/2008)

RE: Crickets Inside House
I am sad to give this info because I love crickets and wish I had some in and around my home but since they are bothersome for you:

To get rid of crickets, mix some molasses and vanilla extract or lemon juice in water. Crickets are lured to this bait and they drown in it. Be sure to plug up any holes in the house where they are getting in. (10/13/2008)

By Deeli
RE: Crickets Inside House
http://www.pestproducts.com/pests/housecricket.htm

I googled cricket bait, and got this website. It will help if you can afford the bait. Crickets inside your home might seem like good fortune to some, but if they are robbing you of sleep, you can start getting into serious trouble, and that is not good fortune!

The website gives you some suggestions on how to keep them out, too. This is obviously a problem with others or they wouldn't have a website to help out. There were lots of them there, so check out google and put in cricket bait and see what you find. Good luck! (10/14/2008)

RE: Crickets Inside House
Thank you all for your suggestions, I will try them out, and hopefully will soon actually be getting some sleep. I knew that I could count on my ThriftyFun family; you guys always have the best suggestions! I'll let you know if I get any results. (10/14/2008)

By bailegirl