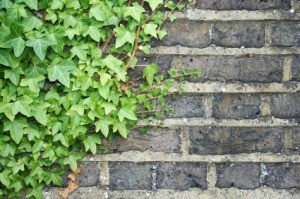 English ivy is a popular ground cover that is also very invasive in many areas. This is a guide about getting rid of English ivy.
Ad
---
Solutions: Getting Rid of English Ivy
Read and rate the best solutions below by giving them a "thumbs up".
Here is a tip on the eradication of English ivy, if the plant are the size of the ones I killed on my mother's acreage. The main vines were 4 to 5 inches through and went to the top of 100 foot trees. I took a portable drill and drilled a couple holes in the vine, about 3/8 of an inch in diameter and about 2 to 3 inches deep, at a downward angle. I then squirted straight Roundup in the holes. With the sun out, you could see the vine suck the Roundup into the vine. It kills the whole vine from top to root.
Give a "thumbs up" to the solution that worked the best! Do you have a better solution? Click here to share it!
Questions
Here are questions related to Getting Rid of English Ivy.
We recently bought our house, and a retaining wall separates our back yard from our neighbor's yard below. We had to replace our fence, because English Ivy had taken it over and was weighing it down. We had to take a chainsaw to the vine to cut it back.
My question is what is the best way to get rid of it? The roots are growing into the retaining wall on our neighbor's side so I cannot pull it. I know a regular weed killer will not do and there is so much of it. I do not want it to come back and ruin our new fence. Any help is greatly appreciated.
Hardiness Zone: 7b
By Kristen from Bellingham, WA
Ad
---
---
Most Recent Answer

By Ra S09/06/2010
Ok, I did a test 4 weeks ago and I spent a couple hundred dollars on all kinds of products and mapped out the spray areas and documented the results. I have a huge area of english ivy. The best , fastest, and permanent solution was a back hoe. But the next best was Roundup for Poison Ivy and brush. I dosed it double dose and then 2 weeks later came back and repeated it. But I still have to get it out of there so I'll be back to the backhoe since I just have too much to pull up.

I spent less on the backhoe guy to come up than I did on the poisons. So there's the results of my scientific experiment. Next time I am going to rent a mini excavator for $175.00 a day and rip the rest of it out for less than the chemicals! By the way no other chemicals or other solutions I tried such as Ortho for brush, vinegar, Borax, crossbow, or Ortho Max worked. They all failed miserably. Roundup for Poison Ivy has a surfacent to break down the water molecules which makes it easier to absorb into the waxy leaf. Hope that helps.
I have read all the info on getting rid of English ivy and the salt, vinegar and soap sound good. My problem is, is that I can get rid of the ivy surrounding my fence but beyond my fence is what is called "common ground" between my house and the house below me and there is a lot of common ground that is completely full of the ivy. Since it is common ground, no one wants to take care of it but it is in my view. What do I do with that much ivy so that it doesn't keep coming onto my property? Do I spray the whole thing or just spray what is surrounding my house? I have a beautiful view of the mountains beyond the common ground but the ivy keeps climbing up the trees and hangs from tree limb to limb and looks terrible. Do I just spray the salt/vinegar solution around the trees so the ivy doesn't grow there anymore or will it hurt the trees (these are big trees) What do I do?

Edie
Ad
---
---
Most Recent Answer

By Pat B.06/25/2014
Edie, Get together with you neighbors and discuss the English Ivy. Many people don't understand the dangers and problems with this plant. There is a great video made for Ecovisions. Inc. Look them up on the internet. You could have a video party or tea and enlist your neighbors into saving their trees and the trees in the common area.

As for the trees in the common area behind your house use physical labor and cut the vines on the trees and shoulder height and ankle level. Don't pull vines off of trees as you can damage bark. The vines will die (on the trees) and fall off on their own.

In order to keep them off the trees you need to clear the area around the trees in a 6 foot circle. I know this is a lot of work but setting an example may nudge your neighbors to join the fight. Live trees are much nicer to look at than dead ones.
We and the neighbor to the south of us got rid of all of our English ivy. The neighbor to the east did not, and it keeps climbing under and over the fence into our yard. The city says there is no ordinance to make him take out his ivy or prevent it from coming over and under the fence. Any ideas on how I can prevent it, as a one time solution, from coming over and under the fence. We are looking for a permanent solution, not something we have to do all of the time. The way we got rid of it was to pull it out completely roots and all, which was very labor intensive.
By Karen AB
---
Most Recent Answer

By Frugal Sunnie [11]05/23/2012
I'm assuming you've spoken with the neighbour about his/her unruly ivy, and he/she was unconcerned?

If your city isn't going to help you out with this, you are going to have to resign yourself to a lifelong routine of trimming it back every time you see it popping over/through/under the common fence.

You can't hit it with an herbicide like RoundUp because even though it would permanently take care of the problem (by killing the ivy back to the roots) your neighbour would likely sue you for killing their plants.
I have a challenge for anyone, I planted the "English ivy" type vine for ground cover and it's taking over my house and choking out my plants. We did pull it out by the roots at one time, but it's back and now I want to get rid of it without hurting my plants which I might just dig some of those up and relocate. Can anyone help me? Thanks for your consideration in advance.
By PJ from Salem, MO
---
Most Recent Answer

By llpensinger [15]06/15/2011
Choose areas away from your plants you want to keep. Spray Round-up on Ivy, it kills the roots. So it will eventually kill all of the ivy.
Please can any one help we have just bought our house and half the house and all the wall is covered with ivy. The trouble is the ivy stems are so thick they have grown into the wall. I have tried to pull it out, but the wall is coming away with it. Please what can I do?
By Helen
Archives
Thrifty Fun has been around so long that many of our pages have been reset several times. Archives are older versions of the page and the comments that were provided then.
Q: We have just moved to a new home and English Ivy has covered the ground and trees like kudzu. I am in the process of cutting it from the trees near the ground and am wondering how to kill it. I am thinking that I need to cut it low with a lawn mower and then spray it. I have some Weed Defeat by Zep but don't know if it is strong enough. Will Brush Roundup be better? How about Brush Be Gone? What time of year should I spray?
Hardiness Zone: 7b
Bruce from Marietta, Ga
A: Bruce,
English Ivy is tough to eradicate (as you have probably figured out). Its waxy leaves render most herbicides ineffective, yet hand pulling can be impractical if you're covering a large area. Make sure you wear gloves when you're cutting and hand pulling. Some people develop a contact rash on their skin from touching ivy sap. If you continue to cut and remove the ivy by hand, the good news is you can expect the second year to require only 10% the amount of effort as the first year and the third year to require only 10% the effort of the second year.
I'm never a proponent of herbicide use. It kills beneficial plants and soil microbes and worse, it compromises water quality. That said, if you're considering a two-pronged approach (hand pulling plus chemicals), you're going to need to apply an herbicide containing glyphosate (like Round Up Pro). It's best to mow the ivy down first and then paint the herbicide on to fresh cuts in the plant stems. Be very careful to only apply it to the ivy.
One problem with using Round Up Pro is that it can be very damaging to nearby tree species, especially conifers. They are supposedly less susceptible to this damage in the fall, although how much less susceptible no one knows. Unfortunately, Round Up Pro (specifically) is supposed to be most effective if applied to English Ivy in the spring (during new leaf growth). You can expect to repeat your efforts several times no matter what approach you take, so you may want to apply it now, and wait until spring to evaluate your success. In any case, you will want to use something designed specifically for woody plants.
About The Author: Ellen Brown is our Green Living and Gardening Expert. Click here to ask Ellen a question! Ellen Brown is an environmental writer and photographer and the owner of Sustainable Media, an environmental media company that specializes in helping businesses and organizations promote eco-friendly products and services. Contact her on the web at http://www.sustainable-media.com
---
RE: Getting Rid of English Ivy
I have found a really inexpensive way to kill vines, weeds, and growing things where you don't want them. Vinegar! I cut the offending growth and then pour vinegar onto and around the cut plant. Will kill the roots and the vine that has grown up the trees and will die, as it isn't getting nourishment. The best part is that the vinegar won't harm pets as the chemicals you mentioned will. Just DON'T pour (from a watering can) the vinegar where you DO want plants. (11/08/2005)
By Joandogsxxx
RE: Getting Rid of English Ivy
If you can lay newspapers or cardboard boxes over the ivy, you can deprive it of sunlight, and it will die. I have heard that boiling water will kill weeds in the sidewalk. You may want to try that, or even try salt water. If you use salt water or any chemicals, it will kill the microbial things living in your soil as well as the earthworms who nourish the soil. Anything you put on your soil will stay there and you may not be able to plant anything there afterward so you will want to be careful. Good luck! (11/09/2005)
By Carol
RE: Getting Rid of English Ivy
Brush Roundup works great, but you must be careful since it is a poison. Use it anytime during the growing season. If you're cutting the ivy back now, I'd pour some on the root end of the cutting. Hopefully, the plant will take it to its roots and the Roundup will kill it, so you'll have less to deal with in the Spring. Extreme care must be given when using Roundup, especially when it is windy/breezy, since any mist that strays to other plants can kill them too. (11/09/2005)
By susanmajp
RE: Getting Rid of English Ivy
I guess that I wasn't clear enough on how much ivy I have. I am guessing there is about 15,000 sq feet of ivy, too much to kill each stem individually. Thanks for your replies. (11/09/2005)
By BruceinGa
RE: Getting Rid of English Ivy
Since I placed the post about treating your English ivy with salt water, I've learned that once you're rid of whatever you were trying to kill you may not be able to get rid of the salt from the soil. Other plants won't grow there. I think eventually rain should wash the salts away. However, in the interim perhaps you can grow plants that adapt well to the seashore where there is salt water spray. Salt water or boiling water kills weeds growing in cracks in the sidewalk. Good luck. Please let us know how you fair on your endeavor! (11/18/2005)
By Carol
RE: Getting Rid of English Ivy
Thanks for everyone's reply. I think what I will do is cut it back this December using an old lawnmower. Next spring I will cut it back just prior to the growing season and then spray it with Ortho Weed-be-gone Max. I'll let you know how it turns out. (11/19/2005)
By Bruce
RE: Getting Rid of English Ivy
I have ivy branches as thick as tree logs and the ivy covers my whole yard, so I'm considering just killing it with a tree stump killer (that's supposed to kill just the stump, but nothing around it). Do you think this will affect ground water through the roots system? (07/02/2007)
By Emma K.
RE: Getting Rid of English Ivy
There is a chemical that you can order and mix it with round-up to kill the ivy. The chemical soaks up the wax on the leaves and then they are very vulnerable to chemicals, so you spray round-up on the ivy that you want to kill. The round up is then very successful. (11/10/2008)
By Susan