Answers: Getting Rid of Fleas
Read answers for this question below.
Fill pie tins with water and a squirt of dish soap. Instead of pie tins you can use any shallow bowl. Instead of dish soap you can use any soap. Put night lights or small lamps next to each bowl. Use very low wattage bulbs, like those in night lights, or Christmas lights. You can use extension cords with the night lights if you want to place the bowls somewhere that is not close to an outlet.

If fire is not a concern, you can even use floating candles or candles in a holder that will sit inside the middle of the dish. The fleas will jump to the light and fall into the soapy water and die.

You will see a lot of fleas at first and then as the population goes down you will see fewer and fewer fleas until they are all gone. Use just a small squirt of soap. You don't want to see soap bubbles. The soap breaks the surface tension of the water so the fleas cannot stay on top of the water.

If you have pets who might want to drink the water you can put the tins in a bird cage or dog crate on the floor. You can use any type of caging. The fleas will only come to the bowls at night. Make sure the lights are dim like a nightlight. If the whole room is lit up the fleas will not know where to go.

As the fleas start to diminish you may still have fleas hiding in the woodwork. Vibrations make the fleas come out. You can use a vacuum cleaner which will cause vibrations in the floor, or just stomp around a lot before you go to bed.

Make sure that you take all the sheets off your bed once in a while to let any fleas that are trapped underneath get out. After bombing three times without success this is the only thing that worked for me. I'm not sure if the fleas are jumping towards the heat or the light. Nightlights worked fine for me. Let us know how you do.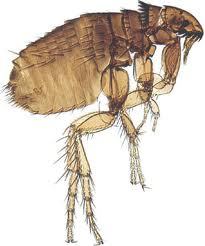 Dry 20 Mule team Borax into carpets and their bed. Leave for 2 weeks and then you can vacuum. Yard? Cedercide granules or i just heard rock salt and claim is made it does not destroy grass. Natural products only please. No flea collars or poisons. Flea poisons also poison pets. Improve diet. No corn wheat or soy. Meat should be first ingredient. Some raw foods needed. Build immune system. Don't destroy it with vaccines. Never any grocery store pet food. Feed store. Reasonable priced and good is Diamond lamb and rice.
Go to a organic nursery and ask for "Diatomaceous earth" and sprinkle on the dog and or cat and on your carpet and vacuum the carpet the next day or two The kind for swimming pools is the wrong one only get it from an organic nursery.
Answer This Question
Add your voice to the conversation. Click here to answer this question.
Related Guides
Related Posts