Hard surface floors such as wood, tile, and laminate can show water spots, foot prints, and other smudges. Using the right cleaner will remove footprints, and the like on your flooring. This is a guide about cleaning footprints on laminate floor.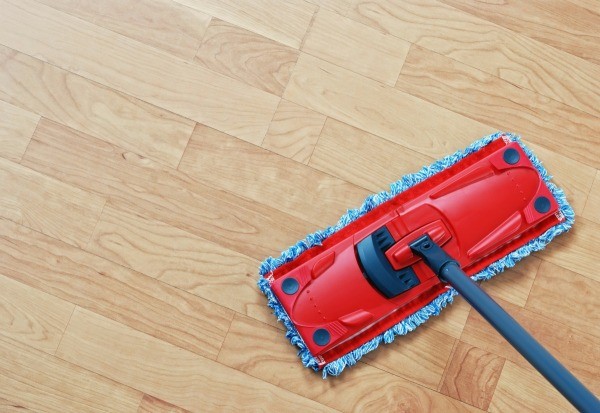 Filter

: All Articles
Sort

: Relevance
I have laminate flooring and have been cleaning it with a Swiffer Wet Jet. Now every foot print shows up on the floor. How do I get the floor back to the way it was? It looks horrible right now.

Steve from Nesconset, NY
By guest (Guest Post)
Flag
May 5, 2008
0

found this helpful
Johnsons no buff and wax is what you need. Do not, I repeat do not use a sponge mop. Use a soft cloth or an actual mop for applying cleaner. This stuff is great.
By guest (Guest Post)
Flag
July 8, 2008
0

found this helpful
I use pledge multi surface floor cleaner on my laminate floors. I use a green rectangular (Maybe 5x8" wide) mop that I found at the dollar store for $8.00. It is plastic, has a very thin, strip of white foam loosely attached to the bottom. It came with a white terry cloth elasticized pad that you use on the bottom. Extra pads are $2.00 each.
The trick to prevent streaking is to wet the terry cloth pad, wring it out good, squirt a small amount of the cleaner over a 3'x3' area, then mop it up. I put mine in a spray bottle and spray it. Just a very light spray.You will have to rinse the cloth pad out several times while mopping. Just throw it in the washing machine on wash day.
The floor should dry in four or five minutes. If not, you are using too much cleaner. Also, no matter what kind of vacuum cleaner you have it will not pick up all the dirt and dust. I found a mop kit at the dollar store for $5.00 (with dry pads) that I run over my floor with after vacuuming. You will be shocked at how much dirt/dust you pick. When the dusting pad gets dirty in one place, I re-attach it in another place. After that side is dirty, I turn it over and use it some more. Save those nickels and dimes!
These are also great for dusting, picking up dog hair, etc. The dogs leave tracks because their feet are damp from going outdoors or from stepping into water at their watering bowl. Haven't figured out a way to prevent that.
December 11, 2008
0

found this helpful
Try Pledge Wood Floor Cleaner. I use an OrangeGlo mopping pad that is dampened and it works great. The OrangeGlo Hardwood Floor Cleaner is NOT okay for Laminate, but the Pledge Wood Floor Cleaner is and it helped me with the streaking, having to dry it, etc. I just mop in on (just enough water to dampen pad) and it dries almost immediately.
September 28, 2010
0

found this helpful
With two little boys who are barefoot and tend to get milk etc. on my floors, there's always smudges and footprints on my laminate floors. The best thing is 1/2 White Vinegar and 1/2 Water in a spray bottle. I put an old bath towel on the end of a swiffer and spray and wipe with the towel. It works great and is really easy! My floors look beautiful when I'm done. I just wish there was a way to avoid smudges and footprints on my laminate floors.
October 7, 2010
0

found this helpful
I agree with the swiffer we jet, it leaves a film on the floor. I just got new laminate floor in my laundry room and Home Depot told me to use the Bruce's laminate floor cleaner. I also do the same thing as posted above and that is after running the sweeper, use one of the swiffer dry clothes and you will be amazed at the stuff still on your floor.
Patty