Getting Rid of Fruit Flies
Best Answers: Getting Rid of Fruit Flies
These are the best answers for this question.
This will help in the interim. Fill up a cup or plastic glass with some apple cider vinegar and then drop in a couple drops of dish washing liquid to break the surface adhesion. They will dive in and drown.

It works every time. The other advice is good, too. If you don't have a disposal, or the things you have can't go down there, put the things in a plastic bag and toss.

Here are a sample photo I posted to help.
PBP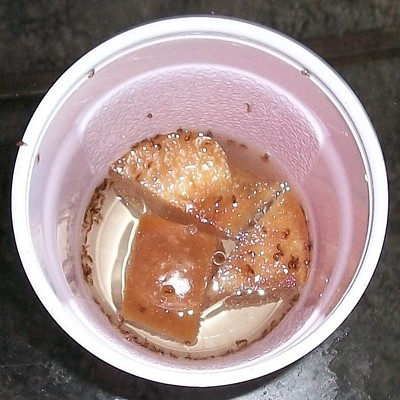 More Answers
We had housefly problems until we hung peppermint tea bags on all the windows. It doesn't get rid of all of them, but it does greatly reduce their numbers.
I found that I get those pesky fruit flies from bananas. Maybe rinse the fruit before putting it on the counter or fruit bowl.
If these are actually fruit flies, they are likely not coming in through your windows. Fruit flies usually reproduce in your house. They come in on fruit from the store or who knows? They reproduce on fresh fruit, on garbage on things like orange peels, on sticky spills and in empty pop cans or juice boxes in your recycle bin.

The best way to get rid of them is to eliminate their habitat. Figure out where they are reproducing, and get rid of that. Their life span is only a couple of days, so there is no need to bother with traps or whatever.
Answer This Question
Add your voice to the conversation. Click here to answer this question.
Related Guides
Related Posts