Also known as common woodsorrel, oxalis is not too difficult to eradicate. This guide is about getting rid of oxalis.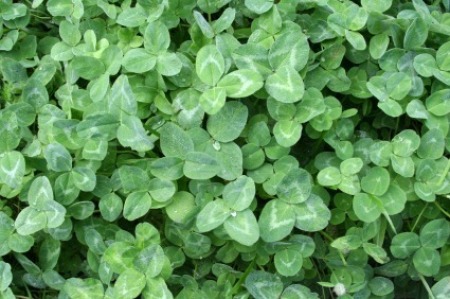 Question:
Our backyard is covered by oxalis, how can I get rid of them? Any homemade weed killer that would work?
Hardiness Zone: 9a
Thank you very much,
Bobby from San Francisco, CA
Answer:
Bobby,
I don't know of any homemade weed killer designed specifically for oxalis that won't kill the rest of your grass. There are several homemade recipes listed on this site if you want to experiment with some, however most are not discriminating and will kill everything they come into contact with.
Oxalis reproduces by bulblets and seeds that need light to germinate. You may have to employ a combination of strategies over several years in order to regain total control of your yard. The first would be to dig out some of the plants with their bulbs. You'll need to dig down at least 6 inches deep. Another is to whack off some of the plants at the surface to weaken the bulbs by keeping them from being fed and to keep the plants from forming seeds. A third is to cover some of the plants with thick mulch or layers of newspaper to prevent new growth from germinating. These are all pretty labor intensive, but they can be effective if you're diligent. Unless of course, your neighbor's yard is overrun and he has decided to surrender. You might also try a book called, "Golden Gate Gardening," by Jan Pierce for more strategies.
Question:
How do I get rid of Oxalis - the green way?
Hardiness Zone: 6a
Liz from Hawkes Bay, New Zealand
Answer:
Liz,
Fortunately, oxalis (also known as common woodsorrel) is not that difficult to eliminate. I applaud your search for a "green" solution. All too often gardeners look for the quick fix. Using homemade weed killers, like vinegar or salt, are certainly more benign than their synthetic counterparts, but they still change the soil's chemistry in a significant way. They also kill beneficial microorganisms and insects, without which, ironically, the chances for weed, pest and disease problems are greatly increased. Hoeing and hand pulling are probably the most effective methods of control, but if I were you, I would try a combination of strategies just to see what works best.
Oxalis is commonly found in stony or rocky areas and in soils with a more acidic pH. It reproduces by seeds (which are thrown long distances by the pod) and also sometimes from nodes (bulblets) on the stem. Digging out oxalis is certainly the most labor intensive method of control (you'll have to dig down at least 6 inches), but it's also the greenest method and it will leave your soil healthiest in the long run. You might also try singeing some of the plants with a small propane torch and whacking a few of the plants down to ground level, which will eventually weaken the bulbs. Finally, if you have large areas inhabited by oxalis, you might find covering the areas with black plastic or thick layers of newspaper or mulch works well. The keys to green weed control are cultivation and mulching.
Good Luck!
Ellen
How can I get rid of oxalis, which has invaded my vegetable garden?
By Ingleby
What can I use to kill oxalis weed without damaging the lawn?
By Vad