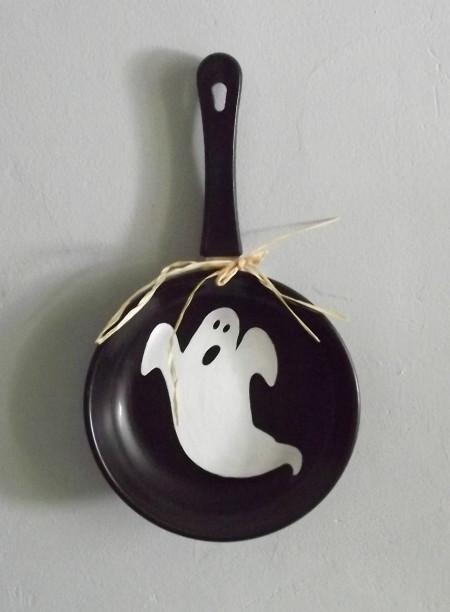 Transform a $1.00 frying pan from the dollar store into a Halloween decoration.
Supplies:
1 frying pan ($1.00)
1 white craft paint ($1.29)
1 black craft paint ($1.29)
1 mini bundle raffia ($1.99)
tape ($1.99)
pencil ($.50)
scissors ($1.99)
Ad
---
Steps:
Print and cut out the ghost pattern to use as a template.
Tape pattern to the frying pan and trace all around it with a pencil.
Paint the ghost white. Let dry.
Cut out eyes and mouth from the pattern and transfer them to ghost.
Add a little bit of raffia.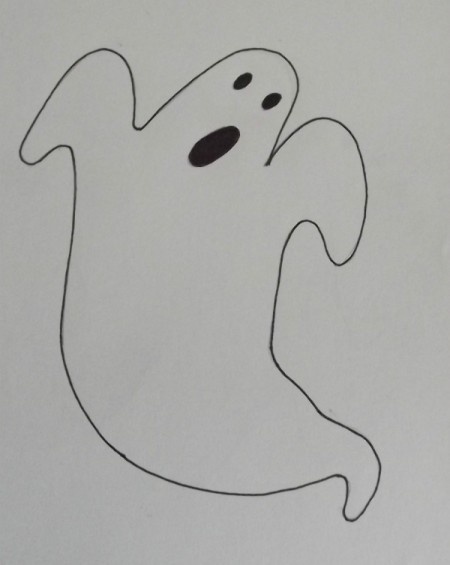 Ad
---
Feedback Forum
Feedback about this article is posted here. Want to contribute? Click above to post feedback.

By Pixiedust7 [7]08/25/2013
This is very cute! I'm going to adapt the idea to use on my old, black iron frying pans that I have hanging on a brick wall, only I'll put the ghost on the bottoms of the pans, since they hang with the bottoms facing out. I'll use paper ghosts that I can remove after Halloween, because I still use these frying pans. Thanks for the idea and the ghost pattern!
Post Feedback
Add your voice to the conversation. Click here to share feedback.