Whatever the milestone, it is fun to plan the perfect party for your graduate. This guide is about graduation party ideas.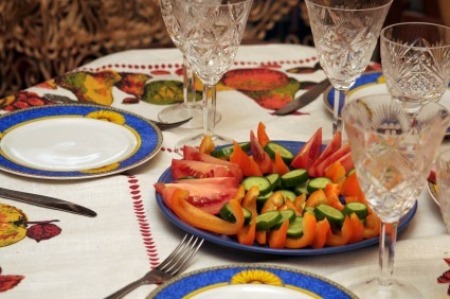 After what will be five years of graduate school, I will finally earn my Master of Library Science degree next spring. I would like to host a graduation party to celebrate this achievement. I would like to tie in the idea of libraries and books as the main theme of the party. Does anyone have any ideas of how to do this in a fun, inexpensive way?

Thank you in advance for your suggestions.

Blue
---
Most Recent Answer
December 31, 2008
At my grocery store, they've got a machine that will print any picture on a sheet of rice paper. They put the rice paper onto a frosted cake, so the cake now holds the picture of whatever the original was. If your store does a similar service, give them your favorite book jacket and have them use that as the 'base', then add a line at the bottom with your name on it. Or have them cut out part of the picture (where the author's name goes) and put your name there in icing, so that the picture is there but the name is all you.
---
By Kami Hartzell 1 1
I will be graduating from college next year (I like to plan early). I am a non-traditional student and majoring in elementary education. I am trying to come up with ideas for my graduation party to help my husband. I don't like the normal grad party decorations from party supply stores.

I would like to maybe decorate with things I could use in my classroom later (why use decorations that will be thrown away?) I'm not sure what grade I will be teaching yet. I need help with ideas that are UNIQUE and not too cheesy! We may do a BBQ, but since it will be early May, that's not for sure.

K.H. from Missouri
---
Most Recent Answer
May 23, 2008
How about making a bulletin board of yourself? I am a substitute teacher. Today the teacher herself was the student of the month. She had photos of herself along with a questionaire. She had it on the bulletin board where the students were once students of the month. Don't forget you will need books to fill your classroom. For a game maybe the adults would have to guess to figure out what book goes along with story line, or compete who can read the best story.
---
By Pam 1
My son is graduating. We are serving BBQ and I'm looking for decorating ideas.
By Pam from Atlanta, GA
---
Most Recent Answer
May 25, 2010
A great idea to have at a graduation party is to present the book (by Dr. Seuss) titled "Oh, the Places You'll Go!"...(this is actually the #1 recommended book gift to give). The idea is to have all the guests attending sign the pages as a keepsake for the graduate (no matter the age). The #2 book of choice is "The Meaning of Life", colorful green frog on the cover. Having frog bookmarks to pass out to the guests as a thank you.
Another idea is to create a slide-show on the computer highlighting favorite photo shots of grad with family, friends, or doing their activities. Can play it at the party and also email it to all guests to enjoy, it's timeless. Be sure to include captions and capture all moods.
---
A graduation party we attended had the cutest idea for decorating. The graduate was very athletic and had t-shirts from many activities she was involved in. Her t-shirts were hung on the fence like a clothes line in many sizes as she grew up. Lots of memories!
By Jeanne from Ohio
By Betty 1
We're having a open house for my daughter's graduation this June. She wants to have a Fairy theme for her party. Does anybody have any suggestions on how to decorate for the party? We'll be having it outside in our back yard. We'll be renting a tent for the party. We're having a taco bar for the food. Please help.

Betty from Flint, Michigan
---
Most Recent Answer
By Mintella Cyder 1 Flag
March 7, 2009
Your daughter is my hero! My best friend and I are doing the same thing for our graduation! We thought we were the only people above ten who liked fairies! For our party we are going to cover everything in glitter and make food that has some form of fairy theme. We are also forcing everyone to dress up as a fairy or extreamly fancy. We are also using a book called "Are There Faeries at the Bottom of Your Garden?" by Betsy Williams. That's the reason we even came up with the idea for our party.
---
I have a graduation lunch to organise. Will the combination of the following colours be suitable: black, white, and silver?
By Nkefi R
---
Most Recent Answer
---
By bonita 1
Planning an outside party for a physician's assistant graduate in August. (in Texas) I have a pool and big backyard with trees. I haven't decided on menu for sure, I can cook smoked brisket and chicken ahead of time and I have a margarita machine. There will probably be about 50 people. Any "special" ideas from anyone out there?
By bonita from TX
---
Most Recent Answer
---
Do you have a child graduating in 2006? A clever money-saving party tip is to buy leftover New Year's decorations. I've seen New Year's eyeglasses (2006-eye holes in the 0's), year confetti, cups & napkins. As long as it only has the year printed it would work for a graduation party, too. Plus, they will be really cheap come January 2nd and your grad won't know the difference.

By Cheryl from Missouri from Peculiar, Missouri
Any suggestions for an outdoor party celebrating 2 sisters,- 1 graduating high school and the other graduating college?
By Elaine D.
---
Most Recent Answer
By Frugal Sunnie 11 1,695 Flag
August 23, 2013
Seriously? Two separate parties for each grad. You could have three with one for both girls (a potluck BBQ to bring together the extended family) then the two separate parties.
Each grad should be able to host their closest friends in their own individual way - high school and college aged people are just in different places and trying to combine those two age groups is not going to be as much fun for either group.
And Mom (and Dad)? You should have your own party to celebrate the monumental achievement of getting both your grads through to graduation! An all adult-been there done that party is in order for you:) Congratulations and well done!
My daughter is graduating in May with her Masters degree to be a CPA. I asked her what kind of theme she would like (I know she would think the graduation theme would not be for her (she's weird) She has a GPA of 4.0. She said jokingly she wanted a drunken theme. Of course, she knew I couldn't possibly come up with any ideas. She's right! Anyone have any ideas on this kind of theme. The beer and liquor will be flowing. I have arranged no one will drive that night. Any ideas would be greatly appreciated. Thanks.
By Merci B from New Orleans, LA
---
Most Recent Answer
March 31, 2012
What about making it more specific to one particular drink. Like a margarita party where you would serve all different kinds of margaritas For example you can have plain ones, frozen ones, flavored ones, frozen and flavored ones. This can be done with a lot of different drinks too. Ex. daiquiri's, coladas. Hope this helps!
By Lisa 1
I need ideas on how to host a college graduation party for my husband who will graduate in May with an Electrical Engineering degree. Any ideas on themes and favors will be greatly appreciated. The venue has been selected as well as the food and beverage. What does a host do in such celebrations? I want him and our guests to have fun.
By Lisa from CC, TX
---
Most Recent Answer
April 19, 2010
Just had a thought, go to Radio Shack and choose a pretty large kit. Use the ingredients to decorate and have a table where the item can be assembled. See if they can get it done before the party is over, and don't lose the instructions!
Good luck and congrats to your grad!
I am looking for ides for a college graduation party for a travel major? Any ideas on centerpieces for a college graduate?
By Momma C
By Mike's Mom 2
Thanks to those of you who sent suggestions for my son's graduation venue. We're decided to rent a hall and now we were wondering if we could incorporate a "Las Vegas" theme, although his major is chemistry. We were thinking of things such as wheel of fortune and chug a lug dice for pretend money. Instead of a universal favor, the top money holder will choose from the favors displayed, the one with the next amount, etc. Any ideas? Thanks.
By Mike's Mom from Boston, MA