Wonderful gravy can make any meal a big success. This page contains gravy making tips and tricks.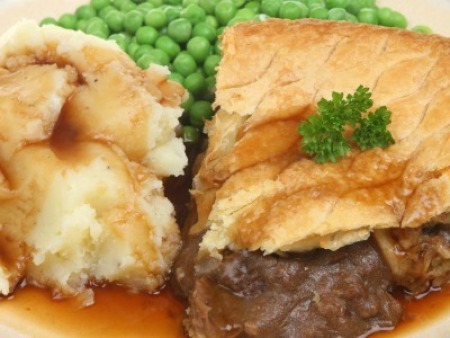 I agree that good gravy must start with flour that is slowly browned in the pan drippings (fat only!) before adding your liquid to thicken. Another helpful hint when making really good gravy is to use a slotted spoon. It seems to keep the gravy from forming the lumps so many complain about. When almost ready, season well with salt and pepper using the "taste test" method. It takes more than you'd think! Gravy isn't difficult but takes time and patience, and then is oh so good!

By Maryann from Fort Lauderdale, FL
How can I spruce up a gravy mix to taste "homemade"?

Cindy from Key West, FL
---
Most Recent Answer
March 19, 2009
Another thing I discovered quite by accident is that sodium free bouillon mixes make an excellent gravy stock with just a small amount of salt added (less than would be present in a "normal" bouillon or even a jarred soup base). These dietetic bouillons make a really heroic effort to create good flavor, although when made as directed they end up smelling wonderful and tasting lousy. A little salt and they smell wonderful and taste wonderful. Add some flour or cornstarch and olive oil to complete the gravy.
---
The key to having appealing looking brown gravy, rather than pale gravy, is to brown the flour you use to thicken the gravy. Brown the flour in a skillet before adding liquid.
The beauty of this recipe is that you can make it a day ahead; heat it back up on simmer in a saucepan and not have to be scrambling to make the gravy from the drippings at the last ditch minute ;-) This can be used for poultry or beef gravy.
Ingredients:
4 Tbsp. butter
2 Tbsp. extra virgin olive oil
6 Tbsp. all purpose flour
3 cups chicken, turkey or beef broth
spices to taste such as salt, pepper, onion powder, garlic powder, thyme, paprika, and even cayenne powder or Tabasco sauce.
Directions:
Melt butter with olive oil over medium heat in a medium saucepan, whisk in flour and stir until light brown.
Turn heat to medium high, gradually whisk in broth and bring to a boil, stirring frequently.
Reduce heat to low, add spices to taste and simmer 5 minutes, or until thickened to your liking.
By Deeli from Richland, WA
By Sarah 2
When making your gravy with roux, always heat the stock, broth, milk or cream you are using before adding it to the hot roux. This prevents the clumping that can easily occur when making gravy. Remember, adding hot to hot prevents clumpy, lumpy gravy!
By Sabrys from Salem, IN
Do not despair if you over salt gravy. Stir in some instant mashed potatoes to repair the damage. Just add a little more liquid in order to offset the thickening.

By Peggy
By Pauline 2
I have a bad habit of adding too much corn starch or flour to my gravy. What could I do to eliminate the taste?
By Pauline from IN
---
Most Recent Answer
By sbuttons67 5 7 Flag
October 26, 2013
Instead of cornstarch, try adding butter, it thickens whilst leaving a nice taste. Or, add more liquid if you don't want to use butter.
By Chris A. 4 16
I love the rotisserie chickens my big box store offers.
Do you know how to create scrumptious gravy from these rotisserie chickens? I see the juices swimming in the bottom of the container, but my attempts for good gravy have been extremely disappointing.
Thank You in advance. :)
By Chris A.
---
Most Recent Answer
By G-Ma to 5 8 19 Flag
June 10, 2013
When I make a roux for store bought chicken, I usually use the drippings as part of the water in the recipe. You get all the flavor of what ever they use in your gravy. We love the Lemon Chicken, so good.
How to cook gravy, as in chicken gravy, without grease or oil. Brown flour in skillet, add seasoning or bouillon cubes. Add enough water to make it thin as you like, let simmer about 1 minute. Tastes very good.

By Kathleen from Dothan, AL
For quick thickener for gravies, add some instant potatoes to your gravy and it will thicken beautifully.

To remedy greasy gravy, add a small amount of baking soda.

To make gravy smooth, keep a jar with a mixture of equal parts of flour and cornstarch. Put 3 or 4 tablespoons of this mixture in another jar and add some water. Shake, and in a few minutes you will have a smooth paste for gravy.

By Peggy
Gravy can still be good for you, even breakfast to enjoy now and then without being so fattening. Just use broth instead of milk. Cut out the fat by mixing the flour with cold broth or some water and stir into broth when hot. It is really good gravy.
By M.B. Wright
By anselward 1
Ingredients:
1 can cream of chicken ($1.00)
1 cup chicken broth ($1.00)
1 cut up chicken or pieces of your choice ($3.00)
Steps:
Bake or roast chicken according to your taste.
Empty can of cream of chicken soup into small pot. Add 1/2 to 1 cup chicken broth (depending on how thick you want your gravy)
When chicken is finished cooking, pour the juice left in bottom of pan in with the soup/brother mixture and stir. Thicken as desired.
Making gravy; I start with the drippings from a roast, chicken or pan fried meat and letting cook until all the liquid is vaporized and the meat juices are caramelized. Drain grease off; what's left are the caramelized juices; add water or broth and stir until caramelized juices are dissolved; add thickening of flour or cornstarch and water, stirring until thickened. Add seasoning to suit taste. Your gravy will be flavorful and nearly grease free.

By Nell from Alabama